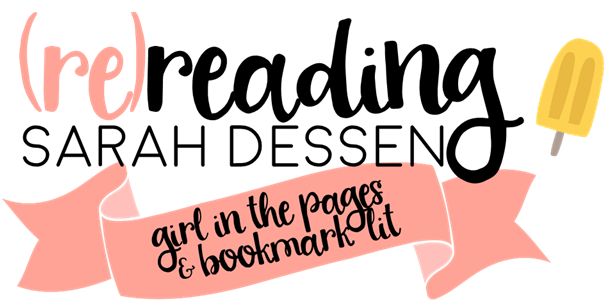 Most readers and bloggers can agree that Sarah Dessen is the Queen of Contemporary. Her books have been around long before YA was a well-known genre and I remember her books being some of the first I ventured into in middle and high school summers when the YA section at my local library was lacking and I didn't even really know what a contemporary novel was. Over the past 12+ years I've read and loved almost all of her books, and with Once and for All out this Sarah has surely been on everyone's mind! Lauren from Bookmark Lit and I are therefore joining forces this summer to discuss all things Dessen this month- when we started reading her books, our experiences with rereading, and other fun discussions, recommendations, and personal stories. Our feature will take place over 4 weeks this June on Wednesdays at Lauren's blog and on Thursdays here!
Schedule
Introduction, Our Sarah Stories, and Discussion of Someone Like You
June 7th on Bookmark Lit – June 8th on Girl in the Pages
Dessen Recommendations and Similar Stories
June 14th on Bookmark Lit – June 15th on Girl in the Pages
Blog Features: Cover Colors and I Will Go Down with My Ship
June 21st on Bookmark Lit – June 22nd on Girl in the Pages
Once and For All, Dessen Favorites, and Wrap-Up
June 28th on Bookmark Lit – June 29th on Girl in the Pages
This week Lauren and I are giving you book recommendations based off of Dessen novels. I chose some of my favorite Sarah Dessen novels and ones that I've read recently and picked more recent contemporary novels that carry similar thematic elements, plots, and overall vibes as their Dessen counterparts. If you liked a particular Dessen novel listed below, I'm willing to bet that you'll enjoy the corresponding recommendation too!
Someone Like You | Trouble: If you enjoy non-stereotypical stories about teenage pregnancy and unorthodox support systems found in unlikely places, both of these books are great picks.
Dreamland | It Ends With Us: Both of these stories focus on violent relationships and really get inside the mindset of the protagonist.
Keeping the Moon | Nantucket Blue: Both of these novels feature self-discovery found in a coastal town with a misplace protagonist facing a summer she didn't expect.
Along for the Ride | Alex, Approximately: Also set in the summer by the beach, both of these stories have protagonists who bear the weight of fractured family systems and who are learning to live with their fathers again, all while navigating a quirky summer job and highly unlikely romance.
Saint Anything | Ramona Blue: Both of these stories have protagonists who are often overshadowed by infamous and/or larger than life siblings, and are the only ones who truly can see and navigate what's going on with their families.
Come back next week for our next installment and be sure to check out Lauren's post from yesterday!
Related Posts