Cristina and Lauren Read: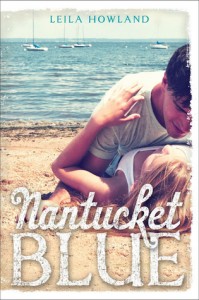 Nantucket Blue (Nantucket, #1) by Leila Howland
Also by this author: Nantucket Red (Nantucket, #2), Hello, Sunshine
Published by Disney Hyperion on May 7th 2013
Pages: 294 •Goodreads

For Cricket Thompson, a summer like this one will change everything. A summer spent on Nantucket with her best friend, Jules Clayton, and the indomitable Clayton family. A summer when she'll make the almost unattainable Jay Logan hers. A summer to surpass all dreams.
Some of this turns out to be true. Some of it doesn't.
When Jules and her family suffer a devastating tragedy that forces the girls apart, Jules becomes a stranger whom Cricket wonders whether she ever really knew. And instead of lying on the beach working on her caramel-colored tan, Cricket is making beds and cleaning bathrooms to support herself in paradise for the summer.
But it's the things Cricket hadn't counted on--most of all, falling hard for someone who should be completely off-limits--that turn her dreams into an exhilarating, bittersweet reality.
A beautiful future is within her grasp, and Cricket must find the grace to embrace it. If she does, her life could be the perfect shade of Nantucket blue.
Book Buddies is a discussion style review I participate in every other month with my friend Lauren who runs the blog Bookmarklit. We choose a themed book for the month, read it, and the have a discussion where we both discuss themes and aspects that really stood out to us. Book Buddy Reviews are posted during the last week of the month.You can see our review in a Q&A format with half posted here, and half on Lauren's blog!
---
1) How big of an impact did the romance aspect of the book have one you?
L: I think the romance could have been a little more developed for me, but I really liked it overall! I had major feels for them starting WAY at the beginning of the book – before that "romance" was even fully introduced as an option. Like we said over in my post, the whole unattainable guy plot device was certainly there… and is certainly relatable! Her having a crush (which seems like a mild way to put it) on Jay made things interesting, but I loved the actual romance that ended up taking place. Some of the drama could have been avoided, but that's not unavoidable across contemporary romance. I don't think the romance made an "impact" on me per se, but I enjoyed it compared to others I've read. I won't give much away, but I'm happy with how things turned out!
C: I actually think the romance was one of my favorite aspects about this book. I sometimes feel desensitized to YA romances because I've read so many of them and am a bit older than the protagonists and have more relationship experience under my belt (and am past the whole having unattainable crushes phase of my life) but something about this romance really resonated with me. I think it was that it captured the feeling of falling in love with someone unexpected and so intensely so perfectly, and that Cricket loved the little quirks about her love interest that made him familiar to her on a private and intimate level, which in turn created an intimate feeling for the reader of being involved in their relationship dynamic.
2) Do you think Cricket's tendency toward slut-shaming and anti-feminist values were influenced by attending an all girl's school? Or in spite of it? 
L: That's an interesting question. I don't remember a lot of the details about her school, but it seemed like slut-shaming ran rampant. I know that it's common in high schools in general, which is an unfortunate reality, but I think an all-girls school may have influenced it. I know that my public high school had a lot of that kind of behavior as well. In a school full of just girls, maybe it's hard to feel like you stand out in any way. The girls at her school were seemingly put into boxes so that everyone knew them by their sport or their sex life or their group of friends. Again, this happens in ALL schools, but it could definitely happen more with an all-girls school. It's kind of ironic, because a lot of all-girl schools have the GIRL POWER motto ingrained in their students' heads, but maybe Cricket missed that memo or warped it a little bit. She kept referring to the girls who were known for their promiscuity, which makes me think that the slut-shaming happened because of the environment she was in.
C: I definitely agree with you, the slut shaming was over the top and was one of my main problems with the narrative. Cricket is so quick to label other girls (even her own mom, whom she deems a "slut" after finding out about some of her teenage shenanigans) but blatantly excuses promiscuity and sexuality by guys, even when she's surprised by it. I personally always attended co-ed schools so I can't say for certain, but I think her specific school environment bred a lot of unhealthy judgement toward female sexuality. Such as when the book begins and Cricket quickly mentions how one should "manage their popularity," and cites two examples of girls who got bad reputations for promiscuous behavior, with one quietly withdrawing and letting the rumors die and the other acting out and being looked down upon for it. It's all very black and white, and while I think there were shades of Cricket becoming less judgmental toward the end of the book toward other females, I don't think it was a priority for her character.
3) Did you think the strength of Cricket's grief for the parent of a friend was empathetic or disturbing? Do you think she saw it as a parallel to the dissolution of her own family when her parents got divorced years earlier?
L: I definitely think that her grief was more tied into her own family issues than the actual grief for her friend's mother. I understand that she was close with them, but it wasn't her place to make the death about her and step in where she wasn't needed. If a similar person in my life passed away, it would certainly impact me, but I would never want to step on someone's toes as they move on. A lot of Cricket's actions probably stemmed from her parents and, more specifically, her relationship with her own mother. While her and her mom seemed able to talk about some things, her mom was incredibly judgmental about everything and everyone. It seemed like Cricket couldn't do much to make her mom happy. The passing of her friend's mom probably shook her up more because, in some ways, she was closer to Nina than her own mother. She could talk more freely with her and be herself, while she was walking on eggshells around her own mom.
C: I was actually pretty disturbed with how Cricket made Nina's death all about her, and she never came to the realization that she overstepped. I initially understood Jules' behavior (although it eventually got cruel and out of control) and resentment toward Cricket for crossing so many boundaries: speaking at the funeral, showing up on Nantucket uninvited, etc. I think you're spot on about her relationship with her mom, but I also think it had to do a lot with her relationship with her dad as well, as the few scenes she had with him were pretty emotionally charged and the issues were never resolved. Cricket herself mentions how she never let herself cry over her parents divorce and hardly talks about it, but she's so emotive over Nina's death that I think it she used it as a cathartic way to displace her feelings about her own family that she never fully expressed.
4) One of the biggest points of tension in the book was Jules' and Cricket's sudden fracture in their friendship. Were you able to reconcile with Jules' behavior, or did you find it unforgivable? Do you think that Cricket enabled her? 
L: If I were in Cricket's shoes, I wouldn't be able to forgive Jules. I have a pretty low tolerance for behavior like that from friends or people close to me, so I would have told her off right away. Cricket definitely enabled her as well. I mean, Jules had no reasonable excuse for acting SO terrible to her… but Cricket certainly stepped over the line. It was clear that Jules wanted to be alone with her family on Nantucket, and Cricket forced herself onto the island without even mentioning it to her first! I can see where Jules' anger came from, but the way she handled it, to me, was not excusable. 
C: I touched on this earlier, but Jules' behavior started out understandable and veered into unfogiveable. (The party scene on Nantucket at the beginning was almost hard to read, as Cricket was so thoroughly humiliated). I agree with you that Cricket stepped over the line a lot following Nina's death, but Jules did nothing to communicate that she felt this way and acted so, so cruel. However, I was so tired of Cricket enabling her behavior, unable to hold her accountable for her behavior because "Her mom just died." It's certainly tragic, but no one should be able to use loss and grief as an excuse and mechanism to be cruel to others. I wanted to shake Cricket and tell herself to demand more out of her best friend. I really wished their issues had more closure by the end of the novel.
5) Natucket had such an ethereal, almost fairy tale feel for me when I read the books. What aspect of the island did you find most charming? 
L: I think I would have to say the shopping and inns! The entire feel of the island sounds like such an interesting place. I picture it like an even more upscale version of Newport, RI, which I have frequented a number of times. The small streets with little shops and old-timey inns just seem like such a great spot to visit. The settings are truly the number one reason I love reading summer-oriented contemporaries. Being able to picture the sleepy beach towns or islands is definitely my favorite aspect of these kinds of books. I would love to visit Nantucket some day. It's within a few hours from me, so I really should!
C: The inn Cricket worked at (was it the Cranberry Inn?) was so charming my heart almost burst with happiness reading about it. I loved the quaintness (breakfast service in the back garden), the small touches (fresh baked cookies in the lobby), and the security of it (the front door is never locked and visitors are welcome at all hours of the night. It truly had that home-away-from-home feel and I liked that it was a safe space for Cricket to come back to among all of the teenage hate. I want to stay in an inn exactly like that one day, eating pastries in the garden for breakfast and strolling to the beach looking at the stars at night.
6) Nantucket Blue is the first book in a duology. Do you feel that this book set up for a sequel?
L: If the book ended the same way and didn't have a sequel, I think I would have been bummed! I definitely am eager to see the next steps in their relationship. However, the next book takes place a year after this one. From what I understand from a few reviews I glanced at, there is a decent amount of "catching up" done at the beginning so it doesn't feel like we missed out on much. I think the book was set up for a sequel in the sense that there are still a lot of loose ends to tie up – about Jules, her mother, her relationship, her father… everything! I'm ready to read the second one as soon as possible. I've heard from a few people that they like it even better than the first, so here's hoping!
C: I wouldn't have been surprised if it was a stand-alone, but I would have been disappointed, because like you I wanted more closure regarding the relationships in the novel (and more of that gorgeous setting- it drew me in more than any book setting has in a long, long time). I'm excited to read the sequel and have heard similar things to what you have…but I'm worried the romance pairing will change! I love Cricket and View Spoiler »Zach « Hide Spoiler together and I feel like we barely scratched the surface of their relationship!
Continue reading the second half of our discussion on Lauren's blog here!
---
Overall Thoughts:
I went into Nantucket Blue thinking it would be another fluffy summer read, but instead was surprised by its depth in dealing with grief, loss, and intimacy. The romance was refreshing and intense and captured that feeling of falling in love without being cliché. While I was disappointed about the way some of the social issues were handled, I came to overlook most of that with the brilliant setting, wide and entertaining cast of characters, and unstoppable charm of this novel. If you like your fluff with a little bit of edge and quite a bit of drama and feels, Nantucket Blue is for you.
Reading this book contributed to these challenges:
Related Posts