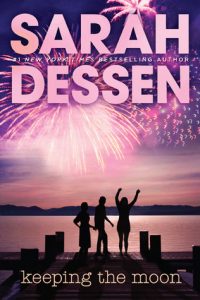 Keeping the Moon
by
Sarah Dessen
Also by this author:
Saint Anything
,
Just Listen
,
What Happened to Goodbye
,
Along for the Ride
,
Lock and Key
,
Dreamland
,
Once and for All
,
The Rest of the Story
,
The Moon and More
Published by
Speak
on September 1st, 1999
Genres:
Young Adult
,
Contemporary
Pages:
228 •
Format:
Paperback
•
Source:
Purchased
Colie expects the worst when she's sent to spend the summer with her eccentric aunt Mira while her mother, queen of the television infomercial, tours Europe. Always an outcast -- first for being fat and then for being "easy" -- Colie has no friends at home and doesn't expect to find any in Colby, North Carolina.

But then she lands a job at the Last Chance Cafe and meets fellow waitresses Morgan and Isabel, best friends with a loving yet volatile relationship. Wacky yet wise, Morgan and Isabel help Colie see herself in a new way and realize the potential that has been there all along.
I can't believe that Keeping the Moon is almost 20 years old! Every summer I set out to reread a Sarah Dessen book or two (the goal being that I've reread all in recent memory) and it always blows me away that Sarah's been writing for so long, and how her stories do feel so timeless despite their age. Keeping the Moon is no exception, and I was curious to see how I would like it as I barely remembered anything since the last time I read it was probably back in 2004 and I remembered it not being my favorite of hers.
First off I have to admit that aside from my quest to reread all of Sarah's novels, I think I was also hugely motivated to purchase a copy of Keeping the Moon for myself because the new cover is GORGEOUS- the sunset, beach and ombre setting capture the spirit of Colby perfectly. As I anticipated, I remembered very, very little of the actual story content, and I was especially surprised by the focus around weight in the story line, as protagonist Colie's mother is a world famous fitness guru who shed her old life along with the pounds when she lost weight, as did Colie. It was interesting to see a book that wasn't about weight but that still had it as a major driver in the protagonists life for about the first half, until the focus shifted more to her personality growth instead of her physical one. I'm not sure if it's the type of narrative we'd see today in 2018- where weight loss is such a driver for characters without talking about the ramifications of that mentality. There was also definitely the "make over" trope, as Colie gets a make over from one of her older coworkers at the Last Chance Diner, but it's really meant to make her feel more self confident and to feel empowered about her appearance, so I was overall pretty unbothered by it.
My biggest issue with Keeping the Moon is that I found myself getting bored through a lot of it. I wasn't super interested in Colie and she was sort of vague and hard to connect with, and I wasn't invested at all in her romance. However, and perhaps this is because I am now reading it as an adult, I was really invested in Morgan and Isabel's story lines, Colie's diner coworkers who are at a much different stage of their lives and are dealing with larger issues than Colie, especially surrounding Morgan's engagement. I loved how they supported each other while still annoying each other and being aware of each other's flaws, and they just seemed so real and substantial whereas Colie was rather forgettable and functioned more as the eyes in which to see the town of Colby and the Last Chance Diner through.
What I did enjoy about Keeping the Moon, however, was Dessen's eccentric touches and quirky little side details that she seemed to incorporate into her older novels. Colie is staying in Colby with her Aunt Mira, who is sort of like the town's Boo Radley/local eccentric. She's a greeting card designer and creates cards for all occasions you can possibly think of (such as the passing of a mailman). Her house was full of broken and half fixed things, complete with a "human" Norman and a "cat" Norman, and it was just so crazy that it worked.
Overall: This probably ranks lower on the list of Dessen novels that I've enjoyed, but I think overall it was trying to get across some important themes (self-confidence, self-respect, etc.) There's not a lot of closure and despite its short length it sort of dragged for me in the middle, but I'm excited to reread Along for the Ride again now that Morgan and Isabel are fresh in my mind.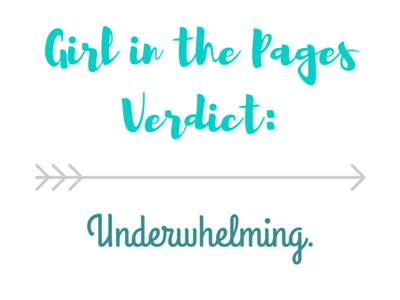 This Lullaby by Sarah Dessen
Also by this author: Saint Anything, Just Listen, What Happened to Goodbye, Along for the Ride, Lock and Key, Dreamland, Once and for All, The Rest of the Story, The Moon and More
Published by Speak on May 27th 2002
Pages: 345 •Format: Paperback •Source: Purchased
Goodreads

When it comes to relationships, Remy doesn't mess around. After all, she's learned all there is to know from her mother, who's currently working on husband number five. But there's something about Dexter that seems to defy all of Remy's rules. He certainly doesn't seem like Mr. Right. For some reason, however, Remy just can't seem to shake him. Could it be that Remy's starting to understand what those love songs are all about?
I re-read This Lullaby MONTHS ago and honestly have procrastinated on writing a review because I was sadly so underwhelmed. I was shocked to find that I didn't enjoy it too, since it's usually one of the most popular Dessen novels (along with The Truth About Forever). However, this may be one of my least favorite Dessen novels to date. I found Dexter to be such a manic-pixie-dream-boy who seemed to be created solely as a foil for Remy's cynicism. I actually didn't mind Remy's negative attitude and unlikeable demeanor if only because it is so different than the typical YA heroine personality (during these rereads I've been surprised to find that Dessen doesn't usually write happy protagonists! Her novels are actually pretty dark/gritty at times…) I think what bored me the most was that this story was almost purely a romance and since I wasn't invested in the romantic pairing, it was hard for me to enjoy the story overall.
Overall: Probably my least favorite Dessen novel to date. I'm finding during the rereading process that honestly her books are very polarizing to me- I either don't like them or I adore them (such as with Along for the Ride or Dreamland).
Related Posts