I received this book for free in exchange for an honest review. This does not affect my opinion of the book or the content of my review.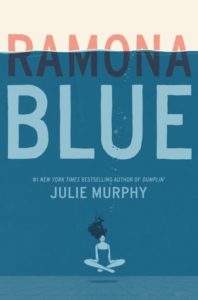 Ramona Blue
by
Julie Murphy
Also by this author:
Dumplin'
Published by
Balzer + Bray
on May 9th 2017
Pages:
432 •
Goodreads

Ramona was only five years old when Hurricane Katrina changed her life forever.

Since then, it's been Ramona and her family against the world. Standing over six feet tall with unmistakable blue hair, Ramona is sure of three things: she likes girls, she's fiercely devoted to her family, and she knows she's destined for something bigger than the trailer she calls home in Eulogy, Mississippi. But juggling multiple jobs, her flaky mom, and her well-meaning but ineffectual dad forces her to be the adult of the family. Now, with her sister, Hattie, pregnant, responsibility weighs more heavily than ever.

The return of her childhood friend Freddie brings a welcome distraction. Ramona's friendship with the former competitive swimmer picks up exactly where it left off, and soon he's talked her into joining him for laps at the pool. But as Ramona falls in love with swimming, her feelings for Freddie begin to shift too, which is the last thing she expected. With her growing affection for Freddie making her question her sexual identity, Ramona begins to wonder if perhaps she likes girls and guys or if this new attraction is just a fluke. Either way, Ramona will discover that, for her, life and love are more fluid than they seem.
Ramona Blue was the first ARC I picked up at YallWest this year, and also the first one I read. It's cover, unique title, and the fact that I adored Dumplin' made me eager to dive into another novel by Julie Murphy. I personally have always been attracted to water more than any other element, so I gravitated toward this book where the protagonist hears the siren song of water in so many ways: in her coastal hometown, in the swimming pool where she works away her stress and fears, and even in the destructive storm and flooding that changed her life forever. Though Ramona Blue didn't rival my love for Dumplin', it's another thoughtful novel from Julie Murphy that examines character development, family systems, and complicated relationships and I enjoyed reading it.
Ramona lives in a small, Southern coastal town that was devastated by Hurricane Katrina years ago, and her life has never been the same ever since. I remember being in school when Katrina hit and having friends who had family impacted by the storm, I remember it being unlike anything I had ever seen on the news as I was safely tucked away on the West Coast where we trade hurricanes for earthquakes and flooding of that magnitude was unimaginable. I immediately found the premise of Ramon's fate being so shaped by Katrina an interesting and important aspect of the novel, as tragedies often fade over time to those not directly effected. I found Ramona and her family's story of loss and rebuilding after the storm to be heartbreaking and empowering at the same time, and loved learning more about the individual types of strength that her, her parents, and her sister all carried despite their flaws and the tragedy that so defined their lives.
I also loved the running themes that Julie Murphy incorporated into the narrative, especially the parallels of Ramona to Peter Pan, with her mythic blue hair and constant and dependable presence in the small coastal town, especially to her friend Freddie. Ramona feels trapped (not always in a bad way, but more in a resigned way) to her life and responsibilities in Eulogy, and at times her narrative feels very wary and more adult and mature, yet she's juxtaposed against this Peter Pan theme because she's trapped living in this coastal seaside vacation town seemingly forever, never growing or changing to the outside world. It's such a clever comparison and one that I enjoyed reading as Ramona morphs and grows out from under the stagnant spell of her hometown.
This book is also so quotable. Though I'm not including any in my review since it's an ARC and not a finished copy, my copy is peppered with (blue) page markers because there were so many quietly profound quotes and interactions between the characters, especially in reference to Peter Pan. However, this novel does clock in rather on the long side for a contemporary at nearly 400 pages and I felt that at times it really started to drag, especially in the middle, which is what accounts for most of my rating decision. I also felt that at times to book became a bit heavy handed with its messaging and almost felt like the author was talking TO the readers to get across a message, and that lessened my suspension of disbelief for the book.
Overall: Ramona Blue is a novel of self-discovery, family systems, and coming to terms that you may have outgrown a place that hasn't outgrown you. With a diverse and extremely developed cast of characters, I truly felt as though I knew the cast and visited the deep South (a place I've never been) by the end of my reading experience. While I really enjoyed reading the novel overall, I did start to lose interest around the middle and think it could have benefited from being a bit shorter. However, I'm sure I'll be picking up Murphy's next novel because her writing style is better than ever in this novel.
Related Posts