Along for the Ride
by
Sarah Dessen
Also by this author:
Saint Anything
,
Just Listen
,
What Happened to Goodbye
,
Dreamland
,
Once and for All
,
The Rest of the Story
,
The Moon and More
Published by
Speak
on June 16th 2009
Genres:
Young Adult
,
Contemporary
Pages:
436 •
Format:
E-Book
•
Source:
Overdrive
Goodreads
It's been so long since Auden slept at night. Ever since her parents' divorce—or since the fighting started. Now she has the chance to spend a carefree summer with her dad and his new family in the charming beach town where they live.
A job in a clothes boutique introduces Auden to the world of girls: their talk, their friendship, their crushes. She missed out on all that, too busy being the perfect daughter to her demanding mother. Then she meets Eli, an intriguing loner and a fellow insomniac who becomes her guide to the nocturnal world of the town. Together they embark on parallel quests: for Auden, to experience the carefree teenage life she's been denied; for Eli, to come to terms with the guilt he feels for the death of a friend.
Along for the Ride is one of the best Sarah Dessen books that I've read in a long time. While many of her books focus on flawed family dynamics, this one gave such an intimate view on so many specific issues: divorce, second marriages, half-siblings, parenting gender roles and responsibilities, and age differences in marriages, just to name a few. These are all witnessed and/or experienced by Auden, the protagonist who goes to visit her father and his new wife and baby in Dessen's well-loved seaside town setting of Colby.
Though Auden isn't a warm protagonist (at least at first), there are a lot of elements to her personality that resonated with me, such as her comfort with academics over social settings and her inability at times to connect with people her own age, which are both feelings I struggled with when I was first adjusting to college life. Yet because of her closed-off nature, readers get a very authentic and personal view of her internal narrative through the first person POV, and I felt very immersed and her world and connected to her as a character, especially when it came to witnessing her family drama, and her inability to ignore it despite being 18 and college bound. I especially appreciated that Auden came to see the flaws in both of her parents and their mutual culpability in their failed marriage, though at times both of them behaved in ways that truly enraged me and had me ranting angrily to poor Max as he simply tried to read his book on the beach (this was my first vacation read of 2017). I was especially struck by Dessen's ability to portray the exhaustion, fear, and frustration experienced by new mothers in a way that evoked so much empathy in me, even though I am not a mother myself. I was glad to see that despite Auden's preference toward her father, she was able to rather objectively analyze the lack of equity in his marriage to his new young wife and the assumptions and expectations he placed on her since she was the "mother" or "female" in the relationship.
I also loved that this book really took the time to showcase that female empowerment and feminism can come in many different forms. Auden was raised by a very progressive and liberal mother, and she's very driven and focused in life with solid ideas about what makes an empowered female, and often judges other women she meets in the books by their distinctly feminine or overly-traditional attributes (wearing a lot of pink, working in fashion retail, etc.) I love that Auden must break down her preconceived notions about what it means to be a strong female as many of these characters showcase great strength and independence in their own ways, and by the end of the novel she's more focused on cultivating positive female relationships rather than ones based on judgement and competition.
In addition to all of the above, analytical reasons why I loved this book, it still has a bit of that signature Dessen fluff, with a magical summer setting with late, late nights and lazy ocean-side days, strong friendships, and a romance that I actually really enjoyed View Spoiler »(I felt like Eli was sort of rougher around the edges and more melancholy than Dessen's usual love interests, and I really enjoyed the imperfect nature of the romantic relationship. It made me appreciate their journey together so much more. One Eli for me please). « Hide Spoiler
Overall: Sarah Dessen novels always leaves me with a sense of contentment, if a little bittersweet, and this story is no exception. Definitely in my top 3 favorite novels by her! I will be buying a physical copy of this one for my personal collection ASAP.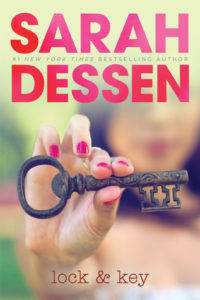 Lock and Key
by
Sarah Dessen
Also by this author:
Saint Anything
,
Just Listen
,
What Happened to Goodbye
,
Dreamland
,
Once and for All
,
The Rest of the Story
,
The Moon and More
Published by
Speak
on April 22nd, 2008
Genres:
Young Adult
,
Contemporary
Pages:
448 •
Format:
Paperback
•
Source:
Purchased
Goodreads
Ruby can take care of herself.

She's used to counting on no one and answering to nobody. But all of that changes when her mother vanishes and Ruby is sent to live with her older sister, Cora. Now Ruby's got her own room in a fabulous new house, she's going to private school, and—for the first time—feeling as if she has a future. Plus, there's the adorable and sweet boy next door, Nate. Everything should be perfect. So why is Ruby so wary? And why is Nate keeping her at a distance? Ruby soon comes to realize that sometimes, in order to save yourself, you've got to reach out to someone else.
As with any Sarah Dessen novel, I was extremely invested in the world of Lock and Key, with it's heavy focus on character development and nuanced portrayal of relationships. However, I found that this novel was one where I didn't care much for the protagonist, and ended up being much more fascinated with the secondary characters of Cora and Jamie, Ruby's estranged older sister and brother-in-law who take her in after she is abandoned by her mother.
In many ways, it's understandable why Ruby's flawed in the ways that she is, having lived with a mother who has declined in maturity and responsibility the older she becomes, raising Ruby in cramped apartments and nearly dilapidated houses, seemingly always on the run from creditors and landlords, unable to hold down a steady job. It's easy to see how Ruby becomes fiercely independent, stubbornly closed off, and prone to believing her future is, at best, a high school diploma and a minimum wage job. While I still struggled to read about the choices Ruby made, I loved reading about her being reunited with her older sister, who has come from the same background as Ruby but has risen above her circumstances. Cora was the character I was able to read about, from her slowly unraveling the truth of the past to Ruby about their parents to teaching Ruby that it's OK to be vulnerable, to allow yourself to want and to love, even when it's hard. It's a fragile yet rewarding bond of sisterhood, and I would expect nothing less from Sarah Dessen
However, despite my interest in Ruby and Cora's relationship, I felt that this book dragged a bit in the middle and could have been shorter while still delivering the same impact. This story also seems like it finishes more open ended than some of Dessen's other novels.
Overall: I enjoyed this novel because of the reasons I enjoy ALL of Sarah's novels: the great character writing, the relationship dynamics, the focus on imperfect families and self-discovery. However this story wasn't one that was particularly memorable against some of Dessen's stronger works.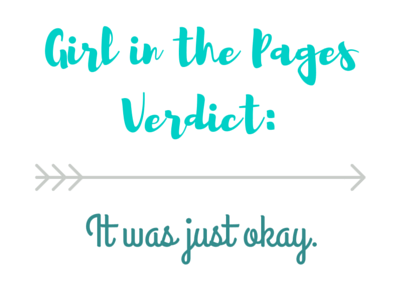 Save
Related Posts