I've hit a weird spot in my blogging/reading life.
I'm at a point where all I feel like doing is rereading old favorites. Like, really old favorites. I suppose it started when I was unpacking old books from my recent move and placing them on my shelves, and have the strong and sudden urge to reread The A-List series. I immediately took to Twitter to see if anyone was interested in reading them along with me, and was met with enthusiastic participation by none other than my bookish and blogger other half, Lauren. As we've started rereading the series over the past two weeks, I've found that not only do I read rereads faster, but I tend to enjoy them a lot more than I've enjoyed reading new-to-me books. There's no anxiety about if I'll like the book or not, no pressure to write a full length review of each novel, and no real expectations surrounding the reading experience- I can just read and ENJOY myself. Now I've found myself itching to reread constantly (which just isn't something that I have time to do, truth be told, because in order to stay "relevant" as a blogger you generally need to be aware and consuming and posting content surrounding new releases).
I generally pick 1-2 series a year to reread. It used to be Harry Potter every year (but honestly a lot of my Potter steam has run out lately, ever since the release of Cursed Child) and in recent years it's been the Shiver Trilogy, The Princess Diaries series, and ACOTAR & ACOMAF. Some of the best parts of doing these annual rereads is the ability to partner with other bloggers and host reread events and share the joy of returning to a familiar and beloved series. Though I always feel the pressure that I'm not keeping up with enough current releases, I've been getting so much joy and energy out of rereading lately that I want to continue on with some more series rereads.
Series I Plan to Reread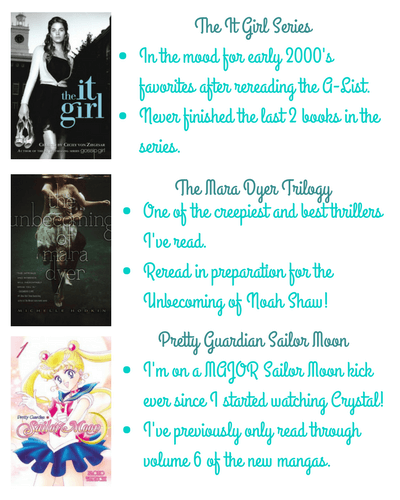 I can't even tell you the level of excitement I have when thinking about rereading the above series. I'm flying through these rereads (which does wonders for my Goodreads challenge, let me tell you) but I'm also remembering what the joy of reading felt like in my pre-blogging days (back when I did a LOT of rereading!)
Let's Discuss!
Do you ever reread, or is it something you've had to give up to keep up with your blog? What series do you have on your radar to reread soon? Are their books that you've reread lately and you've actually ended up NOT liking a second time around? What determines if a book is worthy of a reread to you? Let me know in the comments!
Related Posts