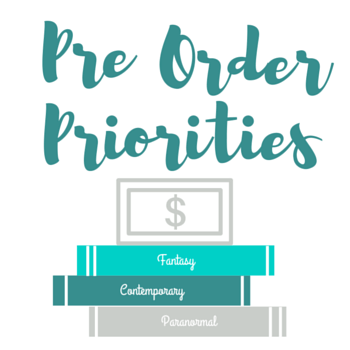 Pre-Order Priorities is a feature that highlights all of the books that I've recently pre-ordered and am anxiously awaiting to arrive at my door!
September is finally here and despite the 113 F degree weather, I'm just as anxious for the fall season as any yoga-pants-ugg-wearing-pumpkin-candle-burning basic blogger. Some of the BEST books are coming out over the course of the next few months, and here are some that I've already pre-ordered!
Release Date: September 26th, 2017
Max and I only received samplers of this at YallWest, so we're eager to get our hands on a full copy, especially in time for Stephanie's tour stop near us!
Release Date: September 26th, 2017
Our household is a Bardugo-obsessed one, so we definitely need this to add to our collection (I also recently caved and re-purchased the Grisha trilogy books so I could have the new covers!)
Release Date: October 10th, 2017
I am RIDICULOUSLY excited for this one. Also, I think I'm going to finally meet Maggie in person for her book tour for this one *cue panicked fangirling*
Release Date: November 7th, 2017
The cover alone is worth purchasing this book. Hoping that I'll have time to reread the original trilogy before diving into this one!
Funko POP Figures
I'm always on the lookout for new POP figures, so when I saw the a new wave of Harry Potter ones were coming out this fall I had to pre-order Harry (in pajamas with the Marauder's Map), Lupin, and Luna! I generally don't collect all of the funkos in a release, just the ones that I think are cute!
What books do you have pre-ordered for the upcoming fall season? Have you seen the new Harry Potter funkos? Are you ordering any? Let me know in the comments!
Related Posts