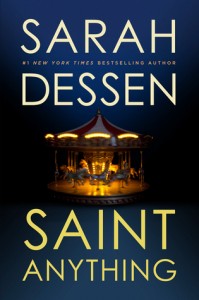 Saint Anything
by
Sarah Dessen
Also by this author:
Just Listen
,
What Happened to Goodbye
,
Along for the Ride
,
Lock and Key
,
Dreamland
,
Once and for All
,
The Rest of the Story
,
The Moon and More
Published by
Penguin
on May 5th 2015
Genres:
Family
,
Friendship
,
Siblings
,
Young Adult
Pages:
432 •
Format:
Hardcover
•
Source:
Library
Goodreads
A New York Times bestseller "Saint Anything is a poignant, honest story about how we might suffer the misfortune of someone else's bad choices, how people who love us can become family when we desperately need it, and how starting over might - miraculously - mean taking a solid leap forward." —Jodi Picoult, New York Times bestselling novelist of Leaving Time and My Sister's Keeper Sydney has always felt invisible. She's grown accustomed to her brother, Peyton, being the focus of the family's attention and, lately, concern. Peyton is handsome and charismatic, but seems bent on self-destruction. Now, after a drunk-driving accident that crippled a boy, Peyton's serving some serious jail time, and Sydney is on her own, questioning her place in the family and the world. Then she meets the Chatham family. Drawn into their warm, chaotic circle, Sydney experiences unquestioning acceptance for the first time. There's effervescent Layla, who constantly falls for the wrong guy, Rosie, who's had her own fall from grace, and Mrs. Chatham, who even though ailing is the heart of the family. But it's with older brother Mac—quiet, watchful, and protective—that Sydney finally feels seen, really seen, at last. Saint Anything is Sarah Dessen's deepest and most psychologically probing novel yet, telling an engrossing story of a girl discovering friendship, love, and herself.From the Hardcover edition.
"You only really fall apart in front of the people you know can piece you back together."
If you're an avid reader of YA, it's no secret that Sarah Dessen is considered by many to be the Queen of Contemporary Summer Novels. I read a lot of Sarah's work back when I was in middle school and high school, long before I started blogging, and I always appreciated the subtlety with which she wrote, while still making an impact with her plot lines and characters. I picked up Sarah's newest book, Saint Anything, and though it's been years since I read one of her novels, I felt myself falling into her familiar writing style in which she makes me so invested in the lives of ordinary, everyday people.
This book has a ratio that's rare in YA contemporaries, with probably 75% of the relationships focusing on family and friends, and only 25% on romance. Layla and Sydney's friendship felt so tangible, from the awkward beginnings to Layla's family enveloping Sydney as one of their own. Layla and Sydney are such good friends to each other in small ways (like Layla sleeping with her air mattress pushed against Sydney's door…if you've read the book you'll know what I mean) and I found these small, quiet gestures of solidarity to be really refreshing and authentic. Their friendship isn't perfect, but it's real and true and developed, and I'd love to see more of that in YA.
Along with promoting strong female friendships, this book also delves into the joys and dysfunctions of family life, with the Stanfords and the Chathams juxtaposed in such an interesting way. Both families have had extreme hardships (and even scandals), but the way they've dealt with them and the outcome on the relationships within the family because of those reactions is so drastically different. I found it interesting that both Layla and Sydney had siblings with larger-than-life personalities who stole most of their parents' attention, but while it silenced Sydney's voice, it made Layla grow to be an even stronger and louder presence. In fact, one of the only things in the book that fell flat to me in the novel was the lack of growth and development in Peyton and Sydney's relationship. Sydney and her family (and really, the entire town) spends so much time ruminating on Peyton: his actions, his crime, his sentence. He is the catalyst for so much in Sydney's life, yet I didn't feel a convincing closeness or sense of peace or understanding come between the siblings at the end of the book. The closure at the end felt a little rushed and heavy-handed. The plot itself lacked a certain subtlety that Dessen usually writes with, placing Sydney in uncomfortable situations that she wasn't able to get out of until big, obvious THINGS would happen to sort of smack her and her family into action and realization. Stefani @ Caught Read Handed phrased it best in her review: Saint Anything is loud in what it's trying to say.
One funny yet significant thing I kept hearing about this book is that it had such great descriptions of the perfect summer foods: pizza, french fries, and lollipops. I usually eat pretty healthy, but she had me craving these treats! I also liked seeing how food played a role in everything from social interactions, family business, and job opportunities. I also have to admit that I deeply admired Layla's dedication to her fries, as something of a of fries enthusiast myself.
Overall: Saint Anything holds the classic Sarah Dessen charm of taking stories of quiet, ordinary characters and making them meaningful. I immensely enjoyed spending time with the Chathams, coveting my time with them just as Sydney does. The story also focuses so much on building positive female friendships and unpacking family drama (in both constructive and destructive ways) that it overwhelmed most of the romance, which I didn't seem to mind (it was cute but not critical to the story). I'm so glad I kicked off participating in the #summerofsarahdessen with Saint Anything and glad I found my way back to her novels after several years. Saint Anything won't disappoint seasoned veterans of Dessen's work nor will it let down first time Dessen-readers.

---
Book Buddies Ask:
"Book Buddies Ask" is a feature I do with my Book Buddy Lauren from Bookmarklit! While we do an in-depth buddy read every-other month, we decided it would be fun to ask fun little questions for other books we read together more casually! These questions are inspired by fun little elements from the book!
Where is your favorite place to get french fries?
Aside from everywhere, you mean? (I am something of a french fry addict. I hardly eat junk food, but fries are my weakness). I have to say that I'm a huge fan of the classic Mickey D's fries for fast food. For pommes frites, I love the Nordstrom Café Bistro (they're seasoned with herbs and super salty!) and my favorite food truck fries I've had are the garlic-cilantro from the Border Grill Truck at YALLWEST (and that chipotle ketchup…heaven!) Give me any fries though and I'll consume: shoestring, curly, waffle, thick, thin, soft or crunchy!
Reading this book contributed to these challenges:
Related Posts