Truthwitch (The Witchlands, #1)
by
Susan Dennard
Published by
Tor Teen
on January 5th 2016
Pages:
415 •
Goodreads
On a continent ruled by three empires, some are born with a "witchery," a magical skill that sets them apart from others.
In the Witchlands, there are almost as many types of magic as there are ways to get in trouble—as two desperate young women know all too well.
Safiya is a Truthwitch, able to discern truth from lie. It's a powerful magic that many would kill to have on their side, especially amongst the nobility to which Safi was born. So Safi must keep her gift hidden, lest she be used as a pawn in the struggle between empires.
Iseult, a Threadwitch, can see the invisible ties that bind and entangle the lives around her—but she cannot see the bonds that touch her own heart. Her unlikely friendship with Safi has taken her from life as an outcast into one of reckless adventure, where she is a cool, wary balance to Safi's hotheaded impulsiveness.
Safi and Iseult just want to be free to live their own lives, but war is coming to the Witchlands. With the help of the cunning Prince Merik (a Windwitch and ship's captain) and the hindrance of a Bloodwitch bent on revenge, the friends must fight emperors, princes, and mercenaries alike, who will stop at nothing to get their hands on a Truthwitch.
I finished Truthwitch just in the nick of time, about 4 hours before I saw Susan on tour for Windwitch's release. I am so happy to report that despite procrastinating reading Truthwitch for a literal year (due to hesitation regarding how much insane hype surrounded its release and not wanting to forget everything before its sequel came out) I really enjoyed Truthwitch and love Susan's writing just as much as I hoped I would.
Truthwitch is a high fantasy YA series starter that yes, you guessed it, focuses on main characters who are witches. At the forefront of the novel is the incredible friendship between Safiya, a Truthwitch, and Iseult, a Threadwitch. The story starts with them attempting a heist that goes awry, and the rest of the book is back-to-back-to-back nonstop action as they set off on the run from the domino effects that their failed heist sets in motion. Woven into the narrative of their friendship are two other POV characters, Merick, a Windwitch and prince of a destitute country, and Aeduan, a Bloodwitch monk (I actually really loved Aeduan, perhaps because Susan's describing him as a "Hufflepuff who thinks he's a Slytherin"). Once I was able to get a bit oriented in the world with the details gleaned between the constant fighting and escaping scenes, I found that I really enjoyed Susan's take on witches and their powers.
I'll be the first to admit that sometimes I struggle with high-er fantasy because there's so man new names, locations, settings, etc. and there's only so much a map can help with. While at times I found myself a little confused and had to reference the map or earlier passages in the book to remember what country or character was being referred to, I found that my fascination with the witchery more than made up for my confusion. I love how there are witches who have powers derived from elements and the elemental Origin wells. (Windwitches, Waterwitches, etc.) and witches who's power are more based on emotions/non-elemental (Truthwitches, Threadwitches, etc.). While I did wish there was perhaps a bit more clarity or a guide on the types and sub-types of witches (for instance, a Waterwitch vs. a Tidewitch) I LOVED getting to know more about each type of witchery that the POV characters possessed, especially Iseult's power as a Threadwitch. Threadwitches can see the threads that bond and bind and even break, and each thread is connected to an emotion, which is associated with a specific color. I've always been super intrigued by the color spectrum and color theory, and it was utterly fascinating to me to see which emotions/threads were associated with which colors in the book.
One of the more engaging plot points for me personally was the political and racial tension between the Nomatsi (the nomadic-type people that Iseult's descended from) and the major empires. Iseult suffers from blatant disgust to downright violence because of her background and physical features, and her return to her original birthplace for a brief duration in the book doesn't fare much better, as she's seen as out Outsider for leaving. There's a whole political plotline wrapped up just witin the Nomatsi that is going to be interesting when it starts interacting with the larger empires and impending war at play.
Another aspect that I feel sets Truthwitch apart from many other YA novels is the true and honest focus on frienship at its core. Yes, there are romances that build throughout the novel, however Safi and Iseult's friendship never feels like it becomes the second-tier focus of the story. It's flawed and has its issues (AKA Safi's impulsiveness often getting them into pretty bad situations) but it's ever-present and is literally just friendship goals (it's funny because Susan and Sarah J Maas are super good friends and I can personally totally picture Susan as Iseult and Sarah as Safi! But perhaps that's just me ;)). I will say that sometimes it was a little difficult to discern between Safi and Iseult's POV shifts because there voices felt really similar at times, but they are Threadsisters so I suppose that's to be expected!
Overall: Even though I was hesitant over the hype Truthwitch received upon its release, I really enjoyed it! It scratched the surface on a lot of really interesting fantasy elements and I hope that there's a deeper dive into the world in Windwitch (which is sitting on my bookshelf staring at me right now). I think this series shows a lot of promise and I'm excited to continue the character's journey within it!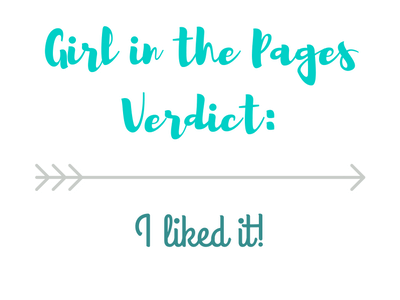 Save
Related Posts