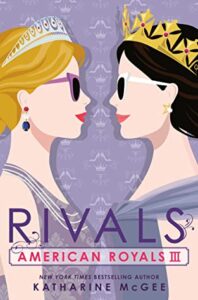 American Royals III: Rivals
by
Katharine McGee
Also by this author:
American Royals (American Royals, #1)
,
Majesty (American Royals, #2)
,
Reign (American Royals #4)
Series:
American Royals #3
Published by
Random House Books for Young Readers
on May 31, 2022
Genres:
Contemporary
,
Royalty
Pages:
398 •
Format:
E-Book
•
Source:
Overdrive
Goodreads
Beatrice is queen, and for the American royal family, everything is about to change.
Relationships will be tested.

Princess Samantha is in love with Lord Marshall Davis—but the more serious they get, the more complicated things become. Is Sam destined to repeat her string of broken relationships…and this time will the broken heart be her own?

Strangers will become friends.
Beatrice is representing America at the greatest convocation of kings and queens in the world. When she meets a glamorous foreign princess, she gets drawn into the inner circle…but at what cost?

And rivals will become allies.
Nina and Daphne have spent years competing for Prince Jefferson. Now they have something in common: they both want to take down manipulative Lady Gabriella Madison. Can these enemies join forces, or will old rivalries stand in the way?
It's a rare treat when a series gets better with each installment, but that is exactly the case for me when reading the American Royals series. While I was always drawn in by the premise of what it would be like had America become a monarchy, with each book I also become more and more invested in the characters, more impressed by the plot twists, and more engaged with the story.
Majesty, the second book in the series, ended with Beatrice taking more control in her role as Queen rather than be bullied by her advisors, and I was happy to see that trend continue (for the most part). The main setting for this story is the League of Kings Conference, and it was fun getting to see the other royalty and how they interacted/how their histories were different in this alternate reality where it seems that all major countries stayed monarchies. I also appreciated that Samantha and Jeff's role in relation to the monarchy was explored more in this book, since Beatrice is away at the conference with Sam assisting her and Jeff having to act as regent (if you can't already tell, I read these books for the monarchy aspect instead of the YA aspect, lol).
I mentioned this in my review of Majesty, and I do feel like it needs to be reiterated after reading Rivals as well- despite the high stakes and the fact that the characters are all college aged or older, it reads very high school YA. This felt especially evident in the introduction of a new antagonist, Gabriella, who was the most one dimensional, stereotypical mean girl you can imagine. I was honestly let down by such a flat villain since Daphne, who arguably is both an antagonist and protagonist, has had so much character growth and depth assigned to her. However, Gabriella's whole character read like the antagonists from early-aughts YA and in my opinion didn't serve as a worthy "villain" for this novel.
One thing I really enjoy about this series is that McGee does not stick to the obvious choices when it comes to romances. (Spoilers ahead for the first two books!) I was SUPER worried that Beatrice was going to ride off into the sunset with her Revere Guard after the first book, which would have been sooooo boring, predictable, and honestly unrealistic (and very Edward VIII) so I was thrilled when her and Teddy actually fell in love. Yet their relationship is not tied up in a neat bow at the end of the last book, and in Rivals they struggle with navigating Teddy's role in the monarchy, which bleeds into their personal relationship as well. Likewise, Sam and Marshall face some very big issues and take some risks that lead to potentially very bad consequences, and even Jeff, Daphne and Nina are back in their love triangle, but in a much more complex way than before. I especially appreciate McGee's characterization of Daphne and how in this installment she acknowledges that there's different ways to love someone, and even if she's not head over heels for Jefferson in the "puppy love" sort of way, her feelings of ambition, stability, and partnership for him are not necessarily less valid as love- it was a pretty astute observation that I wasn't expecting from a YA novel.
If memory serves correctly, these books usually end on a cliffhanger, and Rivals is no exception. There are several MAJOR cliffhangers (at least one per sibling, and some that impact all three of them) and it's definitely bumped the next book WAY up on my TBR!
Overall: Rivals is the best installment in the American Royals series yet!
Related Posts