I received this book for free in exchange for an honest review. This does not affect my opinion of the book or the content of my review.
Meant to Be Mine
by
Hannah Orenstein
Also by this author:
Head Over Heels
Published by
Atria Books
on June 7, 2022
Genres:
Romance
Pages:
285 •
Format:
E-ARC
•
Source:
NetGalley
Goodreads
What if you knew exactly when you'd meet the love of your life? Edie Meyer knows. When her Grandma Gloria was a young woman, she had a vision of the exact day she would meet her soul mate—and then Grandpa Ray showed up.

Since then, Gloria has accurately predicted the day every single member of the family has met their match. Edie's day arrives on June 24, 2022, when she's twenty-nine years old. She has been waiting for it half her life. That morning, she boards an airplane to her twin sister's surprise engagement, and when a handsome musician sits beside her, she knows it's meant to be.

But fate comes with more complications than Edie expected and she can't fight the nagging suspicion that her perfect guy doesn't have perfect timing. After a tragedy and a shocking revelation rock Edie's carefully constructed world, she's forced to consider whether love chooses us, as simple as destiny, or if we choose it ourselves.
In a market that's super saturated with romance novels, Meant to Be Mine had a premise that instantly caught my eye. How does one navigate life, dating, romance, and feelings when you know you won't meet your predestined match until a certain date? This is a classic fate vs. choice premise, and it made for a thoroughly fascinating story.
As stated in the premise, Edie's beloved grandmother has an (arguably) supernatural knack for matchmaking, and has successfully predicted dozens (if not more) matches via the date they will meet. Edie, who has always greatly admired her grandmother and seeks to emulate her, has taken her prophetic ability to heart and has anxiously awaited her "date" with full faith, even if it meant breaking up with her long time boyfriend who she was greatly in love with and waiting until almost her thirties even though she's had a strong desire to start a family for a while. As a reader, I was equal parts charmed and baffled by Edie's reverence for her "date" and her willingness to literally plan her entire life around it- as romantic as that is, it sound incredibly risky to me!
Sure enough, the magical realism kicks in when Edie meets a handsome, single musician on a flight on her "date" and sparks immediately fly. He seems to be a perfect match for her own artistic, creative personality (side note: I loved learning more about Edie's profession as a stylist in New York! So glamorous!) and as their relationship grows, an exciting life of travel, parties, tours and other creative pursuits lie before her. However, this directly conflicts with all of the childhood hopes and dreams she's pined for- a big family, children, staying in her beloved New York, settling down. I don't want to go into too much detail as to not spoil the story, but I really enjoyed the juxtaposition of Edie's desire to follow her grandmother's "prophecy" with her own desire to follow her heart, especially when her heart could be happy with potentially different outcomes. It also brought up interesting questions (to me, at least) about her grandmother's other predictions- how many of those were authentic and how many came to fruition because someone was willing to give something up? Are all of the matches just really self-fulfilling prophecies?
Overall: "Charming" is the immediate word that comes to mind when I think of Meant to Be Mine. From Edie's romanticism to her creative profession to her adoration of living in New York, it was easy to be swept up in her colorful and quirky life. I love a story with a dash of magical realism, which this novel definitely has, right up until the very end. If you're looking for a modern romance with a little bit of a magical twist, this is it!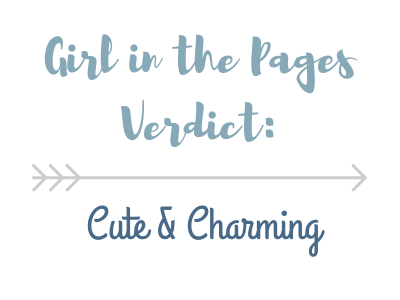 *Thank you so much to NetGalley and the publisher for providing an ARC in exchange for an honest review!*
Related Posts