A Kingdom of Flesh and Fire (Blood and Ash, #2)
by
Jennifer L. Armentrout
Also by this author:
Don't Look Back
,
The Problem with Forever
,
White Hot Kiss (The Dark Elements, #1)
,
From Blood and Ash (Blood and Ash, #1)
Series:
Blood and Ash #2
Published by
Blue Box Press
on September 1, 2020
Genres:
Fantasy
,
New Adult
Pages:
637 •
Format:
E-Book
•
Source:
Overdrive
Goodreads
A Betrayal…
Everything Poppy has ever believed in is a lie, including the man she was falling in love with. Thrust among those who see her as a symbol of a monstrous kingdom, she barely knows who she is without the veil of the Maiden. But what she does know is that nothing is as dangerous to her as him. The Dark One. The Prince of Atlantia. He wants her to fight him, and that's one order she's more than happy to obey. He may have taken her, but he will never have her.

A Choice...
Casteel Da'Neer is known by many names and many faces. His lies are as seductive as his touch. His truths as sensual as his bite. Poppy knows better than to trust him. He needs her alive, healthy, and whole to achieve his goals. But he's the only way for her to get what she wants—to find her brother Ian and see for herself if he has become a soulless Ascended. Working with Casteel instead of against him presents its own risks. He still tempts her with every breath, offering up all she's ever wanted. Casteel has plans for her. Ones that could expose her to unimaginable pleasure and unfathomable pain. Plans that will force her to look beyond everything she thought she knew about herself—about him. Plans that could bind their lives together in unexpected ways that neither kingdom is prepared for. And she's far too reckless, too hungry, to resist the temptation.

A Secret…
But unrest has grown in Atlantia as they await the return of their Prince. Whispers of war have become stronger, and Poppy is at the very heart of it all. The King wants to use her to send a message. The Descenters want her dead. The wolven are growing more unpredictable. And as her abilities to feel pain and emotion begin to grow and strengthen, the Atlantians start to fear her. Dark secrets are at play, ones steeped in the blood-drenched sins of two kingdoms that would do anything to keep the truth hidden. But when the earth begins to shake, and the skies start to bleed, it may already be too late.
I suppose I'm back on the JLA train because I was legit addicted to this book. It's by far my favorite in the series, and Poppy and Casteel's relationship is definitely at its peak as one of my favorite fictional couples.
Though one can argue second series installments are usually filler and bridge books between the first and third installments, I find that when I adore characters sometimes those filler books are my favorite kind because I get to know them and spend time with them in less high intensity situations. Much of this book takes place in Spessa's End, a bordertown that Cas has reclaimed for the Atlantian people. Poppy gets to start seeing the Atlantian's through her own eyes instead of from the POV of the Maiden, all the while exploring her own personality, needs and desires that have been denied for years. I loved seeing Poppy and Cas interact with the people of Spessa's end (Kieran's sister is amazing!) and spending time in the keep and the town just felt very quaint and chill, especially compared to the high stakes in the last novel.
Of course, this is the book in which Poppy and Cas' relationship really grows, and it's both steamy and sincere. I loved their sassy banter, their obvious obsession with each other that they are both trying to hide, and let's face it, the iconic lake cavern scene. Is there relationship a little predictable at times? Absolutely, but it's so much fun to read that I don't mind at all.
If you're looking for action, you won't be disappointed either, as there's some pretty intense battle sequences at the end. Poppy is definitely a warrior and there's actually a pretty nuanced portrayal throughout this book of Poppy having to work through the responsibility that comes with war and taking lives in battle, as well as how she was complicit, whether intentional or not, through her role as the Maiden back when she was living with the Ascended. It's a more complex bit of character development than I was expecting from this series, but I really feel that it does add to Poppy's character.
Overall: This is definitely going to be a fantasy reread for me, and I adore Cas and Poppy! It's definitely fantasy-lite (with a lot of modern tropes, language actions) but it's exactly what I need these days.
---
The ​Crown of Gilded Bones (Blood and Ash, #3)
by
Jennifer L. Armentrout
Also by this author:
Don't Look Back
,
The Problem with Forever
,
White Hot Kiss (The Dark Elements, #1)
,
From Blood and Ash (Blood and Ash, #1)
Series:
Blood and Ash #3
Published by
Blue Box Press
on April 20, 2021
Genres:
Fantasy
,
New Adult
Pages:
659 •
Format:
E-Book
•
Source:
Purchased
Goodreads
She's been the victim and the survivor…
Poppy never dreamed she would find the love she's found with Prince Casteel. She wants to revel in her happiness but first they must free his brother and find hers. It's a dangerous mission and one with far-reaching consequences neither dreamed of. Because Poppy is the Chosen, the Blessed. The true ruler of Atlantia. She carries the blood of the King of Gods within her. By right the crown and the kingdom are hers.

The enemy and the warrior…
Poppy has only ever wanted to control her own life, not the lives of others, but now she must choose to either forsake her birthright or seize the gilded crown and become the Queen of Flesh and Fire. But as the kingdoms' dark sins and blood-drenched secrets finally unravel, a long-forgotten power rises to pose a genuine threat. And they will stop at nothing to ensure that the crown never sits upon Poppy's head.

A lover and heartmate…
But the greatest threat to them and to Atlantia is what awaits in the far west, where the Queen of Blood and Ash has her own plans, ones she has waited hundreds of years to carry out. Poppy and Casteel must consider the impossible—travel to the Lands of the Gods and wake the King himself. And as shocking secrets and the harshest betrayals come to light, and enemies emerge to threaten everything Poppy and Casteel have fought for, they will discover just how far they are willing to go for their people—and each other.

And now she will become Queen…
I honestly feel like a fool after waxing poetic about AKOFAF and being so…well, just completely underwhelmed by this book to tell you the truth. I was SO sure that I was going to adore it that I bought it before reading (which I don't often do these days). Instead, what I got for my trouble was a truly horrible reading slump that's put me significantly behind on my Goodreads challenge.
It's so strange to me that I enjoyed the first two books in this series so much and this crashed and burned so hard for me. Did the first two books have flaws? Absolutely. But what they didn't have was over 600 pages where it felt like nothing happened. I swear, it was info dump after info dump, and a good 60% (if not more) of the book felt like it was just Poppy, Cas, Kieran and assorted others sitting in rooms talking, mostly explaining complex and new mythology, wars, villains, etc (WHY are we introducing so much new lore IN THE THIRD BOOK??? I can barely keep the Atlantians/Ascended business straight). There's a moment when Kieran literally pulls out a textbook and reads from it to explain something.
Another huge issue was Cas and Poppy's relationship. It lost a lot of its tension and spark after the first 25% or more of the book. I know some may say it's because they are married and the thrill of the "chase" is gone, but I don't think that has to be the case, as there were still so many crazy things going on around them that could have added stress, urgency, desperation, etc to their relationship. They almost both became caricatures of their former selves, whittled down to one or two personality traits. Don't even get me started on the amount of time we spend in Poppy's head getting her monologuing and just asking question after question…which then enables the never ending info dumping to continue. I know her curious nature was a bit of a running joke in the first two books between her and Kieran, but it's gone stale at this point.
I was also just underwhelmed with a lot of things that had been built up so much in the previous books, like meeting Cas' parents. They are supposedly these super important and intimidating monarchs and Cas deflects any and all concerns they have about Poppy with "But I love her!" and it just didn't seem like a…realistic dynamic. Don't get me wrong, there were some elements of Atlantia that I enjoyed (exploring the city, seeing how the locals reacted to Poppy's healing powers, the reveal of Willa's identity), but it was buried under me being so bored so much of the time when reading all of the info dumps.
After really slogging through the middle of the book the last 10% or so was filled with a lot of MAJOR twists and action. I was wondering where this was the entire book??? Then come to find out the next book won't be a continuation but rather will be a prequel book and I'm just like…ugh. I'm going to have to find a good recap to refresh my memory because I don't think I can suffer through rereading this whole thing again by the time the actual next book releases.
Overall: A surprising letdown in a series I was really enjoying up until now. I'll probably see the series through to the end once the remaining books are published, but it's lost a lot of its luster for me after this installment.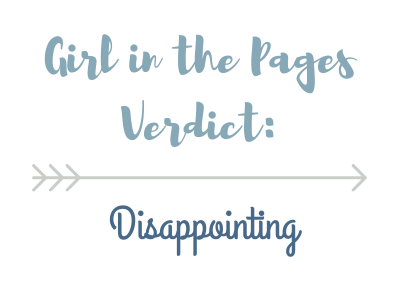 Related Posts