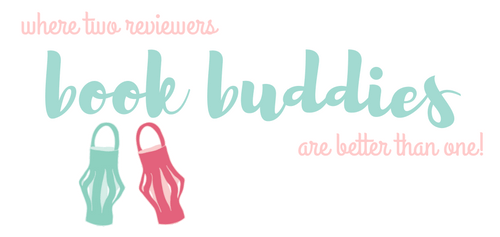 Book Buddies is a fun, collaborative review feature that I participate in once a season with my friend Lauren who runs the blog Bookmarklit. We choose a themed book for the season, read it, and then answer fun questions that pertain to the book's themes and each feature the book in our own way! Check out the second part of our feature on Lauren's blog!
I received this book for free in exchange for an honest review. This does not affect my opinion of the book or the content of my review.
Starry Eyes by Jenn Bennett
Also by this author: Alex, Approximately, Chasing Lucky
Published by Simon Pulse on April 3rd 2018
Genres: Contemporary, Young Adult
Pages: 432 •Format: E-ARC •Source: NetGalley
Goodreads


Ever since last year's homecoming dance, best friends-turned-best enemies Zorie and Lennon have made an art of avoiding each other. It doesn't hurt that their families are the modern day, Californian version of the Montagues and Capulets.

But when a group camping trip goes south, Zorie and Lennon find themselves stranded in the wilderness. Alone. Together.

What could go wrong?

With no one but each other for company, Zorie and Lennon have no choice but to hash out their issues via witty jabs and insults as they try to make their way to safety. But fighting each other while also fighting off the forces of nature makes getting out of the woods in one piece less and less likely.

And as the two travel deeper into Northern California's rugged backcountry, secrets and hidden feelings surface. But can Zorie and Lennon's rekindled connection survive out in the real world? Or was it just a result of the fresh forest air and the magic of the twinkling stars?
I cannot even BEGIN to form coherent sentences about how much I LOVED Starry Eyes, the newest novel from Jen Bennett that is bringing swoon back to YA. Set in Northern California (already a huge plus for me, an avid reader of West Coast fiction) the novel features a hate to love romance, mixed and unique family systems, dysfunctional and healthy parent-child relationships, and sex positivity. I want to jump up and down and scream from the rooftops about how perfectly crafted and balanced this novel is- it's the YA contemporary I've been waiting my whole reading and blogging life for, and my only regret is that I didn't get to read this when I was a teenager.
Starry Eyes follows protagonist Zorie, Type A, serial planner, future astrophysicist (amazing!) and also semi-awkward rising high school senior who gets roped into attending a summer camping/glamping excursion which happens to coincide with some family drama that she'd rather not deal with. Changing up her summer plans at the last minute is stressful enough for someone who doesn't like surprises, but she's thrown for a loop when her ex-best friend now arch nemesis Lennon ends up on the trip as well. Since I have so much love for this story and could just continue to babble in run on sentences, I'll break the reasons why Starry Eyes is amazing into some (hopefully) more succinct bullet points.
Lennon. As a potential YA love interest, Lennon bucks a lot of conventions. He's sort of goth/emo (ahhh that takes me back), loves reptiles, is a shameless trivia nerd, and also is super outdoorsy and attractive. I love that he wasn't a stereotype and that his attractiveness was a unique combination of things that some characters were drawn to and others weren't. It was so realistic.
The family dynamics here were super complex but never felt heavy handed. Zorie lives with her dad and her "stepmom" although they are super close since Zorie's biological mom died when she was 8. I loved seeing this blended family system where the roles of mom vs. stepmom weren't important and show that biology isn't the most important factor in parent-child relationships. Zorie's dad was a scumbag (to put it mildly, and it's not really a spoiler since you find this out pretty early on in the book) and I loved that he had to face consequences for it. And Zorie's grandparents through her stepmom's side were hilarious and badass and it was so cool to see grandparents being featured in playing a part in a YA protagonist's life. Usually it's rare to even get parents who are fully fleshed out, let along grandparents (ugh that scene with Grandma Esther at the end gives me LIFE).
There's a lot of different portrayals of camping in this book! At first I didn't know how much I was going to like the plot because I have not been legit camping since I was about three years old (my parent's first and last foray in camping with a tent), however I was surprised at not only how much I LEARNED about camping (bear canisters are necessary!) but it also showed different types of camping- from back country, truly isolated camping to camping at national campgrounds with several others to full on glamping in luxury yurts (which is now on my bucket list please & thank you).
The romance was actually full of tension and flaws and butterflies and was built up realistically and was just perfect. I am usually super wary of hate-to-love romances because they can be super cheesy or feel really rushed, but this one had just the perfect amount of tension and skepticism sprinkled throughout as ~feelings~ were developing (or reigniting, as it were). I also loved that Zorie and Lennon were both such different people with different interests but still had chemistry and respect for each other's hobbies. LOVE. Also so much playful + sassy banter.
Overall: Starry Eyes is my new favorite YA contemporary novel, hands down. It brings back the nostalgia of high school drama and relationships but in the best way possible, and it was fun and flirty and mature while still dealing with heavier family issues without feeling like it was trying too hard. I wish I could live in Lennon and Zorie's story forever, and though everything wrapped up nicely I'm still crossing my fingers for a sequel!
What are your favorite hate to to love romance recommendations?
The Hating Game // Literally the BEST hate to love romance book I've EVER read. It's just so much fun and it sits sort of between the NA/Adult genres.
Put a Ring on It // A fun spin on hate to love where two strangers get married to spite their exes, and then have to learn who they are after they say "I do." They don't exactly hate each other but things are definitely awkward at first.
A Court of Mist and Fury // FEYSAND. No further details needed.
Obsidian // This one is sort of a throwback to the paranormal romance days, but the protagonist and love interest still pretty much hate each other by the end of the first book (if I remember correctly) so it's definitely a slow burn.
Be sure to check out Lauren's post too!
Related Posts