I received this book for free in exchange for an honest review. This does not affect my opinion of the book or the content of my review.
The Map from Here to There
by
Emery Lord
Also by this author:
When We Collided
,
The Start of Me and You
,
The Names They Gave Us
on January 7, 2020
Genres:
Coming of Age
,
Contemporary
,
Young Adult
Pages:
361 •
Format:
E-ARC
•
Source:
NetGalley
Goodreads
It's senior year, and Paige Hancock is finally living her best life. She has a fun summer job, great friends, and a super charming boyfriend who totally gets her. But senior year also means big decisions. Weighing "the rest of her life," Paige feels her anxiety begin to pervade every decision she makes. Everything is exactly how she always wanted it to be--how can she leave it all behind next year? In her head, she knows there is so much more to experience after high school. But in her heart, is it so terrible to want everything to stay the same forever?
I'll admit, I wasn't the biggest fan of The Start of Me and You. It was OK, but I felt like there was something I wasn't getting from the story that everyone else was. However, the hype around The Map From Here to There was so tangible that I felt like I had to give it a shot, especially since contemporary YA stories that wrap up so neatly usually aren't revisited by the author. I was pleasantly surprised to find that The Map From Here to There not only surpassed my expectations but provided one of the most sincere and earnest depictions of anxiety rep in any YA book that I've come across.
The Map From Here to There picks up pretty quickly after the end of The Start of Me and You, following Paige the summer after her and Max get together and throughout her senior year. Though things ended on a positive note at the end of the previous novel, the story shows how though things might seem OK on the surface doesn't mean that anxiety, worries, and stress can't and won't creep into one's perfectly pieced together life. Paige struggles with typical senior year worries- college applications, anticipation of moving away from her friends, the status of her relationship with Max, etc. However, her anxiety slowly and insidiously creeps in throughout the year due to various factors (which I won't specify as to avoid spoilers). I haven't pulled quotes for this review since I read and ARC, however the honesty and rawness with which Lord writes regarding Paige's anxiety took my breath away. Though anxiety and stress manifests differently for everyone, I had never seen an author delve so deeply into the daily, constant struggles of overwhelming worry that can manifest even while doing the most mundane of tasks. I felt for Paige and her relatively normal life more than I've felt for most characters in other books who have gone through much harder situations because I truly felt as though I was experiencing her panic and worry with her. Yet Lord doesn't shame or stigmatize her character from suffering in this way- Paige's mental health is treated as a priority by both her friends and family and her journey to managing her responses is also explored in a gradual and healthy manner which is so important- her struggles aren't sensationalized for plot convenience or drama yet there's also not a miraculous cure or recovery narrative either. Lord's tackling of the topic is incredibly well balanced and nuanced.
I also really liked all of the characters in this story, which I feel like is rare for any book. Yet each felt like they each had their own motivations, quirks, things that made them bad and good friends and people from time to time, even if their page time was minimal. Lord's writing took me right back to what it was to be on the cusp of adulthood, with "freedom" visible in the distance yet the comfort of your teenage friend group an insular, nostalgic world that you can't fathom leaving. Though everyone's high school story is different, I think many will see kernels of their experience in the story of Paige and her friends, from quiet moments on rooftops to your first real road trip sans chaperones.
One element of The Start of Me and You that I had forgotten about but that I appreciated in this sequel was the exploration of Paige's family, especially the relationship between her parents. Paige's parents didn't receive too much page time but their relationship, hopes, fears and dreams clearly colored who she was as a person, and you could see how her family molded her into the person she became (for better and for worse). I do love novels that factor in environmental elements when shaping a protagonist's personality and characters growth.
Other Thoughts on The Map From Here to There:
There isn't necessarily the clearest resolution at the ending, but it felt right for the tone of the story and for Paige's situation.
Hunter Chen, Paige's coworker at the movie theater, was a real treat. I'd love to read more about him!
Paige's interest in screenwriting felt like a unique touch but didn't overwhelm the plot.
I particularly enjoyed Morgan's arc.
Overall: The Map From Here to There in many ways is a quiet novel, a slice of life story focusing on Paige's senior year in high school. In other ways it's louder than anything I've ever read in its portrayal and awareness of anxiety. I think this story is an important look at what comes after the HEA and that life can be "good" but not necessarily without its struggles. While the book didn't have a "wow" moment for me that made it an all-time favorite (such as The Names They Gave Us by Lord is) it's a book that made me pause and reflect several times, and one that I know I'll appreciate forever.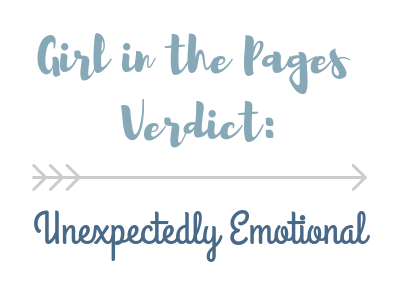 Related Posts