Boyfriend Book Reviews is a feature where my book-loving boyfriend, Max, reads and reviews YA that I either haven't yet read or is outside of my current TBR. If you want a thorough and thoughtful perspective on a guy's take on YA, keep reading!
I received this book for free in exchange for an honest review. This does not affect my opinion of the book or the content of my review.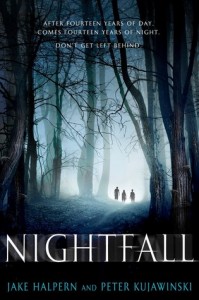 Nightfall
by
Jake Halpern
,
Peter Kujawinski
Published by
G.P. Putnam's Sons Books for Young Readers
on September 22nd 2015
Pages:
368 •
Goodreads
The dark will bring your worst nightmares to light, in this gripping and eerie survival story, perfect for fans of James Dashner and Neil Gaiman.
On Marin's island, sunrise doesn't come every twenty-four hours—it comes every twenty-eight years. Now the sun is just a sliver of light on the horizon. The weather is turning cold and the shadows are growing long.
Because sunset triggers the tide to roll out hundreds of miles, the islanders are frantically preparing to sail south, where they will wait out the long Night.
Marin and her twin brother, Kana, help their anxious parents ready the house for departure. Locks must be taken off doors. Furniture must be arranged. Tables must be set. The rituals are puzzling—bizarre, even—but none of the adults in town will discuss why it has to be done this way.
Just as the ships are about to sail, a teenage boy goes missing—the twins' friend Line. Marin and Kana are the only ones who know the truth about where Line's gone, and the only way to rescue him is by doing it themselves. But Night is falling. Their island is changing.
And it may already be too late.
"They soon reached the flag stone path leading to Deep Well House. They could see the white paper hanging from the front door, but it was only when they were a foot away they could read what had been written. It was a single word scrawled in a childlike script: HIDE." -114
I wanted to like this book. I really did. But as I continued reading the book, I kept wondering "When will this get good." Spoiler alert: It never really did. I'm really not trying to be mean. There were some moments that were tense and it wasn't without enjoyable sequences, but ultimately it just left me disappointed. Before you slam your computer shut and never read a feature written by me again, hear me out. I'll explain myself, no worries. Be advised, from here on out is spoiler territory, so if you don't want that, feel free to read the summary below.
The plot begins by focusing on our three protagonists. Marin and Kana, two "twin" siblings and Line (whose name never failed to make me giggle), who had been Kana's best friend and with whom Marin shares a tween romance. They are three fourteen year olds who are preparing for the inevitable nightfall from which the book takes its name. You see in their world, night lasts for 14 YEARS. The book's backdrop (in the first act) is them preparing to depart the island on which they live for the seminal "Desert Lands" where the night is vaguely less dangerous.
Sounds like a good backdrop for the book, right? Premise intriguing, some tension in the air. Well, not so fast there sports fans. Let me begin with my biggest complaint about the book, which is the pacing. The pacing in this book is, frankly, terrible. There are long sections in which world building is done in paragraph after paragraph. Don't get me wrong I love world building. But it has to be done right. It has to be smooth and flow in the text. I don't want to have a world building sequence when people are running through the forest away from monsters (yes this really happens. More than once.) It sucks all the tension out of the scene and slaps my suspension of disbelief right in the face. I don't care about why that statue is there right now, Nightfall I want to see people run away from scary monsters.
Even putting this aside, the book just isn't that interesting. My least favorite character is probably Line. He's the total "I'm the boy next door who likes this girl because she's different than other girls in my village." He has to take care of his brother because his parents are both dead, which is probably the most interesting part of his character, but his brother Francis was so clichéd and annoying that I found myself not caring about that either after you meet him.
Marin is equally uncompelling. She has no flaws and the elements of her character that are presented as flaws are completely unoriginal and contrived. She doesn't want to go through the same right of passage as her mother because it sounds hard and scary. (You get locked in a big tower with other girls and have to systematically tattoo yourself for a whole year. This one I understood a little more). She also failed to tell Line that she got a precious necklace back from a misadventure the trio shared, which is what caused them to be left behind on the Island. Yawn. This isn't a flaw. She was 13. It made sense that she wouldn't tell because she was embarrassed and that Line was dumb enough to go back for the necklace. I can get on board with that as a plot device, but not as a flaw. She has none, and as such is completely uninteresting. View Spoiler »Kana, the brother, was probably my favorite character. He had an arc that involved finding out he wasn't really related to Marin and that he was actually a human monster hybrid. Even this though left me little satisfaction. The arc comes to an unsatisfactory conclusion without any real payoff or closure. (Like the entire book.) Even finding out who his mother really was turned out to be pretty disappointing. « Hide Spoiler
Finally, a final paragraph about the plot of the book and I'll let you get back to your day. I'll sum it up in three bullet points:
-The authors completely let down their premise. I wanted to see the breakdown in relationships and the psychology of being in a terrible situation. While this happened, in some sense I suppose, the breakdown was completely mishandled and it really didn't become compelling. At the end when they were all friends again, I didn't care because nothing terrible had really happened over the course of the book.
-I can't say enough bad things about the pacing. There are long sections where they just hang out in a hot spring…  IN A BUILDING WHERE THEY WERE ATTACKED BY MONSTERS. WHAT?! They just keep going back to this house to do completely foolish and uninteresting things when they should be running away from the monsters.
-Finally, the ending was AWFUL. I mean awful. They have an epilogue that was indistinguishable from a regular (boring) chapter. And then the book just ends. No feel good ending. No "They reached the desert lands, they see their mom on the shore." Nope. Not any one of those. Just another boring couple of pages and the book is over. D- guys, Must Try Harder.
Overall: I really wanted to like this book. I've heard that a lot of people are gushing about it. I just don't get it. It's boring, poorly paced, has a world that's interesting until you learn more about it, empty characters and a disappointing lack of satisfactory closure for the effort. You're supposed to care about three characters of which only one is sympathetic and nuanced (and barely that if I'm honest). If you're looking for a bone chilling thriller, you can do so much better.
---
About the Reviewer
Max is a twenty-something recent psychology grad, avid gamer, and self-proclaimed Hufflepuff. He and Cristina met in high school, where they bonded over a mutual love of food, Harry Potter, and Disney. When he's not dutifully attending book events with his book blogger girlfriend, he can be found gaming, reading fantasy & sci-fi, and becoming overly invested in Food Network shows with Cristina.
Related Posts