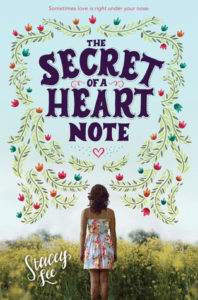 The Secret of a Heart Note
by
Stacey Lee
Also by this author:
Outrun the Moon
Published by
Katherine Tegen Books
on December 27th 2016
Pages:
384 •
Goodreads
Love chose me, and I tried, but I couldn't stop the arrow in its flight.
As one of only two aromateurs left on the planet, fifteen-year-old Mimosa knows what her future holds: a lifetime of using her extraordinary sense of smell to mix base notes, top notes, and heart notes into elixirs that help others fall in love.
All while remaining incurably alone.
For Mim, the rules are clear—falling in love would render her nose useless, taking away her one great talent. Still, Mimosa doesn't want to spend her life elbow-deep in soil and begonias. She dreams of a normal high school existence—taking up a sport and limping away flush from victory, joining the debate club and saying things like "That's a logical fallacy!" Having a boyfriend.
When she accidentally gives an elixir to the wrong woman and has to rely on the school soccer star to help fix the situation, Mim quickly begins to realize that when it comes to falling in love, the choice isn't always hers to make.
Many thanks to the wonderful Lauren @ Bookmark Lit for this book!
Stacey Lee has built herself a reputation of writing strong YA female protagonists with very distinct personalities, and The Secret of a Heart Note is no exception. The story follows Mimosa, one of the last living aromateurs, and her mother as they mix elixirs to help their clients win the affections of their crushes. The entire novel has a bit of a magical realism feel, with the beautiful and wild garden Mimosa and her mother cultivate, their rambling cottage they live in, and their seemingly magical sense of smell and affinity with nature (although their ability to smell is somewhat explained by science if I'm remembering correctly). Though Mimosa and her mother have lived in relative seclusion their whole lives aside from the contact they have with clients through their business, the premise of the novel begins with Mimosa attending public school as she strives to have a somewhat normal life and have some typical teenage experiences.
Though Mimosa's desire to form independence and get away from the stifling plans for the future that her mother has for her (a problem faced by many, non-aromatuer teenagers) I found that the high-school centered aspects of the plot were what I struggled with the most. I found that it took a while to hit my stride with this novel and my attention drifted whenever the scenes would shift from Mim's aromatuer world to that of high school (and this is most likely a personal problem as the farther away I get from being in high school age wise, the lower level of tolerance I have for reading about it). While Mim's social interactions at school present some great and diverse characters (her Samoan best friend, the star athlete who is actually a respectful gentleman, characters struggling with their sexual identities, etc.) I found the antagonist, "mean girl" character to be disappointingly flat in terms of motive and character development (I really, really want YA to move away from girl-on-girl hate as a theme, especially if it's over a guy).
What's truly captivating about this novel is the thought and detail that Stacey Lee put into the creation of smells that emotions and actions evoke to Mim's sensitive nose, and her consistency with using them (anger smelling like burnt tires, nervousness smelling like soap bubbles…aren't the smell descriptions just too perfect?!) Give me a book about the history of the aromatuers that Mim is descended from and I will be all over it! Seriously, this book will make you want to go to your local botanical garden, STAT, and strain your own olfactory senses to see if there's even a hint of the power of Mim's nose in your own.
While I wish I had been more excited throughout the course of reading this novel, I found the last 25% or so to pick up when Mim's mysterious Aunt Byrony begins to be focused on more. Perhaps I'm biased because I have a really awesome aunt myself, but she brings some much needed perspective to the whole novel (though I won't say any more in fear of spoilers!) Just know that Stacey Lee's talents definitely extend into writing some creative and whimsical family dynamics.
Overall: The Secret of a Heart Note was a story built upon so much creativity and whimsy, which I wish had been explored more in depth instead of the contemporary side of the novel. However, Stacey Lee has another winning protagonist with Mim (so earnest and bright and adorable without being your typical quirky clicheé) and her scent descriptions are so imaginative and yet on point at the same time. One of my favorite fellow bloggers, Alexa @ Alexa Loves Books, compared to The Secret of a Heart Note having the feel of a romantic comedy, and she couldn't be more right!
Save
Save
Related Posts