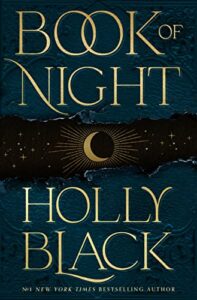 Book of Night
by
Holly Black
Also by this author:
The Darkest Part of the Forest
,
The Cruel Prince (The Folk of the Air, #1)
,
The Wicked King (The Folk of the Air, #2)
,
The Queen of Nothing (The Folk of the Air, #3)
Series:
Book of Night #1
Published by
Tor Books
on May 3, 2022
Genres:
Urban Fantasy
Pages:
308 •
Format:
E-Book
•
Source:
Overdrive
Goodreads
In Charlie Hall's world, shadows can be altered, for entertainment and cosmetic preferences—but also to increase power and influence. You can alter someone's feelings—and memories—but manipulating shadows has a cost, with the potential to take hours or days from your life. Your shadow holds all the parts of you that you want to keep hidden—a second self, standing just to your left, walking behind you into lit rooms. And sometimes, it has a life of its own.

Charlie is a low-level con artist, working as a bartender while trying to distance herself from the powerful and dangerous underground world of shadow trading. She gets by doing odd jobs for her patrons and the naive new money in her town at the edge of the Berkshires. But when a terrible figure from her past returns, Charlie's present life is thrown into chaos, and her future seems at best, unclear—and at worst, non-existent. Determined to survive, Charlie throws herself into a maelstrom of secrets and murder, setting her against a cast of doppelgängers, mercurial billionaires, shadow thieves, and her own sister—all desperate to control the magic of the shadows.
I've had truly a hit or miss experience with Holly Black books. I read the Folk of the Air trilogy because everyoneeee was talking about it for a few years there in the YA community, and while there were some things about it I really enjoyed, I never really connected with the series and felt it to be a little underdeveloped. However, I was intrigued upon hearing that Holly was branching into the adult fiction sphere, especially with an urban fantasy novel (I feel like it's honestly an underappreciated genre). When my library hold came in I hesitantly started it, and it honestly took me probably a good month or more to finish it- it was one of those books that I didn't mind while I was reading it, but I also didn't yearn to pick it up when I wasn't reading it.
Book of Night has an almost Peter Pan like premise to me, with magic being based on shadows. The shadow magic premise is interesting, because sometimes it's inherent, sometimes triggered by trauma, and sometimes just plain stolen/acquired. It's somewhat seedy role in the series helps to add to the overall dark/grungy feeling of the urban fantasy world, and I can say that it was a more unique premise (I hadn't encountered a magic system in a book quite like it before). However, despite the magic system being interesting, it was also very underdeveloped and I had a hard time trying to suss out the world building- it seems like the shadow magic manifested in our type of "modern" world not too long ago and massively changed things…but it's all super vague and I would have loved to better understand the societal impacts of a magic system that seemed to have really boomed during the character's actual lifetime. The actual plot itself I felt I could take or leave- it has a heist type element to it that I honestly wasn't very interested in, but it makes sense since protagonist Charlie is a skilled thief and con artist.
The story is predominantly told in alternating present and past flashback chapters. It definitely helps to flesh out Charlie's character and build a backstory of trauma that explains why she is the way she is today. Though Charlie has an unusual background and is surrounded by secondary characters with pretty distinct paths (such as her sister, Posey), the narration style (third person) felt flat to me and almost detached. Honestly, looking back after reading the book the stakes were pretty high, but I just never felt connected enough to the story or characters to feel super engaged as a reader, and the pacing, especially for the first 60-70% of the book or so, was too slow for my usual taste. I actually looked up the page count when writing this review fully expecting to have just read a 600+ page book…but it's only around 300 pages O.o
I also am usually the first to say a book DOES NOT need a romance, but I think I would have enjoyed this book had it had a more compelling romance…the romance in this one manages to be simultaneously a huge part of the plot but also super underwhelming. I can't get into more without spoilers, but a twist at the end did point to the romance potentially being more interesting in the future should a sequel be in store. The issue is, I'm not sure I'd be motivated enough to pick up a sequel should it come out.
Overall: Book of Night was highly anticipated, and the general consensus seems to be it fell a bit flat. It definitely wasn't a bad book and did pick up a bit at the end for me, however I don't feel as though I would have missed out on anything had I ultimately chosen to not pick this one up.
Related Posts