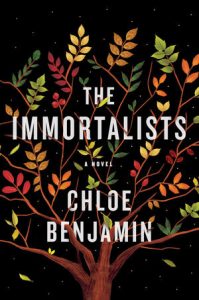 The Immortalists
by
Chloe Benjamin
on January 9th 2018
Genres:
Adult Fiction
,
Contemporary
Pages:
352 •
Format:
E-Book
•
Source:
Overdrive
Goodreads
If you were told the date of your death, how would it shape your present?

It's 1969 in New York City's Lower East Side, and word has spread of the arrival of a mystical woman, a traveling psychic who claims to be able to tell anyone the day they will die. The Gold children—four adolescents on the cusp of self-awareness—sneak out to hear their fortunes.

Their prophecies inform their next five decades. Golden-boy Simon escapes to the West Coast, searching for love in '80s San Francisco; dreamy Klara becomes a Las Vegas magician, obsessed with blurring reality and fantasy; eldest son Daniel seeks security as an army doctor post-9/11, hoping to control fate; and bookish Varya throws herself into longevity research, where she tests the boundary between science and immortality.
I'll admit I didn't go into this book knowing much- mostly that is was about a group of siblings that know their death date after a chance encounter with a psychic when they are children (a terrible thing to find out but a great premise for a book). I had also heard it was pretty literary, but I was ready for it since contemporary literary fiction was my JAM in college. And while the plot of the book overall was interesting, I really wasn't blown away by anything happening here. A few thoughts:
I liked how the book was divided into four distinct sections after the children's run in with the psychic, and when one sibling dies it picks up with the narrative of the next sibling with the closest "death date."
The characters were part of a large Jewish family and their parents immigrated to the US in the 1900s. It was super interesting to learn about their family's backstory and see how the Jewish faith and traditions were preserved in their family, especially through their mother, Gertie.
I feel like I never really got to KNOW the characters, especially Simon- he felt very flat, one dimensional, and stereotypical. I was expecting to connect more with each sibling given how central each individual narrative was to the overall story.
I did find it interesting to see how each sibling, in their own way, really fell pray to the self-fulfilling prophecy of their death date and how it really ruined each of their lives (even the ones who were given decades upon decades to live). There's also a secondary character who lurks in the background of each of their stories and ultimately plays a role in some of their deaths (even inadvertently) which I found to be an interesting plot element.
I've seen a few other reviewers mention this, but there are a lot of graphic scenes in the beginning of the book that started to feel rather tasteless after a while and didn't feel like they added much to the story.
I wish the book had focused more on the prophecies and the magical realism that seemed to be hyped up, but I found that aside from Klara's portion, it really just felt like a plain contemporary novel after the initial run in with the psychic.
Overall: An interesting concept for a novel, but nothing's super memorable that will make The Immortalists stand out among other literary fiction I've read.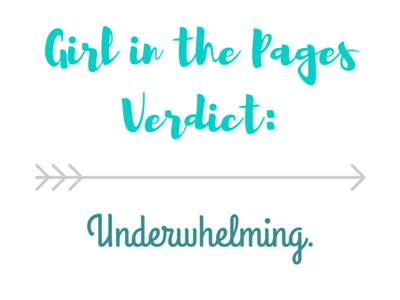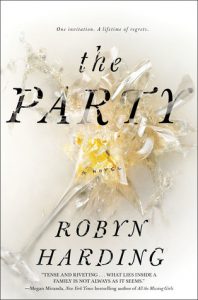 The Party by Robyn Harding
Published by Gallery/Scout Press on June 6th 2017
Genres: Adult Fiction, Contemporary, Mystery
Pages: 352 •Format: E-Book •Source: Overdrive
Goodreads

In this stunning and provocative domestic drama about a sweet sixteen birthday party that goes horribly awry, a wealthy family in San Francisco finds their picture-perfect life unraveling, their darkest secrets revealed, and their friends turned to enemies.

One invitation. A lifetime of regrets.

Sweet sixteen. It's an exciting coming of age, a milestone, and a rite of passage. Jeff and Kim Sanders plan on throwing a party for their daughter, Hannah—a sweet girl with good grades and nice friends. Rather than an extravagant, indulgent affair, they invite four girls over for pizza, cake, movies, and a sleepover. What could possibly go wrong?

But things do go wrong, horrifically so. After a tragic accident occurs, Jeff and Kim's flawless life in a wealthy San Francisco suburb suddenly begins to come apart. In the ugly aftermath, friends become enemies, dark secrets are revealed in the Sanders' marriage, and the truth about their perfect daughter, Hannah, is exposed.

Harkening to Herman Koch's The Dinner, Christos Tsiolkas's The Slap, and Liane Moriarty's Big Little Lies, The Party takes us behind the façade of the picture-perfect family, exposing the lies, betrayals, and moral lapses that neighbors don't see—and the secrets that children and parents keep from themselves and each other.
So I randomly downloaded this one from Overdrive after seeing it mentioned over on Lauren's blog, as I was craving an adult thriller. I was excited to see that it was set in the Bay Area, and that it had a very Liane Moriarty-esque vibe from the synopsis- affluent family impacted by improbable scandal unearths disturbing family revelations. While milder than I was initially anticipating, The Party explores how the seemingly "no big deal" choices we make can lead to huge consequences, and will really incite an anger toward irresponsible teenagers (and ignorant parents) in you. The story doesn't carry so much of a "who-dunnit" mystery vibe, but rather shows the complex web of lies that stem from different characters trying to hide the actions they took on the night of the party. I think there was supposed to be a ~shocking revelation~ at the end as well, but I sort of thought it was anticlimactic personally. Also, if you like books full of unlikable, love to hate characters, this one will do the trick.
Overall: I loved the Bay Area setting and the complex family drama, but this book wasn't as big of a "mystery" as I expected.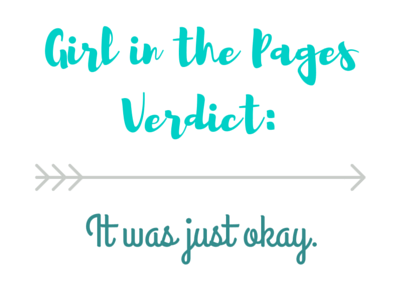 Forever, Interrupted by Taylor Jenkins Reid
Also by this author: Maybe in Another Life, One True Loves, After I Do, The Seven Husbands of Evelyn Hugo, Daisy Jones & The Six
Published by Washington Square Press on July 9th 2013
Pages: 352 •Format: Paperback •Source: Gifted
Goodreads

Elsie Porter is an average twentysomething and yet what happens to her is anything but ordinary. On a rainy New Year's Day, she heads out to pick up a pizza for one. She isn't expecting to see anyone else in the shop, much less the adorable and charming Ben Ross. Their chemistry is instant and electric. Ben cannot even wait twenty-four hours before asking to see her again. Within weeks, the two are head over heels in love. By May, they've eloped.

Only nine days later, Ben is out riding his bike when he is hit by a truck and killed on impact. Elsie hears the sirens outside her apartment, but by the time she gets downstairs, he has already been whisked off to the emergency room. At the hospital, she must face Susan, the mother-in-law she has never met and who doesn't even know Elsie exists.

Interweaving Elsie and Ben's charmed romance with Elsie and Susan's healing process, Forever, Interrupted will remind you that there's more than one way to find a happy ending.
Forever, Interrupted was the last TJR book I had to read (and I think I was partially procrastinating on reading it because of this). I had started it waaaay back in January of 2017 but put it down because it was too depressing of a read for my Hawaiian vacation, but in an effort to be more intentional in my reading in 2018, wanted to finally cross it off my TBR. I skimmed the first 100 pages or so that I vaguely remembered reading from last year, and settled into a story that carried equal parts grief and hope.
Now while I will admit that Forever, Interrupted is my least favorite TJR books to date (Maybe In Another Life and The Seven Husbands of Evelyn Hugo being my favorites), it chronicled the unique story of a widow grieving after only a week and a half of marriage well. The narrative is split in two parts- present day after Elsie's husband's death, and in the past chronicling their six month whirlwind courtship chronologically- and I actually found myself more invested in the present day narrative that focused on Elsie's journey to healing alongside her mother in law. It was raw and real and uncomfortable at times to watch their relationship (which didn't begin until AFTER the death of her husband) but it was also interesting to see how they kept Ben's memory alive in their interactions with eacho ther, as they each gleaned his presence through the other's mannerisms, memories, stories, etc. I'll admit I actually wasn't a fan of Ben and Elsie's courtship (it's not my favorite romance she's written) but the tragic circumstances in the aftermath of their marriage do make for a powerful story.
Overall: While not my favorite TJR novel, still another powerful and thoughtfully written book about marriage by TJR.
Related Posts