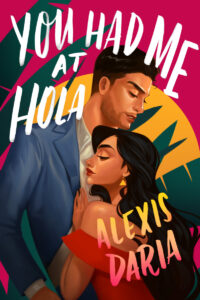 You Had Me at Hola (Primas of Power, #1)
by
Alexis Daria
Series:
Primas of Power #1
Published by
Avon Impulse
on August 4, 2020
Genres:
Romance
Pages:
384 •
Format:
E-Book
•
Source:
Overdrive
Goodreads
Leading Ladies do not end up on tabloid covers.
After a messy public breakup, soap opera darling Jasmine Lin Rodriguez finds her face splashed across the tabloids. When she returns to her hometown of New York City to film the starring role in a bilingual romantic comedy for the number one streaming service in the country, Jasmine figures her new "Leading Lady Plan" should be easy enough to follow—until a casting shake-up pairs her with telenovela hunk Ashton Suárez.
Leading Ladies don't need a man to be happy.
After his last telenovela character was killed off, Ashton is worried his career is dead as well. Joining this new cast as a last-minute addition will give him the chance to show off his acting chops to American audiences and ping the radar of Hollywood casting agents. To make it work, he'll need to generate smoking-hot on-screen chemistry with Jasmine. Easier said than done, especially when a disastrous first impression smothers the embers of whatever sexual heat they might have had.
Leading Ladies do not rebound with their new costars.
With their careers on the line, Jasmine and Ashton agree to rehearse in private. But rehearsal leads to kissing, and kissing leads to a behind-the-scenes romance worthy of a soap opera. While their on-screen performance improves, the media spotlight on Jasmine soon threatens to destroy her new image and expose Ashton's most closely guarded secret.

I think my reading experience with You Had Me at Hola is really very much a case of it not being the right book at the right time for me. I really, truly wanted to like it. It was one of my most anticipated reads of 2020 and everything from the synopsis and cover seemed right up my alley. However, when it actually came time to read You Had Me at Hola, I just found myself wishing it wasn't a romance. I liked Jasmine and loved her "Leading Lady Plan" to focus more on her career and less on needing to define herself by romantic relationships, and her inevitable relationship that broke that plan seemed to not really be worth it to me. I was honestly getting more friend vibes between her and Ashton and thought they both had so much going on in their professional and family lives that I would have rather the novel focused on that- two actors overcoming obstacles to bring more Latinx stories to the television screen without the romance piece. Like I said though, I think it was really just a personal preference for me- I haven't been jiving with a lot of romances lately!
There were some things I really loved about this story, especially the family dynamics. I loved how Jasmine's family was so big and all of the cousins were Latinx in different ways and many were biracial children. I loved how contrary to popular belief, Jasmine wasn't fluent in Spanish (though many assumed she would be just because she was Latinx) and had to work at learning the language to star in a bilingual show. I loved seeing the behind the scenes work on how a streaming show is made, and found the idea of an "intimacy coordinator" fascinating (not sure if that's a real thing or not, but it definitely should be!) A lot of bright spots here for me even though the romance wasn't my favorite!
Overall: You Had Me at Hola didn't entirely convince me on the romance, but I hope it signifies a lot more Latinx stories coming to the contemporary and romance genres!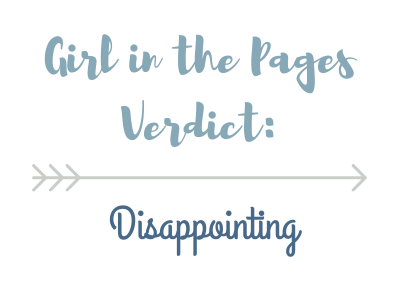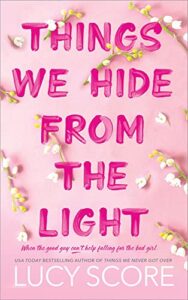 Things We Hide from the Light
by
Lucy Score
Also by this author:
Things We Never Got Over (Knockemout, #1)
,
Things We Left Behind (Knockemout, #3)
Series:
Knockemout #2
Also in this series:
Things We Left Behind (Knockemout, #3)
Published by
That's What She Said Publishing
on February 21, 2023
Genres:
Romance
Pages:
589 •
Format:
E-Book
•
Source:
Kindle Unlimited
Nash Morgan was always known as the good Morgan brother, with a smile and a wink for everyone. But now, this chief of police is recovering from being shot and his Southern charm has been overshadowed by panic attacks and nightmares. He feels like a broody shell of the man he once was. Nash isn't about to let anyone in his life know he's struggling. But his new next-door neighbor, smart and sexy Lina, sees his shadows. As a rule, she's not a fan of physical contact unless she initiates it, but for some reason Nash's touch is different. He feels it too. The physical connection between them is incendiary, grounding him and making her wonder if exploring it is worth the risk.

Too bad Lina's got secrets of her own, and if Nash finds out the real reason she's in town, he'll never forgive her. Besides, she doesn't do relationships. Ever. A hot, short-term fling with a local cop? Absolutely. Sign her up. A relationship with a man who expects her to plant roots? No freaking way. Once she gets what she's after, she has no intention of sticking around. But Knockemout has a way of getting under people's skin. And once Nash decides to make Lina his, he's not about to be dissuaded…even if it means facing the danger that nearly killed him.
I personally hate giving some books in a series a full review and others a mini review, but that's about all I can muster up the energy to do for Things We Hide from the Light. It's a shame, because I really quite enjoyed its predecessor, Things We Never Got Over, but this felt like the same story in a different font. I'm honestly surprised it turned out that way for me, seeing as I really liked Knox as a secondary character in the first book. Perhaps this is proof that not every secondary character darling should get their own spin off, because all of Nash's charm disappeared for me in this book and he felt waaaaaaay more like Knox behavior wise in this story. Just constantly grumpy, broody, etc. I also wasn't enamored with Lina (I think that was her name) and really just was bored by their relationship and the CONSTANT back and forth from both of them (*oh but I can't be in love I'm too damaged/scared/etc.) Honestly the best things about this book were the continuation of the mystery from the first book, seeing some more of the side characters again, and the scraps of Lucien and Sloane (when I tell you I NEEEED their book! Their chemistry sprang off the pages and it wasn't even their book!)
You know now that I think about it, perhaps that's why I didn't really buy into Nash and Lina's romance- they just seemed random and sort of thrown together for the sake of pairing two characters from book one up. Lucien and Slone CLEARLY have a history, and are very tightly walking that fine line between love and hate…honestly I could probably write a better review of their story based on the snippets I've gotten from them the past two books than I can about Nash/Lina.
Overall: Way too long and drawn out, I pushed through this one for Lucien/Sloane, which better be EPIC. 3 stars just for the glimpses I got of them XD
Related Posts