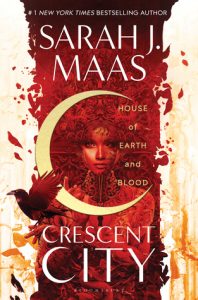 House of Earth and Blood (Crescent City, #1)
by
Sarah J. Maas
Also by this author:
Throne of Glass (Throne of Glass, #1)
,
Crown of Midnight
,
A Court of Thorns and Roses
,
Heir of Fire (Throne of Glass, #3)
,
Queen of Shadows (Throne of Glass, #4)
,
A Court of Mist and Fury (A Court of Thorns and Roses, #2)
,
Empire of Storms (Throne of Glass, #5)
,
A Court of Wings and Ruin (A Court of Thorns and Roses, #3)
,
A Court of Frost and Starlight (A Court of Thorns and Roses, #3.1)
,
The Assassin's Blade (Throne of Glass, #0.1-#0.5)
,
Catwoman: Soulstealer (DC Icons, #3)
,
Kingdom of Ash (Throne of Glass, #7)
,
A Court of Silver Flames (A Court of Thorns and Roses, #4)
,
House of Sky and Breath (Crescent City, #2)
Series:
Crescent City #1
Also in this series:
House of Sky and Breath (Crescent City, #2)
Published by
Bloomsbury
on March 3, 2020
Genres:
New Adult
,
Paranormal
,
Urban Fantasy
Pages:
816 •
Format:
E-Book
,
Hardcover
•
Source:
Purchased
Goodreads
Half-Fae, half-human Bryce Quinlan loves her life. By day, she works for an antiquities dealer, selling barely legal magical artifacts, and by night, she parties with her friends, savoring every pleasure Lunathion—otherwise known as Crescent City— has to offer. But it all comes crumbling down when a ruthless murder shakes the very foundations of the city—and Bryce's world.

Two years later, her job has become a dead end, and she now seeks only blissful oblivion in the city's most notorious nightclubs. But when the murderer attacks again, Bryce finds herself dragged into the investigation and paired with an infamous Fallen angel whose own brutal past haunts his every step.

Hunt Athalar, personal assassin for the Archangels, wants nothing to do with Bryce Quinlan, despite being ordered to protect her. She stands for everything he once rebelled against and seems more interested in partying than solving the murder, no matter how close to home it might hit. But Hunt soon realizes there's far more to Bryce than meets the eye—and that he's going to have to find a way to work with her if they want to solve this case.

As Bryce and Hunt race to untangle the mystery, they have no way of knowing the threads they tug ripple through the underbelly of the city, across warring continents, and down to the darkest levels of Hel, where things that have been sleeping for millennia are beginning to stir…
I will be the first to admit that Sarah J Maas is one of my favorite authors, but I struggled with this book initially. I put off reading it for several months because I was intimidated by the size and by the change in genre from her previous books, and honestly it was exhausting just thinking about having to learn a whole new world. When I finally did dive into it, I found myself constantly confused, and not having a whole lot of motivation to pick it up between reading sessions. Ultimately, I'm glad I stuck with it because at about the 30% mark I started to become much more invested, but it was definitely a bumpy journey.
Let's start off with the world building, as it was clearly the element I struggled with the most. I think one of the big differences between this book and SJM's other series is that Celaena and Feyre are both protagonists who are new to the world around them, and the reader learns and explores alongside them. Bryce is already firmly entrenched in this urban fantasy world, so it's a bit jarring to be dropped into her full fledged life while trying to navigate all of the info dumping surrounding the structure of the city, the war happening on another country and how that's impacting the city (I honestly can't event remember the name of the city, I think it's Luna-something?), the Asteri (who I still don't really understand anything about, even after Googling and looking at the wiki). Then there's this whole rebellion that happened like 200 years ago that plays into Hunt (the love interest's) history and it's just…a lot. Add Danika and the wolves and the realm of Hel and I felt like I needed an encyclopedia to keep everything straight.
Bryce was also not likeable for the first part of the book…which is OK! She was definitely a departure from the "Chosen One" types of protagonists Maas usually writes View Spoiler »(at least at first…*cough*) « Hide Spoiler and in a lot of ways she IS relatable- at a job where she's underappreciated and under paid, lonely, spoils her pet, tries to keep her parents' noses out of her business, etc. She definitely has a large characters arc and comes into her own even in just one book, which was satisfying to read about. Yet I didn't feel connected to her the way I have to some of Maas' protagonists in the past. Danika honestly reminded me more of her typical protagonists, so in some ways it was almost like reading a novel set from the perspective of a typical SJM side character.
Then of course we have Hunt, the warrior angel who Bryce has to work with for the "mission" (this book is honestly more of a mystery book than fantasy IMO). There's the inevitable hate to love romantic progression (which I'll admit, Maas always does extremely well) and while I liked Hunt (and was surprised by some of his actions later on in the book) I felt like he didn't have the same presence that characters such as Rhys, Rowan, Dorian, etc. have in her previous works. Maybe that was intentional (this book has a very interesting blend of paranormal and mundane, everyday life- like him just sitting on the couch watching TV in sweatpants) but I went up and down in my interest for Hunt- sometimes I liked him and sometimes he felt like a knockoff version of Cassian.
While I admitted earlier that I had trouble keeping everything and everyone straight, there were some excellent secondary characters, and as usual Maas creates a cadre of unlikely allies that you can't help but root for. I especially loved Ruhn and his sass and the development and his and Bryce's sibling relationship, which at times felt like it took precedence over the importance of the romantic relationship (which was refreshing). I also enjoyed Tharion and Fury, and the Jesbiba and the Viper Queen were badasses. Lele the fire sprite that lived in the library archives at Bryce's work was a delight, and I'll admit I want my own adorable pet chimera after spending time with Sphrinx.
At over 800 pages, there was a whole lot of plot in this story, some of which felt necessary and some of which decidedly did NOT. About 50 or so pages in there was a big event that I did NOT see coming, and honestly made me so SAD but so intrigued. Yet then there was a lull for about 200 pages where I just…did not care about anything happening. It was mostly politics, Bryce going to work, grieving, etc. While I understood the need to set things up because there was a significant time jump, it just felt like it dragged quite a bit and every time I put it down I wasn't compelled to pick it up again. Luckily I stuck it out and around 30%-40% in I started to become interested in the mystery that Bryce and Hunt teamed up to solve. I had heard that in the last quarter of the book the plot really EXPLODES and I was not disappointed- it was scene after scene after scene of action and new twists and turns and it was honestly excellent and perhaps the most action packed of Maas' endings.
Overall: While House of Earth and Blood was initially hard for me to get into, I am glad I stuck it out and powered through. The book really finds its footing about a third of the way through, and Maas' ability to create an amazing cast of characters is really on point in this novel. I was completely enthralled by the ending and can't wait for the next installment! That said, it's very SJM, so if you're not a fan of her ACOTAR series or later TOG books this might not be for you!
Related Posts