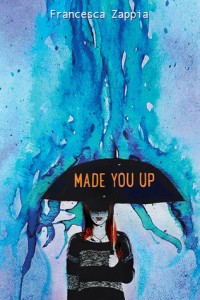 Made You Up
by
Francesca Zappia
Published by
Greenwillow Books
on May 19th 2015
Pages:
448 •
Goodreads
Reality, it turns out, is often not what you perceive it to be—sometimes, there really is someone out to get you. Made You Up tells the story of Alex, a high school senior unable to tell the difference between real life and delusion. This is a compelling and provoking literary debut that will appeal to fans of Wes Anderson, Silver Linings Playbook, and Liar.Alex fights a daily battle to figure out the difference between reality and delusion. Armed with a take-no-prisoners attitude, her camera, a Magic 8-Ball, and her only ally (her little sister), Alex wages a war against her schizophrenia, determined to stay sane long enough to get into college. She's pretty optimistic about her chances until classes begin, and she runs into Miles. Didn't she imagine him? Before she knows it, Alex is making friends, going to parties, falling in love, and experiencing all the usual rites of passage for teenagers. But Alex is used to being crazy. She's not prepared for normal. Funny, provoking, and ultimately moving, this debut novel featuring the quintessential unreliable narrator will have readers turning the pages and trying to figure out what is real and what is made up.
"There is no force in high school more powerful than one person's blunt disagreement."
Made You Up was one of my most highly anticipated reads of the year. I envied those who won ARCs of it at YALLWEST, and read many, many reviews raving about the story. However, I found that this novel was another victim of hype. While Alex's story and disease captivated me, the plot, setting and circumstances were often so absurd and caricaturized that I found it hard to follow along.
It's no spoiler to mention that Alex has schizophrenia; it's one of the major plot points of the book from beginning to end. I love an unreliable narrator, so I had prepared myself to scrutinize Alex's story and be ready to try and disentangle illusion from reality. I enjoyed the running parallelism of Alex's high school struggles to the Great Lobster Escape of her childhood. I loved Alex's commitment to school and college and reaching her goals despite her disease, and was intrigued by her continual balancing act of perceiving what's there and perceiving what's only a byproduct of her condition. I found it clever yet sad how she relied so much on taking pictures in order to later determine if something was real or if it was a hallucination. I loved her obsession with history and her eccentric yet supportive family.
Yet Alex herself as a character was not quite enough to make me enjoy the book. There were perhaps major hurdles I came across right away in suspending my disbelief, such as schizophrenia manifesting at such a young age (it generally appears in one's 20s) and such frequent visual hallucinations (auditory hallucinations are much more common). These "medical" inconsistencies paired with the bizarre actions of the characters in the book made it hard for me to enjoy. Miles is a skinny, slightly hipster-ish guy who Alex has a love-hate relationship with, who the school completely fears for some reason, he runs a club where the members non-ironically and adoringly refer to him as "Boss," the principal is a creepy character with an obsession with a inanimate object and a long-ago legacy, and everyone seems to put great stock in urban legends and hauntings. Alex's thoughts were often the things that made most sense (and considering she's schizophrenic, was sort of surprising) and the whole book read like a weird sort of fever dream. I suppose, though, that perhaps NONE of the events in the book ever happened, and that's why they were so weird…
I will admit that this book has some pretty good twists at the end, and of the two major ones, I was only able to guess one and was blindsided by the other (which, since I read a lot of YA, doesn't happen often but man, this one got me right in the feels). Considering how much time we spend with Alex and Miles throughout the novel, the ending felt rushed, ambiguous and more than a little incomplete. I was anticipating some level of ambiguity considering the nature of Alex's disease and her undeniable status as an unreliable narrator, but I can't help but feel rather perplexed about what, if anything, I can take away from the novel because there's no signs, even small indicators, as to what was real and what wasn't.
Overall: Made You Up deals with mental illness pretty candidly, as Alex struggles through her schizophrenia in an attempt to be a normal, college bound teen. While an enjoyable protagonist to read, the plot points get fuzzy and convoluted as the novel progresses (and not in a perfectly, plot-twisted way that seemed like a by-product of Alex's mental state-rather it just felt messy). There are some intriguing twists at the end, but I had hoped for a novel with more depth and less confusion.
Reading this book contributed to these challenges:
Related Posts