I received this book for free in exchange for an honest review. This does not affect my opinion of the book or the content of my review.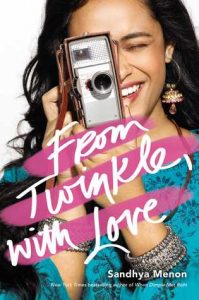 From Twinkle, with Love
by
Sandhya Menon
Also by this author:
When Dimple Met Rishi
,
There's Something About Sweetie
Published by
Simon Pulse
on May 22, 2018
Genres:
Contemporary
,
Young Adult
Pages:
336 •
Format:
E-ARC
•
Source:
NetGalley
Goodreads

Aspiring filmmaker and wallflower Twinkle Mehra has stories she wants to tell and universes she wants to explore, if only the world would listen. So when fellow film geek Sahil Roy approaches her to direct a movie for the upcoming Summer Festival, Twinkle is all over it. The chance to publicly showcase her voice as a director? Dream come true. The fact that it gets her closer to her longtime crush, Neil Roy—a.k.a. Sahil's twin brother? Dream come true x 2.

When mystery man "N" begins emailing her, Twinkle is sure it's Neil, finally ready to begin their happily-ever-after. The only slightly inconvenient problem is that, in the course of movie-making, she's fallen madly in love with the irresistibly adorkable Sahil.

Twinkle soon realizes that resistance is futile: The romance she's got is not the one she's scripted. But will it be enough?

Told through the letters Twinkle writes to her favorite female filmmakers, From Twinkle, with Love navigates big truths about friendship, family, and the unexpected places love can find you.
*Thanks so much to Simon & Schuster Children's Publishing and NetGalley for providing a galley in exchange for an honest review!*
What's not to love about From Twinkle, With Love? The title is adorable, the cover is STUNNING, and the epistolary format was really fun to read. In some ways, I loved Menon's sophomore novel even more than her first, because it was just so much fun. Twinkle's personality coupled with some of the tried and true YA tropes and laugh out loud writing had me itching to pick up the story at every spare moment I had the week I read it. However, there were a few elements that bothered me throughout the novel, a background sort of annoyance that I found hard to shake and ultimately lessened my enjoyment of the story a bit.
Unlike Menon's debut novel which is set on a college campus, From Twinkle, With Love is very firmly a high school book, with the drama and tropes to go along with it. While I find I sometimes get bored with high school narratives, I found this one to be really funny, especially Twinkle's internal dialogue which was cringe-y and hilarious- groundlings and silk feathered hats and all that. The variation in format was also really fun to read and helped the story keep up a quick and fun pace- the letters Twinkle writes combined with the text messages and emails from other characters helped really round out the story, and give the secondary characters some life and vibrancy (especially the guys- their texts were hilarious). I loved loved LOVED Sahil, and I think Menon has a talent for writing positive, respectful YA romances that are still swoony in their own way without being obvious. And I totally felt Twinkle's angst about her feelings for Sahil- as a teenager you totally want to be with the popular, athletic, well known guy but by the time you're in your mid-twenties you're #TeamSahil all the way. I can see how Twinkle's fickle heart may have irked some readers, but it's actually not the part of the story I had a problem with.
My main issue with this book is I feel like there were a LOT of mean girl stereotypes and bullying that seemed rather one dimensional, or didn't get the page time/context it deserved to make sense. At the beginning of the story, Twinkle is very blunt about having had a fall out with her lifelong BFF Maddie, and the whole premise of their now strained relationship felt really flimsy and took way too long to reveal. Honestly, in my opinion people were super mean to Twinkle and when she goes through her period toward the end of the book of self-righteousness I really didn't mind considering how awful the other characters had been to her for so long. But then everyone blames her for not taking the high road. And I get it, as the protagonist in a YA, high school set novel it's probably expected for the protagonist to be the bigger person and extend the olive branch, etc., but it just really irritated me that everyone sort of put the onus on Twinkle for that, like it was her responsibility. It was great and all that she chose to reconcile instead of being bitter, but I personally think that sometimes the expectation of the YA heroine being "nice" and doing the right thing in contemporary novels is tiring. #ilikedroguetwinkle #twinkletellsitlikeitis
Other than Maddie and Hannah and all of the other mean girl drama, this book was a lot of fun to read. The gender-bent movie theme that Twinkle and Sahil go for is clever, and I love how coming together to create the film brought down a lot of the social barriers and boundaries at the school. I also of course loved seeing Twinkle's Indian culture integrated into the story. While her culture wasn't as central to the overall plot as in When Dimple Met Rishi, it was still woven into the story and I absolutely ADORED Twinkle's Dadi and her fusion of Indian tradition and new age American mysticism (and YAY for books that feature grandparents!!)
Overall: From Twinkle, With Love is definitely fluff, but it's the fun, feel good kind fluff that will warm you while reading and make you remember your groundling high school days a little more fondly.
Related Posts