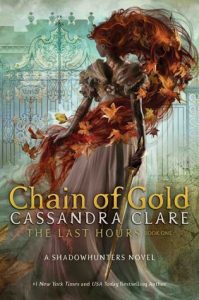 Chain of Gold (The Last Hours, #1)
by
Cassandra Clare
Also by this author:
Summer Days & Summer Nights: Twelve Love Stories
,
Lady Midnight (The Dark Artifices, #1)
,
Queen of Air and Darkness (The Dark Artifices #3)
,
The Bane Chronicles (The Bane Chronicles)
,
Chain of Iron (The Last Hours, #2)
Published by
Margaret K. McElderry Books
on March 3, 2020
Genres:
Historical Fiction
,
Paranormal
,
Urban Fantasy
,
Young Adult
Pages:
624 •
Format:
Hardcover
•
Source:
Purchased
Goodreads
Welcome to Edwardian London, a time of electric lights and long shadows, the celebration of artistic beauty and the wild pursuit of pleasure, with demons waiting in the dark. For years there has been peace in the Shadowhunter world. James and Lucie Herondale, children of the famous Will and Tessa, have grown up in an idyll with their loving friends and family, listening to stories of good defeating evil and love conquering all. But everything changes when the Blackthorn and Carstairs families come to London…and so does a remorseless and inescapable plague.
James Herondale longs for a great love, and thinks he has found it in the beautiful, mysterious Grace Blackthorn. Cordelia Carstairs is desperate to become a hero, save her family from ruin, and keep her secret love for James hidden. When disaster strikes the Shadowhunters, James, Cordelia and their friends are plunged into a wild adventure which will reveal dark and incredible powers, and the true cruel price of being a hero…and falling in love.
I have to admit, I've been on a huge Shadowhunters kick this year. It all began when I decided to reread the TID trilogy in order to go into Chain of Gold fully prepared, which then led to reading all of the short stories and novellas I could that chronologically came before Chain of Gold (huge shout out to Dedra from A Book Wanderer for this handy list of what to read!)  When I finally picked up Chain of Gold, my expectations were sky high, and I'm pleased to state that *most* of them were met!
I love all of the Shadowhunter books, but there's something really special about the historical fiction ones- Cassandra Clare's writing just really seems to shine through in her period pieces. Chain of Gold was no exception, picking up ~20ish years after Clockwork Princess and follows a new generation of Shadowhunters (primarily the children of all of the beloved TID characters). While my expectations were high, I had to admit I was a little skeptical of how much I was going to love the characters- after so many books, I was wondering how many more unique character "types" Clare could come up with. Yet I found myself falling in love with this new, Edwardian-era gang of Shadowhunters, from Thomas' quite resilience to Christopher's love of science that echoed Henry's to Lucie's fiesty personality. And don't even get me started on Anna- I think it's impossible to read this novel and not completely fangirl over how cool she is. I was also giddy anytime I got a glimpse of their parents, especially of middle aged Will as a Dad (so wholesome, such corny dad joke energy).
I was also curious as to what the main conflict was going to be given that this is pre-Valentine and after the Clockwork War. Clare has come up with an entirely new threat for this generations of Shadowhunters that still has ties to events in TID, which was a nice blend (though I won't go into specifics as I want to avoid spoilers). It was also fascinating to read about a generation of Shadowhunters that's grown up in a period of peace, and how that's impacted them- so different from the dark and angst-ridden past of Will, Jem, the Lightwoods, etc., these Shadowhunters spend most of their free time paying social calls to each other, having elaborate picnics at the park, with patrols being more an opportunity to catch up with friends rather than actual, you know, demon slaying.
More so with this book than I think any other book in the Shadowhunters' series, I felt like there were so many relationships, plots, and conflicts layered on top of each other. Clare's obviously super comfortable in this world now and I love picking up on all of her easter eggs and weaving threads into the story that show up generations later (Isabelle's necklace, anyone?) The secondary characters were truly marvelous in this one and had so many of their own storylines that the whole world felt so fleshed out and vivid to me (such as Alastair, Grace, Jesse, etc.)
So why not a 5 star rating? While this book was so amazing in so many ways, it did start to drag a little for me toward the end. I think this was mainly due to the plot really zeroing in on James (Will and Tessa's son) who is actually probably my least favorite Shadowhunter of the core characters of this generation (I know! I just found him broody and sort of boring without the layer of cunning cruelty and sass that Will had. Also his moping about how terrible his life was really got annoying especially because Lucie had a lot of the same problems as him but he was always acting like he had it worse…honestly Matthew Fairchild reminded me a LOT more of Will than James did…) However, Clare delivered quite the twist at the end of the novel, with everything working out for all of the wrong reasons and I'm SO excited to see how it plays out in the next book!
Overall: Chain of Gold proves that there's still so many stories to be told in the Shadowhunter world and Clare's writing is still as fresh and up to the task as ever. Though it may not replace TID in my heart, it's definitely a very close second and I already adore the characters so, so much. I am not-so-secretly hoping that Clare keeps writing in this world forever (I would ADORE seeing Shadowhunters through the 1920s-1950s especially, but that's a conversation for another time…) *Also, see below for my spoiler specific section where I'll discuss some of my favorite or rant-worthy spoilery parts!*
---
Spoiler Time!
I LOVE A GOOD FAKE MARRIAGE OF CONVENIENCE TROPE SO I AM SO HERE FOR THE NEXT BOOK *FLAILS*
Loved all of the sass Magnus brought in the latter half of the book once he appeared (also, he seems to be the only one in this universe who picks up on secret romantic feelings among all of these Shadowhunters…)
Alastair was such a wonderfully complex character who you'll love and hate at the same time, and him + Charles was just so heartbreaking.
I need more backstory on Grace and how her parents died and she came to be a ward of Tatiana.
Also are you telling me that in 20ish years Tatiana is STILL wearing that pink dress from the day Benedict died??? Yikes.
So Jem was in this book a LOT. Like, a lot a lot. I thought he was only able to see the gang at very special occasions and had to pretend not to be happy to see them but wow he's visiting from the Silent City like all the time.
I love that Charlotte's the Consul but wow does someone need to keep an eye on her kids…
Anna's bohemian loft is GOALS. And her wardrobe. And really just everything about her.
Loved the clothing descriptions in this book, especially when Anna sends Cordelia all of those dresses!
I feel like the women in this series fight way less than they did in TID? (Perhaps because it's a time of peace?) I was surprised, for example, how Cordelia's mom didn't seem much like a warrior…
Will's still singing about Demon Pox, bless him.
Christopher is such a cinnamon role and I love him.
Magnus Bane being Matthews hero is hilarious.
This whole Princes of Hell angle is so interesting!
There are soooo many amazing quotes in this book!
Related Posts