New year, new intentions to keep up with my monthly recaps lol. January was a total whirlwind, as it included an author signing, my birthday, my bridal shower, ALA, and it marked one year since I got engaged! I can't believe I can finally say "I'm getting married THIS year!" (Honestly I'll be so relieved once all of the planning is over!!) There's also already been so much going on in the bookish community (both positive and negative) that I think 2019 is going to be an action packed year on EVERY front. I'll be doing a separate post for my ALA recap (coming soon!) so I didn't include any pictures in this post!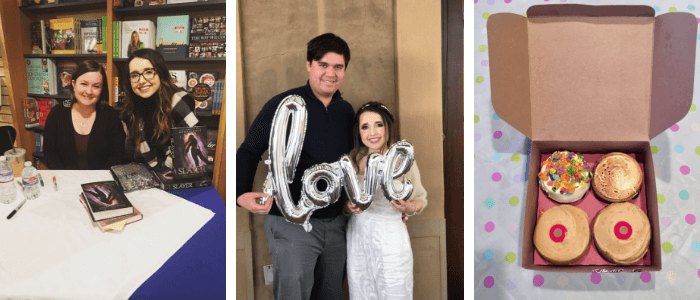 The first week of January meant my birthday at the tail end of the holiday season. We kept it pretty low key and went to a fancy lunch at a Brazilian Steakhouse and grabbing Sprinkles cupcakes (I am a Sprinkles fiend). I was in luck because they had my favorite flavor ever (salty caramel) as well as one of my favorite seasonal flavors (S'mores!) A week later I attended my first bookish event of the year, seeing Kiersten White on tour for Slayer! MLK Day weekend I attended my bridal shower that was completed planned by my bridesmaids. They did an AMAZING job!! It was so nice having an element of the wedding planning that I myself didn't have to plan, and that I could just show up for an be surprised (they even got me my own Snapchat filter!!!) And then the next (and final) weekend of January it was off to Seattle for ALA. As I write this I'm a little under the weather because I think the crazy business of January finally got to me, but I wouldn't change a thing- it was such an amazing way to kick off the year!
Books I Read This Month
I wish I had read more but this seems like a fairly respectable amount of books to have read for the first month of the year given how busy I was!
Books I Reviewed This Month
My Favorite Half Night Stand (5 Stars)
Blanca Y Roja (2.5 Stars)
The Au Pair (4 Stars)
Josh & Hazel's Guide to Not Dating (4 Stars)
Stats:
Total Books Read: 6

Total Novellas Read: 0

Rereads: 0
Favorite Book Read This Month: It's a tie between The Book of Essie and On the Come Up!

Least Favorite Book Read This Month: Marian Sharma Hits the Road was just too negative for me.

Book that Most Surprised Me This Month: I was underwhelmed by Blanca Y Roja.

Reading Challenge Updates
Goodreads 2018 Reading Challenge Progress: 6/70
Other Posts This Month
I chatted about my top ten books of 2018!
I listed out my TBR plan for January.
I talked about the top 2019 contemporary/historical fiction releases on my radar.
I shared my 2019 bookish organizational plans.
I recapped the Slayer tour event!
I moaned about how hard it is to stay current with YA series.
I asked how you decide what books you buy.
How was your January? Was it rough recovering from the holidays?  What was the best book you read? Let me know in the comments!
Related Posts