I have to admit, as a book blogger the beginning of a new year is so exciting. I love setting up my new planners, setting up my new spreadsheets, getting my TBR ready for the year ahead, and just overall feeling fresh and rejuvenated and ready to tackle another year full of books! Over the years I've tried several different organizational methods and feel like I've finally found a good combination that works for me. See below for more information on the resources I'll be using to keep my reading and blogging organized in 2019! (If you want to check out how I kept myself organized in 2018, you can do so here!)
2019 Stats
I always like to have one "core" spreadsheet to track my reading stats every year, and this year I'm using the wonderful spreadsheet by Kaleena at Reader Voracious. It includes sheets to not only track your reading stats but also your Buddy Reads, ARCs, haults, etc. There's also several spots to track your blog stats, even daily if you want to! I'm not quite sure yet if I'm going to track my blog stats this intensely but I'll definitely be using the books and reading trackers!
This is the general tab for tracking your reading stats for 2019, and feeds into the handy stats page!
I love the inclusion of a "buddy read" tracking tab. As you can see, I already have one buddy read planned via the Dragons & Tea Book Club!
I haven't decided how exactly I'm going to use this tab (originally called "Upcoming Releases to Stalk) because I track all of the upcoming books I want to read in both my planner (more details later on in this post!) as well as through Goodreads. I'm thinking I may just use this tab to track my pre-orders- I love that it includes a section to track if there is a pre-order incentive, as I feel like I often forget to check!
ARCs
So while many bookish spreadsheets that you can find online include an ARC tracker, I came up with my own, very simple version last year that I really liked and will continue to use. Below you can see my 2018 page (I included it as my 2019 page is pretty sparse). I categorize the ARCs depending on the year I receive them rather than the year they are published (so I received some 2019 ARCs that are on my "2018" sheet in this Google spreadsheet). The 2019 spreadsheet from Reader Voracious also has a section to track ARCs and I may use that as well because I like that it has an area to track your accept/decline ration on NetGalley, Edelweiss, etc!

TBR
I did a post a while back on how I track my TBR that was inspired by the lovely Lauren @ Seriesous Book Reviews and I've found that the system works well for me! Though I usually include my TBR in my paper planner too, I like my Google sheets system as well as I can easily edit it and carry over books from previous months. I also use the "strike through" function to indicate the books I read, and bold the titles that are high priority. I've paired down the spreadsheet a little since the 2018 version (added less categories) and I'm thinking I'll probably include a section to track which books I have on hold at the library as well so I can factor that in when planning out my TBR for each month.
Planner
Ah, time for the part I am most excited about! This year Max gifted me the Always Fully Booked planner for Christmas and I am LIVING for it! I used to track my reading in my personal Erin Condren planner but found I didn't have enough space/specialty areas as I would have liked, so this year I'm living the double planner life (I'll use my EC for personal/wedding planning needs). I am SOOO in love with the Always Fully Booked planner and am having so much fun filling it out (and having sections to plan out my blog posts makes me so motivated to create content). So far I've filled out two sections, one of all of my upcoming anticipated 2019 releases, and the TBR section for January along with the January new releases section. I love how there's an area to track new releases generally as well as to track them monthly!
This is my master 2019 releases on my TBR spread. I also have a Goodreads shelf with all of these. The planner include two other spreads like this- I will probably use another for 2019 releases, and one for back list titles I am hoping to get to this year!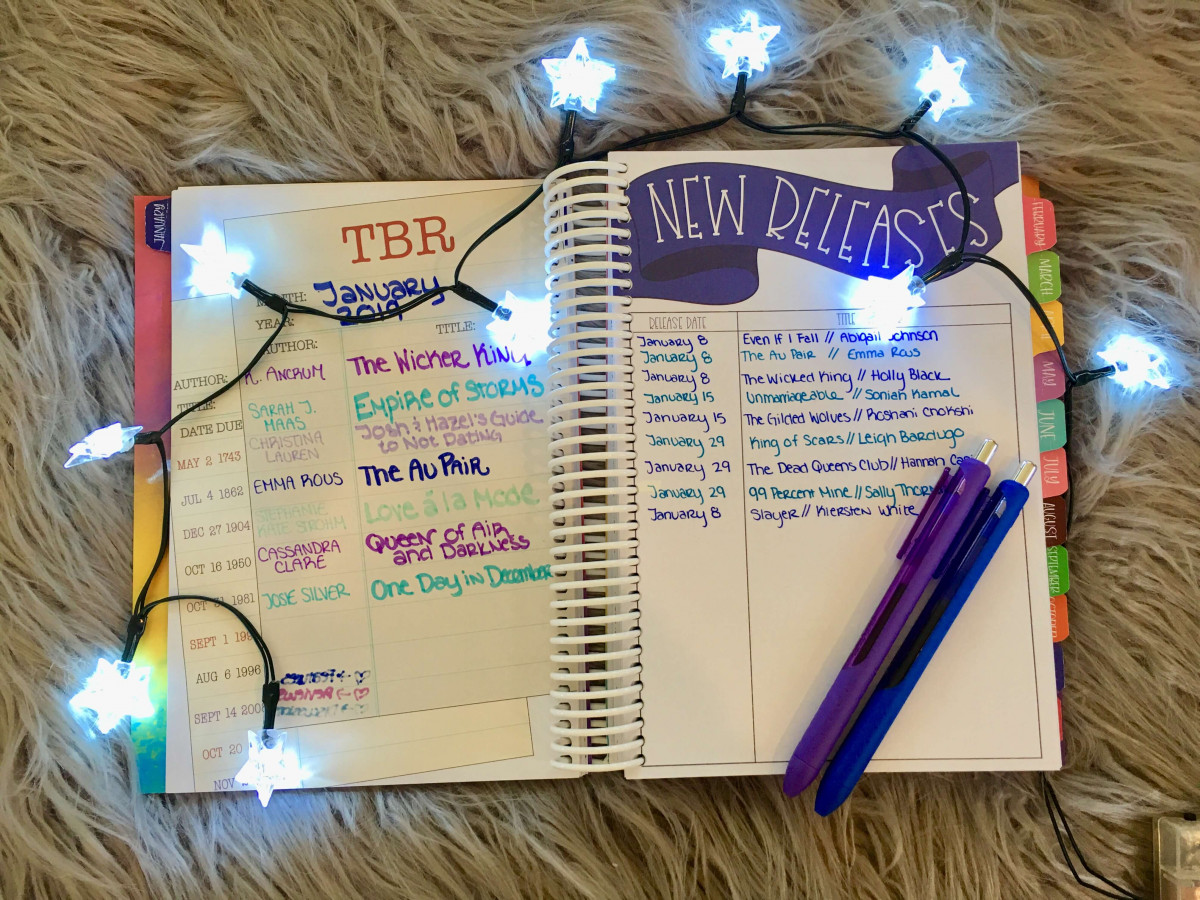 Some other of my favorite pages, the monthly TBR and new releases spreads! Some of my other most anticipated sections is the area to write reviews for books I read each month, the monthly calendar (which is where I'll plan out all of my blog posts) and the monthly sections for wrap ups and tracking bookish purchases!
So that's my four-pronged system for tracking my reading and blogging in 2019! There are a few other resources I'm considering toying with (like Trello) but I also don't want to over complicate my system! I'd love to hear how you're going to keep organized in 2019- let me know in the comments!
Related Posts