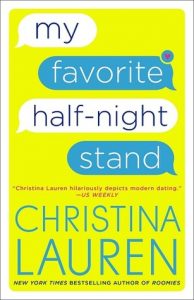 My Favorite Half-Night Stand
by
Christina Lauren
Also by this author:
Roomies
,
Josh and Hazel's Guide to Not Dating
,
Love and Other Words
,
The Unhoneymooners
,
Twice in a Blue Moon
,
The Honey-Don't List
,
In A Holidaze
,
The Soulmate Equation
,
The True Love Experiment
Published by
Gallery Books
on December 4, 2018
Genres:
Adult Fiction
,
Romance
Pages:
384 •
Format:
Paperback
•
Source:
Purchased
Goodreads
Millie Morris has always been one of the guys. A UC Santa Barbara professor, she's a female-serial-killer expert who's quick with a deflection joke and terrible at getting personal. And she, just like her four best guy friends and fellow professors, is perma-single.

So when a routine university function turns into a black tie gala, Mille and her circle make a pact that they'll join an online dating service to find plus-ones for the event. There's only one hitch: after making the pact, Millie and one of the guys, Reid Campbell, secretly spend the sexiest half-night of their lives together, but mutually decide the friendship would be better off strictly platonic.

But online dating isn't for the faint of heart. While the guys are inundated with quality matches and potential dates, Millie's first profile attempt garners nothing but dick pics and creepers. Enter "Catherine"—Millie's fictional profile persona, in whose make-believe shoes she can be more vulnerable than she's ever been in person. Soon "Catherine" and Reid strike up a digital pen-pal-ship...but Millie can't resist temptation in real life, either. Soon, Millie will have to face her worst fear—intimacy—or risk losing her best friend, forever.

Perfect for fans of Roxanne and She's the Man, Christina Lauren's latest romantic comedy is full of mistaken identities, hijinks, and a classic love story with a modern twist. Funny and fresh, you'll want to swipe right on My Favorite Half-Night Stand.
I'm a bit new to the Christina Lauren bandwagon as I just recently read my first novel by them, Roomies, this past summer and absolutely fell in love with it. I haven't had a chance to explore their back list yet, but when I went on a pre-ordering spree this fall I decided to add their newest romance novel, My Favorite Half Night Stand, to my cart. Ladies and gentlemen, this is a rare case of an impulse buy being so, so worth it because My Favorite Half-Night Stand was just so fun!
Set at UC Santa Barbara (a gorgeous college campus in California), My Favorite Half Night Stand follows a group of professors/almost professors who are all young, attractive, hilarious and single (I will admit it did take some suspension of disbelief to think about all of these young professors who ALSO happened to be attractive and single lol). When they all get invited to a university function and find out Obama is speaking they freak out (as one does) and decide they need to act like adults and bring dates, daring each other to try online dating. As I'm sure anyone can imagine, shenanigans ensue, especially when protagonist Millie sets up her account under her middle name and is matched to another person in their friend group, Reid, and just decides to go with it…without disclosing that it's actually her. Of course this sets up a plot ripe for drama, hilarity, and also hurt. (Also, no Obama cameos, unfortunately).
One thing I have found that I adore about Christina Lauren novels is that they are not "new adult" books, but they still capture the essence of characters who are trying to find their footing in adulthood, that precarious time in your late 20s/early 30s when you have adult responsibilities like a mortgage and bills and capital-I important jobs, but you still have this internal view of yourself as a teenager and struggle to keep food in your refrigerator, go to bed at a decent hour and tear yourself away from Instagram. There's an honesty in their characters that show they are adult in name but not necessarily only in mind, which I think most of us still feel in our twenties. So while yes, the characters have jobs and families and other big kid problems, they're also so relatable and I felt as close to Millie, Reid, Alex, Chris and Ed as I would to any YA friend group. I loved their hilarious banter, their dating mishaps, and the fun text and email formats of their conversations throughout the novel.
I also found that I really loved the romance in this book, even though it was so very different from that in Roomies (which featured a very level headed protagonist and a romance between strangers plot). Since it was apparent from the beginning that Millie was a "guy's girl" I was a little apprehensive because I'm not a fan of characters who reject female friendships and act like "one of the guys"- it just doesn't project the best message. However I found Millie to be well balanced and while she liked to play cards and drink beer with her dude friends, she also called them out for their sexist behavior and comments, and there is a self-awareness element of the plot where Millie does have to examine why she's cultivated the image that she has. I also loved that Reid, the love interest, is a dude who is REALLY in touch with his emotions and is always wanting to get to know Millie (and the other gals he's chatting with online) on a deeper level whereas Millie is the one who's much more emotionally distant and surface level- it turns a common stereotype on its head. There's also a transparent depiction that both Millie and Reid do some screwed up/sneaky things and have to deal with the fallout and it's just messy and real which I appreciated.
I also want to take a moment to appreciate that it was really fun reading a book that was in a college setting that wasn't from the perspective of students. Apparently college professor fiction is something I didn't know I needed? (Especially when they're professors who study things like true crime?)
Overall: My Favorite Half-Night Stand had me laughing out loud and smiling throughout reading it, which is always an indicator of a book that is worth reading. Christina Lauren is now two for two with five star reads for me!
Related Posts