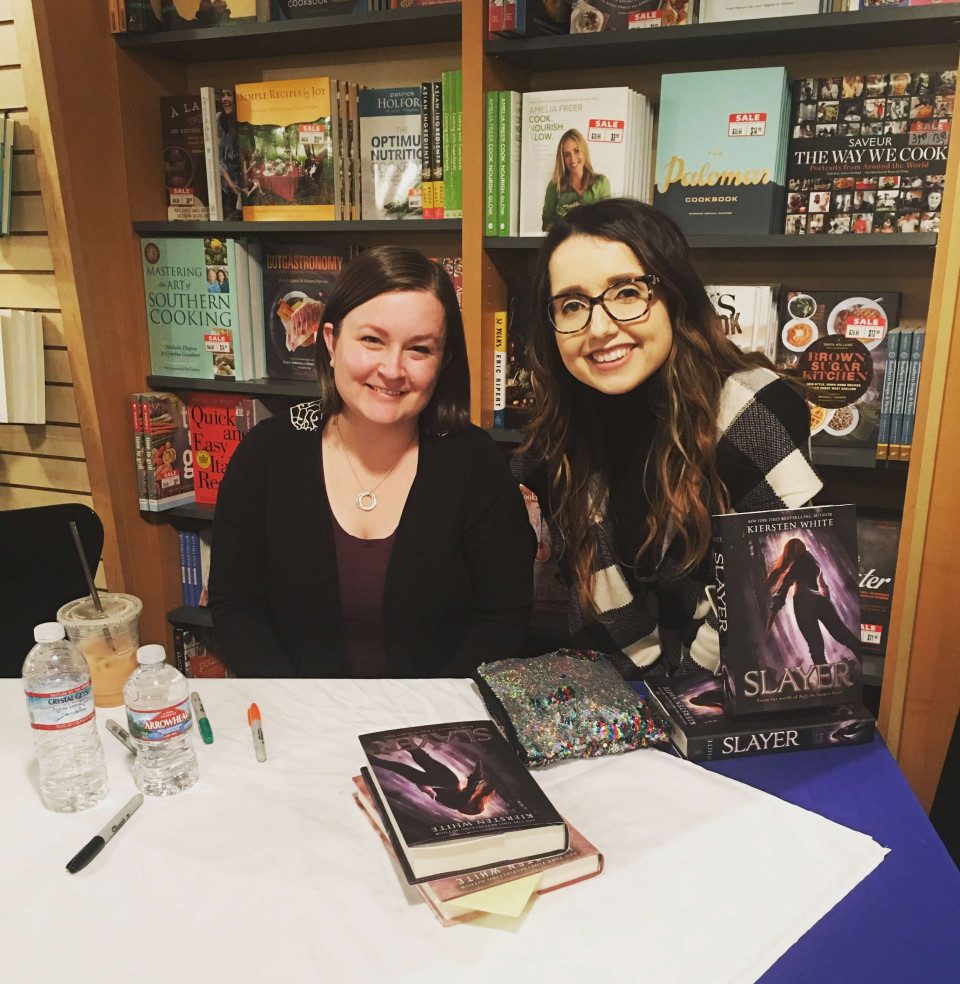 I kicked off 2019 by attending a book event within the first full week of January, and it was a blast! It felt so good to start the new year with the author and blogger community and attend the blog tour for one of the most anticipated books of 2019, Slayer by Kiersten White! In conversation with Adrienne Young (author of Sky in the Deep), Kiersten visited Books Inc. in Palo Alto to share her journey writing her Buffy-inspired novel with YA and Buffy fans alike (although I may or may not have been called out for being one of the only 3 people in the audience who hadn't seen Buffy)!
Fun Facts and Interesting Insights from Kiersten and Adrienne's Conversation:
While Kiersten's agent hasn't watched Buffy (see I'm not the only one!!) she emailed her telling her that her publisher received the rights to write a Buffy spin off and Kiersten was their first choice! She was told she could use a character from season 7 or make her own original character (which she chose to do).
Kiersten wanted to write a story that focused on the Watchers as not many stories have been told abut them. They are a very traditional patriarchal society that tells the Slayers what to do but does not financially support them. The dichotomy of the Watchers trying to police teenage girls and set boundaries for them but not supporting them is something she wanted to explore.
Kiersten felt the audience was very "real" or present during the writing process because Buffy has a very active fandom. She felt a lot of responsibility while writing because of this and because Buffy meant a lot to her.
Kiersten struggled writing the protagonist of Slayer, Nina, because she's a Hufflepuff and she's never written one before- she thinks Hufflepuffs are wonderful but she does NOT understand them! (No desire for world domination?!)
One of Kiersten's favorite elements of the Buffy show is that it takes Buffy's emotional self just as seriously as her Slayer self. The show was so validating for her to watch as a teenage girl, as Buffy was allowed to be feminine and prissy and wore great outfits while still being a Slayer. It's one of the few series where the main character is actually her favorite character (which often isn't the case since the main character carries the burden of the narrative).
In terms of references from the Buffy TV show, Kiersten had some references that she wanted to make sure she got in, but others happened more organically. She was super steeped in Buffy when writing Slayer, she rewatched the show, read the graphic novels, etc.
Kiersten worked really hard to ensure the book feels like Buffy even though she's not the main character and most of the original Buffy cast isn't in the book.
Writing Slayer was quite the journey for Kiersten. She wrote four complete manuscripts in 2017, two of which were Slayer. Yes, she wrote the entire book twice! In the original version, protagonist Nina was a triplet, and she admitted nothing really happened plot-wise. She was somewhat inspired by the show American Ninja Warrior because at the time she was super into the show (which she realized was not something that needed to be in the novel, lol). She also had the reveal that Nina was a Slayer about 150 pages into the story, which her editor felt didn't make much sense since the book's title was confirmed as Slayer already and therefore it was a bit obvious Nina was a Slayer. Kiersten mentioned she felt she psyched herself out while writing the first version of Slayer because she felt so much pressure to write what she had pitched.
On Slayer having moments of humor- Kiersten thinks that horror and humor are two sides of the same coin. You shift something slightly in one way to make if either absurd or horrifying. Humor is a way for people to process things/ as a release valve, which is why she incorporated a lot of humor into the novel, which is something the Buffy show also does in order to balance the feel of the show.
When asked if she's Team Angel or Team Spike, Kiersten replied that her Buffy OTP is Buffy + Long Term Financial Stability (hah! Isn't that what we all ship ourselves with?)
Kiersten has had 14 book published and what she's most tired of is finding ways to write being attracted to someone. Some of her favorite books to write have been her middle grade novels because she didn't have to deal with writing those romance/attraction scenes. She also loved writing The Dark Descent of Elizabeth Frankenstein. She initially started it and ended up writing thirty thousand words of the wrong book but once she got onto the right track she wrote the draft in six days in an almost fever-dream state.
Kiersten has had 3 books come out in the past 6-7 months! She likes to write so many books and juggle so many projects because she gets bored easily, and gets tired of characters by the time she hits the third book in a series. She super impressed by authors like Cassie Clare who have an encyclopedic knowledge of their characters and world building.
All 3 protagonists from her books that have come out in the past year are super different and strong in different ways. She got to delve into three different types of feminine strength.
During the Q&A at the end of the event, Kiersten was asked what type of retelling she'd like to tackle next. She said she'd love to do a Dracula retelling from Lucy's POV (#justiceforlucy).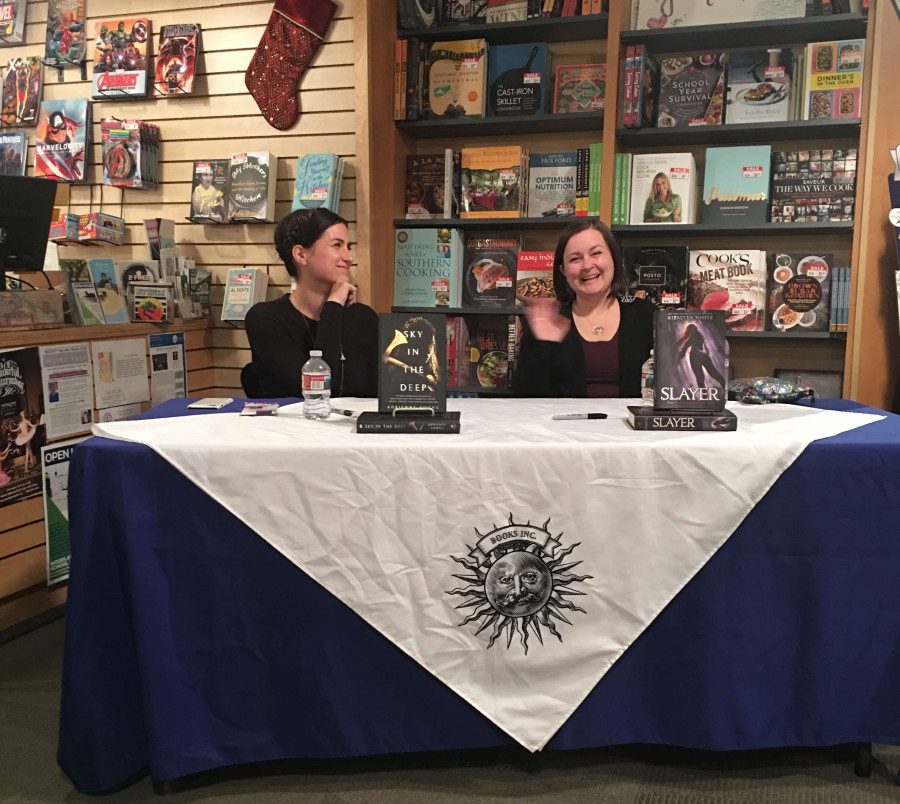 Overall the evening was so much fun with SO much laughter and I really didn't feel like I was missing out on too much having been a rare non-Buffy fan 😉 While I'm very excited to get to Slayer early this year, I'm also hoping to get acquainted with the Buffy show sometime in 2019 as well!
Have you read Slayer yet? Are you a Buffy fan? Am I missing out on one of the greatest shows and fandoms of all time? Let me know in the comments!
Related Posts