Blanca & Roja
by
Anna-Marie McLemore
Published by
Feiwel & Friends
on October 9, 2018
Genres:
Magical Realism
,
Retellings
,
Young Adult
Format:
E-Book
•
Source:
Overdrive
Goodreads
The biggest lie of all is the story you think you already know.

The del Cisne girls have never just been sisters; they're also rivals, Blanca as obedient and graceful as Roja is vicious and manipulative. They know that, because of a generations-old spell, their family is bound to a bevy of swans deep in the woods. They know that, one day, the swans will pull them into a dangerous game that will leave one of them a girl, and trap the other in the body of a swan.

But when two local boys become drawn into the game, the swans' spell intertwines with the strange and unpredictable magic lacing the woods, and all four of their fates depend on facing truths that could either save or destroy them. Blanca & Roja is the captivating story of sisters, friendship, love, hatred, and the price we pay to protect our hearts.
Anna-Marie McLemore is no doubt known as one of the best Latinx magical realism voice in YA literature. Her prose is always beautifully crafted, her stories otherworldly, and her writing able to take readers into different worlds with a turn of phrase or small action. Her debut The Weight of Feathers was beautifully crafted and reading it was a transcendent experience. Unfortunately, though there were many elements of Blanca & Roja that I liked, I didn't find it as immersive as the prior work I read by the author.
Blanca & Roja is a triple fairy tale retelling, pulling from elements of Snow White, Rose Red, and Swan Lake. I'll admit that I myself am not familiar with the tale of Rose Red so it's possible that some of the imagery and plot points went over my head. The story focuses on the del Cisne family (clever, since "cisne" means swan in Spanish) who have a daughter taken away by "the swans" every generation thanks to a bargain one of their family members made generations ago. The current pair of sisters, Blanca and Roja, have been aware of this curse their entire lives and have been doing everything in their power to stop it by confusing the swans into thinking they are basically the same person. I loved the juxtaposition of the two sisters (one of which is obviously supposed to be Snow White and one is obviously supposed to be Rose Red). I loved seeing them love and support each other and the small, clever methods they took to try to confuse the swans, from eating rose petals the color of each other's names to ensuring one at more bitter foods to counteract her inherent sweet disposition, and vice versa. These little details really made the story seem like a fairy tale.
Throughout the novel there is also a theme of empowerment across multiple types of identities, and I appreciated that McLemore was able to write a diverse cast of characters and have them all show strength and capability in their own unique way. Roja's character especially resonated with me, as she's the one everyone assumes will be taken by the swans (her red hair, hot temper, etc. compared to her sister's striking blonde hair and angelic demeanor) but she is encouraged by her father throughout the novel to use her feisty, less "desirable" traits to cultivate her own type of strength.
Because that power, that anger in you, that is the best thing you have." He gave her a nod as proud as if she were a son. "So claim it. Pick yourself up and use it." – Kindle Edition, Location 101

While I really enjoyed the whimsical feeling at the beginning of the novel, I did find it to really drag for me personally by the halfway point. I think this was largely due to the fact that the book is split into 4 POVs (Blanca, Roja, and two other characters who are the romantic interests) and I found myself bored by the chapters that weren't from the sisters points of view. I know most fairy tales (including the ones this book is based on) include romance, however I just found myself bored by it and would have much rather learned more about the del Cisne family, such as: Who were the other sisters who were taken by the swans? Do the sisters who were spared have survivor's guilt? Are the sisters always so polarized in their appearances? These are conversations I wish had happened (although I do know the point of a fairy tale/ magical realism isn't to dissect the details, it's just my own natural curiosity!) I also felt that the ending was a bit abrupt- I was fully expecting the book to keep going and was surprised when I hit the author's note.
"Haven't you ever seen anything you knew was real even if you knew no one else would believe you?" – Kindle Edition, Location 1841
Overall: Roja & Blanca is a wonderful foray into YA magical realism with a lot of diversity and representation, beautiful writing, and fun fairy tale elements.However, the pace slowed for me the second half of the novel and didn't deliver as strongly for me as The Weight of Feathers.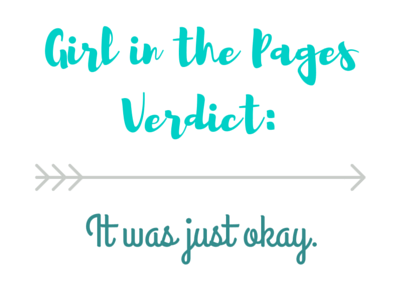 Related Posts