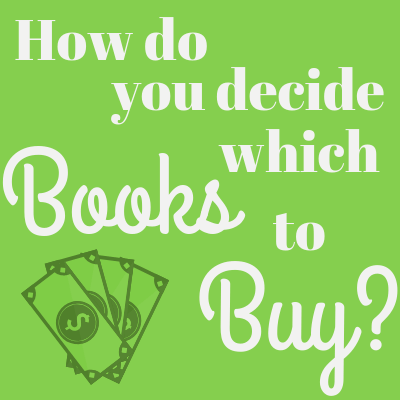 We're at the beginning of a new year, and if you're anything like me you're going into 2019 with the best intentions of tracking all of the books you buy through bookish spreadsheets your planner, etc. I always start the year with the best intentions to track book purchases, however I always seem to lose steam around May or so because it can just become too overwhelming to track online purchases, in store purchases, gifts, pre-orders, etc. However, I have noticed that my book buying habits have changed quite a bit over the course of the past 5 years that I've been blogging. Though I'm reading (and perhaps purchasing) more than ever, I'm much, much pickier about which finished copies I choose to purchase. Gone are the days of my teenage years when perusing Amazon or Barnes & Noble was a fun and exciting event and I never knew what book I'd come home with (now it's RARE I come across a book I haven't heard of). Admittedly, this does keep me from purchasing books I dislike most of the time (which is great) however I wanted to see how other book bloggers decide what books to physically purchase and add to their collections, especially knowing we are all working with limited space and already overflowing shelves!
Auto-Buy Authors
Of course there are authors who I will usually purchase finished copies from no matter what they write (Sarah J Maas, Cassandra Clare, Meg Cabot etc.) Unless it's super out of my wheelhouse, I'm going to plan on purchasing and owning physical copies of certain authors and already have dedicated shelves for their books.
Series Continuations
Similar to the above, generally if I start a series with a physical copy I will tend to finish it in the same way. I would hate to have some books physically, some books digitally, some books checked out from the library, etc. The only time when I don't purchase the next book in a series is when I'm planning to DNF it (I have a few series right now on my shelves actually where I've only bought/read the first book and am still really on the fence about whether I'm going to continue. If I do make the decision that I'm not going to finish the series, I'll donate/sell the first book I own in order to create more shelf space).
Hyped Up Books
Occasionally there will be a new release by an author I haven't read before but I'm interested in because of all of the buzz that's happening in the bookish community (I'm struggling with this with The Gilded Wolves at the moment!) This instance of buying a book can be a blessing or a curse depending on how I end up liking the book- sometimes it works out and sometimes it's a total letdown.
Finished Copies of Beloved ARCs
One of my favorite times to purchase books is when I'm buying a finished copy of an ARC I was fortunate enough to read and really enjoyed! I try to purchase finished copies of ARCs that I can see myself rereading and/or using for pretty bookstagram photos and recommendation posts in the future!
I don't have a choice
Sometimes there's a book I really want/need to read but I'm unable to get it through my local library. This often happens with buddy reads/book clubs, such as with The Wicker King for the Dragons & Tea book club. This isn't necessarily a bad thing though since sometimes I end up really loving the titles I buy for these buddy reads!
Let's Discuss!
I'd love to hear more about your decision making process for buying physical books! Do you have certain criteria like I do, or do you buy things on a whim? Is it a rare occurrence for you to buy a book or do you buy books all the time? Let me know through the poll and in the comments below!
Loading ...
Related Posts