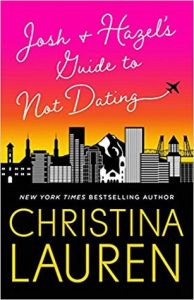 Josh and Hazel's Guide to Not Dating
by
Christina Lauren
Also by this author:
Roomies
,
My Favorite Half-Night Stand
,
Love and Other Words
,
The Unhoneymooners
,
Twice in a Blue Moon
,
The Honey-Don't List
,
In A Holidaze
,
The Soulmate Equation
,
The True Love Experiment
Published by
Gallery Books
on September 4, 2018
Genres:
Adult Fiction
,
Romance
Pages:
320 •
Format:
E-Book
•
Source:
Overdrive
Goodreads
Hazel Camille Bradford knows she's a lot to take—and frankly, most men aren't up to the challenge. If her army of pets and thrill for the absurd don't send them running, her lack of filter means she'll say exactly the wrong thing in a delicate moment. Their loss. She's a good soul in search of honest fun.

Josh Im has known Hazel since college, where her zany playfulness proved completely incompatible with his mellow restraint. From the first night they met—when she gracelessly threw up on his shoes—to when she sent him an unintelligible email while in a post-surgical haze, Josh has always thought of Hazel more as a spectacle than a peer. But now, ten years later, after a cheating girlfriend has turned his life upside down, going out with Hazel is a breath of fresh air.

Not that Josh and Hazel date. At least, not each other. Because setting each other up on progressively terrible double blind dates means there's nothing between them...right?
2018 was the year I discovered Christina Lauren, and I absolutely fell in love with my first two reads by the duo, Roomies and My Favorite Half Night Stand. When my library hold of Josh & Hazel's Guide to Not Dating became available, I was eager to dive in, sure I was in for a treat given I had rated my two previous Christina Lauren reads 5 stars.
Josh & Hazel still had all of the elements of a Christina Lauren novel that I love- an unlikely romance, a fun cover, and hilarious moments that had me flying through the pages. However, it also had more of a lighthearted tone than the previous romances I had read by the duo, likely due to protagonist Hazel, who is a very strong willed, strong minded, unique individual. Though Hazel could be a lot at times (from being incredibly hyper, dependably cheesy, and sometimes downright inappropriate with what she said) I admired the overall message her character conveyed, that you shouldn't compromise who you are as an individual for a relationship. Hazel is actually very aware of how her personality traits can come off as too strong for some people and has a good balance of self-awareness and self-confidence. She knows when she's coming off as "too much" and is willing to apologize when it may actually be hurtful to someone, but she doesn't apologize for who she is as a person. She's in her late 20s and has embraced her weirdness and isn't interested in trying to be "cool" (which honestly is a point I think we all hit in our late 20s lol).
Josh, on the other hand, is the opposite of Hazel- responsible, super clean, organized etc. However rather than the story being a "hate-to-love-opposites-attract" situation, Josh always accepts Hazel for who she is and vice versa and they learn to cope with and/or embrace with each other's flaws as friends, even before the inevitable romance even blossoms. I love a good hate to love romance as much as the next person, but it was refreshing to see a take on opposites attract that was mutually respectful and built on communication and friendship. I also love that Josh was Korean! I haven't read many romance novels with Asian protagonists (which is really a shame!) and I loved getting to learn about Josh's heritage and his family's traditions and even gain some insight into his relationship with his parents (also Mrs. Im's cooking seemed mouthwatering!!)
In terms of the romance itself, I enjoyed it more than I thought I would given that usually protagonists like Hazel aren't my cup of tea (literally the opposite of my personality so it can be hard for me to connect). I thought it was fun to see Josh and Hazel set each other up on blind dates throughout the course of the novel (and the hilarious/disastrous results that often pushed them closer together) and I loved how Hazel was close with both Josh and his sister Emily. Also, I loved the little glimpses into how Josh and Hazel sort of tangentially knew each other in college. However, what prevented this romance novel by my beloved duo from being a 5 star read was the rather abrupt ending and even more abrupt epilogue. There's quite a significant plot twist toward the end of the story (which I potentially anticipated but dismissed as being too unlikely) and while I didn't mind the plot twist itself, I felt like the book ended before it was really resolved and then wrapped up with an "All Was Well" tier epilogue (straight up HP7 status). It wasn't exactly bad but it was REALLY not what I was expecting and felt jarring and not in line with the other novels I've read by the authors.
Overall: Josh & Hazel's Guide to Not Dating was a fun addition to my list of Christina Lauren novels and I thoroughly enjoyed my reading experience and do feel like I got to know both protagonists quite well. While I had a lot of fun reading the novel, it's rather abrupt ending and epilogue kept it from being a full five star read for me. However, I do still highly recommend this novel to any Christina Lauren and/or romance fans!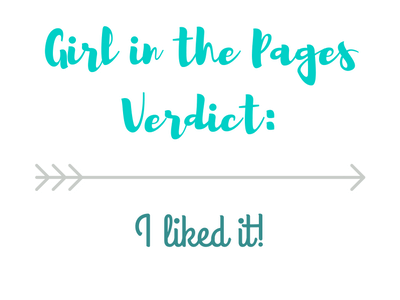 Related Posts