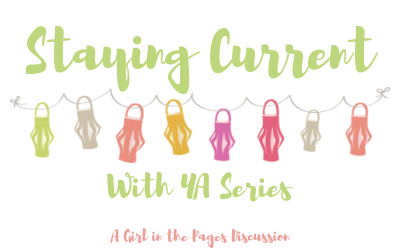 One thing that is becoming increasingly obvious is that YA series are becoming longer. Whether it's an originally planned trilogy that turns into seven book saga or a series that sets off a million spin offs, very rarely these days do we truly have to say goodbye to characters and stories we love. Which is a great thing! I've written about how I don't understand all of the hate that authors get for expanding and playing in these universes they've created, but as a reader I do find it hard to keep up sometimes! In 2018 especially we saw the conclusion of many, many epic series with Kingdom of Ash, Queen of Air and Darkness, etc. and I was (and still am) running into the problem of not being able to keep up with the canon for all of these new installments!
The way I see it, I pretty much have three options as a reader when it comes to new series installments:
Reread the entire series prior to the new release so it's all fresh in my mind.
Leverage review sites to try to brush up my memory on the happenings in previous books.
Dive right into the newly release installment and hope for the best.
Unfortunately, none of these choices tend to be ideal for me. I rarely have time to reread, and have pretty much only been able to commit to one major series reread per year (in 2018 it was the Throne of Glass series which I started rereading in March and AM STILL NOT DONE WITH YET). In 2019 I'm hoping to reread some of the Shadowhunter books (probably The Infernal Devices in order to prep for Chain of Gold, the first installment of the new series The Last Hours). There are some amazing review sites out there which I love and am so grateful for, but find they only get me so far (I read a TON of reviews/recaps WITH SPOILERS for Caraval and I STILL didn't feel like I remembered enough to read Legendary despite pre-ordering it). And then of course the method of diving right into a new series installment and hoping for the best is one we probably all have to do sometimes, but that makes me feel as though I'm cheating myself out of the true reading experience. But what's a reader to do? Take a look at a small peak of some of the more popular YA series I have not completed yet or am not caught up on (even if it's not finished):
Throne of Glass
Caraval
The Dark Artifices
Witchlands
Miss Peregrine's Home for Peculiar Children
Lux Series (I thought I had read all of them but I think they just keep publishing more???)
The Wrath and the Dawn
The Illuminae Files
Stalking Jack the Ripper
*The sad thing is I own most of the books in these series even if I haven't read them yet…
And waaaay older series that I own and will probably still never get around to finishing:
A Great and Terrible Beauty (lol this one is so old and I STILL haven't read the final book! I also had the ending spoiled for me so #nomotivation)
House of Night (these are sort of wild looking back on them TBH)
Wolves of Mercy Falls (never read the spin off book about Cole)
Divergent (lol considering I know WHO DIES this will probably never happen now)
The Lynburn Legacy
Splintered
Sometimes keeping up with series is so exhausting that I just want to wait until a series is complete before binging it. I've done it a couple of times when I've been late to a series (like with the His Fair Assassin series- except it's actually getting another installment now!) but as a book blogger it can really make you fall "behind the times" if you're not keeping up with all of the new releases, especially when it comes to big fantasy series that generate a lot of hype.
The point of all of this rambling is that I want to hear about how you tackle the issue of keeping up with these lengthy YA series! Do you reread? Do you wait for all of the books to be published? Do you just reread the most recent book in the series? Do you dive in and hope for the best? Have you moved away from series in general to avoid this problem? Are you deterred to start new series until you've finished others (perhaps something I need to think about doing!) Let's chat about it in the comments!
Related Posts