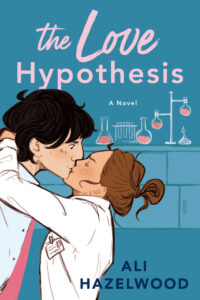 The Love Hypothesis by Ali Hazelwood
Also by this author: Love on the Brain, Under One Roof (The STEMinist Novellas, #1), Stuck with You (The STEMinist Novellas, #2), Below Zero (The STEMinist Novellas, #3), Love, Theoretically
Series: The Love Hypothesis #1
Published by Berkley on September 14th, 2021
Genres: Romance
Pages: 384 •Format: E-Book •Source: Overdrive
Amazon

As a third-year Ph.D. candidate, Olive Smith doesn't believe in lasting romantic relationships--but her best friend does, and that's what got her into this situation. Convincing Anh that Olive is dating and well on her way to a happily ever after was always going to take more than hand-wavy Jedi mind tricks: Scientists require proof. So, like any self-respecting biologist, Olive panics and kisses the first man she sees.

That man is none other than Adam Carlsen, a young hotshot professor--and well-known ass. Which is why Olive is positively floored when Stanford's reigning lab tyrant agrees to keep her charade a secret and be her fake boyfriend. But when a big science conference goes haywire, putting Olive's career on the Bunsen burner, Adam surprises her again with his unyielding support and even more unyielding...six-pack abs.

Suddenly their little experiment feels dangerously close to combustion. And Olive discovers that the only thing more complicated than a hypothesis on love is putting her own heart under the microscope.
I feel like I haven't heard of a contemporary romance getting this much hype since
The Hating Game.
After what felt like an unbearably long library wait, I finally got to dive into this graduate school set romance and when I tell you I was addicted, I mean it! I love books set in college (though I still feel as though there's a huge lack of) and I've never read a book set in grad school, so that alone made this one really unique! I loved Olive, loved her determination, her naivety, her dedication to her research and her pursuing a career in STEM. Olive just really felt like a modern, millennial woman (AKA someone who's not afraid to have "nerdy" passions, can be a beauty and a brain, and who's ideal Saturday night is sitting in front of Netflix in a Cookie Monster onesie with Trader Joe's snacks rather than being at the club lol).
There's also no denying that the romance is extremely well-written, with the hate-to-love trope being executed perfectly and the chemistry being full of wonderful banter and intriguing tension. Also, huge bonus points for making the love interest sassy and infuriating while still making him respectful (I feel like we can leave the toxic male love interests back in the early 2000s).
Also, as someone who thought long and hard about going to graduate school and pursuing a PhD, I just loved how academia played a role in this novel, not just as a backdrop but as a major plot point. Olive is truly invested in her research, and while the romance is definitely a major focus of the book, Olive's story as to why she is pursuing her research, her wins and fails in the scientific community, ect are all really integral to her character and all of her motivations. If you love or loved the academic world back in the day, I think you're really going to enjoy this one!
Overall: A romance that brings something new to the genre while still perfectly executing classic tropes, I really adored The Love Hypothesis and would love to see more graduate school set romances in the future!
---
Witch Please (Fix-It Witches #1) by Ann Aguirre
Series: Fix-It Witches #1
Published by Sourcebooks Casablanca on September 7, 2021
Genres: Paranormal, Romance
Pages: 352 •Format: E-Book •Source: Overdrive
Goodreads

Danica Waterhouse is a fully modern witch—daughter, granddaughter, cousin, and co-owner of the Fix-It Witches, a magical tech repair shop. After a messy breakup that included way too much family "feedback," Danica made a pact with her cousin: they'll keep their hearts protected and have fun, without involving any of the overly opinionated Waterhouse matriarchs. Danica is more than a little exhausted navigating a long-standing family feud where Gram thinks the only good mundane is a dead one and Danica's mother weaves floral crowns for anyone who crosses her path.

Three blocks down from the Fix-It Witches, Titus Winnaker, owner of Sugar Daddy's bakery, has family trouble of his own. After a tragic loss, all he's got left is his sister, the bakery, and a lifetime of terrible luck in love. Sure, business is sweet, but he can't seem to shake the romantic curse that's left him past thirty and still a virgin. He's decided he's doomed to be forever alone.

Until he meets Danica Waterhouse. The sparks are instant, their attraction irresistible. For him, she's the one. To her, he's a firebomb thrown in the middle of a family war. Can a modern witch find love with an old-fashioned mundane who refuses to settle for anything less than forever?
I love that witches are making a comeback in terms of paranormal topics that are popular in fiction, and this idea of merging witches + small town romance initially caught my interest as those are two of my favorite things! I loved the overall idea of this series starter, but overall ended up feeling somewhat "eh" about it by the end.
The story follows modern witch Danica Waterhouse, who owns a repair shop along with her cousin called the "Fix-It Witches" (love that they're hiding in plain sight!) Their family has been in their small town for generations with their grandmother being a prominent witch in their coven, and Danica is trying to live her own life while still appeasing her grandmother, which is put into jeopardy when she falls in love with a regular, plain old human. Said human is a really excellent baker (love that for him, and for me when I got to read the delicious pasty descriptions lol) and there's a lot of back and forth as him and Danica try and fail to ignore their attraction to each other.
Honestly, this book was a little cheesy for me, for lack of a better word. There was some conflict but it was usually resolved by someone finally standing up for themselves in some big dramatic way that just felt too convenient and realistic. And Danica and Titus' romance just felt bland to me- like they were both so into each other so soon that it lacked any sort of tension and just kind of bored me. It was sort of the equivalent to a show I might put on in the background and sort of casually watch while I was doing other things- interesting enough but not enough to really capture my full attention.
Overall: I liked the idea way more than the execution on this one. If there are more books in the series, I can't confidently say that I would pick up the next one, unfortunately.
Related Posts