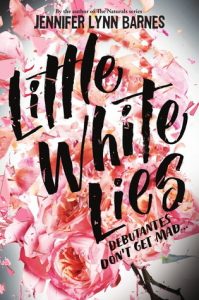 Little White Lies (Debutantes, #1)
by
Jennifer Lynn Barnes
Also by this author:
The Fixer (The Fixer, #1)
,
Deadly Little Scandals (Debutantes, #2)
,
The Inheritance Games
Published by
Freeform
on November 6, 2018
Genres:
Mystery
Pages:
390 •
Format:
Hardcover
•
Source:
Gifted
Goodreads
Eighteen-year-old auto mechanic Sawyer Taft did not expect her estranged grandmother to show up at her apartment door and offer her a six-figure contract to participate in debutante season. And she definitely never imagined she would accept. But when she realizes that immersing herself in her grandmother's "society" might mean discovering the answer to the biggest mystery of her life-her father's identity-she signs on the dotted line and braces herself for a year of makeovers, big dresses, bigger egos, and a whole lot of bless your heart. The one thing she doesn't expect to find is friendship, but as she's drawn into a group of debutantes with scandalous, dangerous secrets of their own, Sawyer quickly discovers that her family isn't the only mainstay of high society with skeletons in their closet. There are people in her grandmother's glittering world who are not what they appear, and no one wants Sawyer poking her nose into the past. As she navigates the twisted relationships between her new friends and their powerful parents, Sawyer's search for the truth about her own origins is just the beginning.
Set in the world of debutante balls, grand estates and rolling green hills, Little White Lies combines a charming setting, a classic fish-out-of-water story, and the sort of layered mystery only author Jennifer Lynn Barnes can pull off.
Debutantes, high Southern society, and a mystery are all right up my alley when it comes to premises for YA novels, so I was so looking forward to Little White Lies which gave me major Pretty Little Liars vibes. Jennifer Lynn Barnes did not disappoint, with a YA novel that focused on strong female characters, high society scandals and some serious twists at the end!
Plot
Like any good YA mystery book, Little White Lies has a somewhat absurd (in the best way) premise. Sawyer, independent daughter of a flaky single mom living above a bar and working as an auto-mechanic, is going about her regular life and one day an elegant and mysterious stranger shows up who is her insanely rich biological grandmother who is offering her half a million dollars in order to come live with her and be a debutante. It's basically another version of "You're the Princess of Genovia" reveal and I'm 100% here for it (still waiting for some mysterious stranger to show up in my life and tell me I'm the heir to the throne/ancient fortune/actually a Sailor Scout). Sawyer reluctantly agrees, but of course has her ~own reasons~ for going to live with her grandmother (finding out who her biological father is).
Of course once Sawyer is immersed in the world of Southern Society many shenanigans and scandals ensue. They're definitely a little absurd but the mystery is well written and there were a few twists that I didn't see coming (some that actually were quite scandalous). That being said, while the book started off good and ending on a strong note for me (the ending twists actually bumped it from a 3.5 to 4 star rating for me), I did feel as though it dragged a bit in the middle which led to some lag time in me being motivated to pick it up and finish it.
There's also some time jumping that happens in the story, and a majority of the novel is working backwards to finally catch up with the events transpiring on the night of the character's debutante debut.
Characters
Jennifer Lynn Barnes did a great job writing a very comprehensive cast of characters, which all worked for me except the protagonist (Sawyer) and the Ames (arguably the antagonists in the novel). While Sawyer's "friends" and family were all very fleshed out characters with individual quirks, aspirations, and personalities, Sawyer herself felt sort of flat and overly capable to me (she was honestly too good at things- just because you had a rougher life doesn't seem like you'd conveniently be good at all of the shady skills needed for the mystery elements of the story) and I feel like she fell into the trap of being the overly intelligent, sassy, doesn't-need-anyone-but-herself YA heroine. Similarly, the Ames siblings (Walker and Campbell) felt a little stereotypical to me as well, with Walker being quite frankly the forgettable pretty boy for me and Campbell being the misunderstood mean girl.
However, I did adore some of the characters, from Sawyer's grandmother Lillian who is the matriarch of the Taft family and rules Southern high society in their area to sweet and vulnerable Sadie Grace who can't help but practice compulsory ballet moves when she's nervous. There were also many intriguing characters who floated on the periphery of the novel too who peaked my interest while reading, such as Sadie Grace's step mother who is DEFINITELY up to no good to Sawyer's Aunt Olivia who "disappeared" for a year as a teenager and returned the perfect Southern Lady. I feel like I want so much more information about them, which speaks to Lynn's skill as an author.
Setting
I love books set in the glittering society world and that are set in the quintessential South, and this book was heavy on both the Southern charm and the Southern sass (passive aggressive society banter is hilarious). It was also interesting to see all of the work that goes into the Debutante process, and all of the events that lead up to one's actual "introduction" to society.
Social Media
The story also had a running storyline regarding a social media site that all of the Debs and Squires frequented called "Secrets on My Skin" that reminded me a lot of Post Secret (do people still use that anymore?) except the secrets were submitted and then written on a body part by an anonymous admin. I felt like it honestly wasn't super necessary for the plot and could have been left out because I kept forgetting about it's existence. There were also random pages in the book that were supposed to be posts from the website but because it's a YA novel they weren't actually shots of secrets written on anyone's skin but rather with random backgrounds which felt strange and frankly unnecessary, like what was the point? I honestly thought there was a print error in my book the first time I came across one of the "Secrets on My Skin" pages.
Cover
This is just a personal pet peeve of mine but this series underwent a dreaded mid-series cover change and I am just ajsfsdfhsjdkfn about it because I own the hardcover of this and it won't match the sequel at all…I also don't want to repurchase this book with the new cover so off to the library I go for the sequel I guess. These mid-series cover changes are really not friendly to the average consumer who can't afford more than one copy…
Overall: Little White Lies is a fun YA mystery set in the glittering and scandalous world of the Southern Debutante scene. While it dragged a bit at times for me, it has some great twists at the end that left me eager for the sequel.
Related Posts