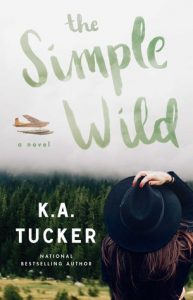 The Simple Wild by K.A. Tucker
Also by this author: Running Wild
Published by Atria Books on August 7, 2018
Pages: 400 •Goodreads

Calla Fletcher wasn't even two when her mother took her and fled the Alaskan wild, unable to handle the isolation of the extreme, rural lifestyle, leaving behind Calla's father, Wren Fletcher, in the process. Calla never looked back, and at twenty-six, a busy life in Toronto is all she knows. But when Calla learns that Wren's days may be numbered, she knows that it's time to make the long trip back to the remote frontier town where she was born.

She braves the roaming wildlife, the odd daylight hours, the exorbitant prices, and even the occasional—dear God—outhouse, all for the chance to connect with her father: a man who, despite his many faults, she can't help but care for. While she struggles to adjust to this rugged environment, Jonah—the unkempt, obnoxious, and proud Alaskan pilot who helps keep her father's charter plane company operational—can't imagine calling anywhere else home. And he's clearly waiting with one hand on the throttle to fly this city girl back to where she belongs, convinced that she's too pampered to handle the wild.

Jonah is probably right, but Calla is determined to prove him wrong. Soon, she finds herself forming an unexpected bond with the burly pilot. As his undercurrent of disapproval dwindles, it's replaced by friendship—or perhaps something deeper? But Calla is not in Alaska to stay and Jonah will never leave. It would be foolish of her to kindle a romance, to take the same path her parents tried—and failed at—years ago. It's a simple truth that turns out to be not so simple after all.
I've had
The Simple Wild
on my radar for a few years now- I feel like it would always pop up on Goodreads as one of my friends was either reading or raving about it (or both!) I knew it was a romance set in Alaska, but that was honestly the extent of my knowledge. I have been having some trouble finding my groove my romance novels lately so I was a little hesitant going in, afraid it was going to be yet another romance everyone loved that I ended up having to DNF. However, I shouldn't have worried because this novel proved to be the one that reaffirmed my love for the romance genre.
Everything about The Simple Wild captivated me, so it's hard to know where to begin! The setting of Alaska was so immersive, and honestly so different than what I ever imagined Alaska to be like (and honestly there were things I should have expected but had never even thought of, like the cost of gas being INSANE). I, like Calla, was in a bit of shock as to what it's like to live on Alaska's Western frontier, but I was quickly enamored by the small yet strong community, the way everyone seemed to know each other and help one another yet, how their values and traditions were so different than those of the "lower 48." Tucker also ensured to have characters who represented both folks who had come to Alaska by various means and through various reasons and also the indigenous communities who had been living there for hundreds of years, and both the difficulties and positives between the two communities. Though I have nothing to compare it to, it felt like a balanced and well rounded depiction of Alaska.
This was such a character driven story and I truly felt like I got to know every single character. From characters who actually had very little in-person on page time (Simon, Calla's wonderful stepdad who is always there with a kind and calm bit of wisdom) to those who ended up becoming Calla's found family in Alaska (Agnes was a true gem, I want to visit her home for dinner!). There was such a sense of community in this book among the characters, both near and far. I also appreciated how though it's a romance novel, the first and foremost relationship that's explored and given the most weight, in my opinion, is that of Calla and her father. It's a slow and subtle relationship that eventually blossoms into something beautiful and true, as they navigate the complexities of being around each other after over two decades of estrangement. It was really a beautiful thing to witness, and will definitely make many readers teary.
Of course, this review wouldn't be complete without an analysis of the romance…and to be honest, I have some mixed feelings about it. Did it make me swoon? Yes. Was it one of the best slow burn, hate to love stories I've read? Absolutely. Jonah and Calla are pretty much the definition of enemies when she arrives, and seeing their relationship slowly thaw through small moments of greater understanding and compassion (and a very satisfying conclusion) was wonderful. Yet…there is something about Jonah that rubbed me the wrong way, that nagged in the back of my mind throughout the story and long after as well. Jonah is very judgemental and condescending toward Calla and her relationship with her appearance. He is always grousing at her about the "crap" she wears on her face and goes so far as to "hide" her makeup (which felt more like confiscating to me). Yes it was done in a series of pranks they were pulling on each other, but it just felt to me like it was sending the wrong message, that Calla needed to conform to his ideals of beauty, that she needed to be pretty but not too pretty, with a complete disregard for the fact that maybe there's other reasons women wear makeup (Perhaps it's a creative outlet? It helps boost their confidence? Maybe they just LIKE TO WEAR MAKEUP AND THERE'S NOTHING WRONG WITH THAT). Melanie explains this feeling excellently in her review, so I highly recommend checking it out, as she chats about this element of the book with much more eloquence than me!
Overall: There's a certain type of magic that happened while I was reading The Simple Wild. It was that rare yet beautiful occurrence when you're reading a book but you completely forget you're reading a story– it feels as though you've just been dropped in the middle of these characters lives, they feel so real. I cannot recommend this one enough for an escapist read that focuses not only on romance but on so many other types of important relationships in one's life.
---
Wild at Heart (Wild, #2) by K.A. Tucker
Also by this author: Running Wild
on February 18, 2020
Genres: New Adult, Romance
Pages: 400 •Format: E-Book •Source: Overdrive
Goodreads

From the internationally best-selling author of The Simple Wild comes the continuation of a woman's journey to Alaska and a life she never imagined for herself.

Calla Fletcher returns to Toronto a different person, struggling to find direction and still very much in love with the rugged bush pilot she left behind. When Jonah arrives on her doorstep with a proposition she can't dismiss, she takes the leap and rushes back to Alaska to begin their exciting future together.

But Calla soon learns that even the best intentions can lead to broken promises, and that compromise comes with a hefty price—a log cabin in interior rural Alaska that feels as isolating as the western tundra.

With Jonah gone more than he's home, one neighbor who insists on transforming her into a true Alaskan, and another who seems more likely to shoot her than come to her aid, Calla grapples with forging her own path. In a world with roaming wildlife that has her constantly watching over her shoulder and harsh conditions that stretch far beyond the cold, dark, winter months, just stepping outside her front door can be daunting.

This is not the future Calla had in mind, leaving her to fear that perhaps she is doomed to follow in her mother's fleeing footsteps after all.
I sometimes feel trepidation when moving into the second book in a series because there's so much pressure to follow up on a great predecessor, especially one that is well received by readers. That was the case with
Wild at Heart,
a sequel that dared to delve into the "after" of the happily ever after readers are left with at the end of
The Simple Wild
. Jonah flew all the way to Toronto to profess his true feelings for Calla, and they vowed not to repeat the mistakes her parents made. Nice and heartwarming, right? I was actually shocked the author had the courage to follow up such a wonderful, rounded out story with a sequel but I am SO glad she did because I just cannot get enough of Calla, Alaska, and really anything and everything in this series!
Wild at Heart follows Calla's journey of returning to Alaska and giving up her life in Toronto to forge a new life with Jonah. I like how the story payed homage to Calla's past (her parents had a somewhat similar story) but it also showed how Jonah and Calla were working hard to try to blaze their own trail and make better choices using the knowledge from their own family's past mistakes. Therefore, rather than staying in Bangor they buy a house in Alaska's interior, closer to Anchorage and less isolated (though still plenty lonely) than Bangor and begin to craft a life for themselves in Alaska's unique wilderness.
There's something about these books that I just adore. I love how they capture the spirit of the Alaskan wilderness (I truly feel like I am on vacation visiting Alaska when I am reading these books) but in an accessible way for a reader who likely doesn't live there or won't have the chance too. I loved getting to see how Calla had to work to find a middle ground between living the life she wanted to but respecting the land, the locals, and the traditions and community of Trapper's Crossing. It was delightful to see a balance of her and Jonah buying a fixer-upper cabin, harvesting vegetables in their garden, caring for animals…but also relaxing in their hot tub on their fancy screened in porch and having lattes from their special latte machine (don't even get me started on how I saw red when Jonah was trying to shame Calla for spending her inheritance…) I liked how Calla (despite Jonah's attempts, sometimes) didn't give up who she was or the things she liked in life and didn't have to in order to become a better person and grow as an individual.
Speaking of Calla and Jonah's growth, this book was very much about them learning to compromise what they both wanted in a relationship and trying to align their goals and aspirations and level set with each other. It was such a compelling, interesting journey to take with them and one that I don't feel gets explored between two love interests in novels often because we're often so caught up in the tension and drama that leads to characters getting together that I think we forget how interesting it can be to see they work they have to put in for them to stay together. Honestly K.A.Tucker could write ten more books in this series about Calla and Jonah's life journey and changes and I would still be obsessively reading!
I also love how once again, Tucker wrote such a stunning cast of secondary characters and really emphasizes the found family element (especially important when you are living in such small, isolated communities). I liked how past characters still made appearances (Agnes and Mabel) but new ones became just as fleshed out (Muriel was an absolute trip and Roy and Calla's arc just warmed my heart). I also loved returning to Calla's soothing and insightful talks with Simon and it was SO fun having Diana visit and seeing Calla's new life through the eye of someone from her "before."
Overall: Dare I say it, but I may love this book even more than its predecessor! I know this series will be making all of my "best of" lists at the end of the year and I'll be buying hard copies ASAP as I know this is a fictional world I will be returning to again and again!
---
Forever Wild (The Simple Wild, #2.5) by K.A. Tucker
Also by this author: Running Wild
on December 1, 2020
Genres: New Adult, Romance
Pages: 156 •Format: E-Book •Source: Overdrive
Goodreads

The holiday season is upon Calla and Jonah, and with the mistletoe and gingerbread comes plenty of family drama. Jonah is bracing himself for two weeks with a stepfather he loathes, and while Calla is looking forward to her mother and Simon's arrival, she dreads the continued pressure to set a date for their wedding ... in Toronto. Add in one bullheaded neighbor's unintentional meddling and another cantankerous neighbor's own family strife, and Christmas in Trapper's Crossing will be anything but simple.
Did I binge this novella right after finishing
Wild at Heart
? You bet I did. Was it everything I was hoping for? You bet it was. If you've made it this far in my post I'm assuming you can tell how much I ADORE this series and this novella was the soothing balm I needed after what was sure to be a massive book hangover after
Wild at Heart
.
Picking up very shortly after the second book in the series, this story covers Calla and Jonah's first Christmas and holiday season at Trapper's Crossing. It's the first time we get to see everyone important in their lives altogether all at once (parents, neighbors, friends) and as to be expected, wild chaos ensues. It was the perfect holiday read and I loved seeing how their old lives finally synched with their new ones and everything finally aligned. Truly, the only thing I was let down by is that this wasn't a full length novel. Don't get me wrong, it was the perfect length for the amount of time it covered, but as always when it comes to Calla's story, I wanted MORE.
Overall: The perfect holiday novella and my favorite holiday read ever, hands down.
Related Posts