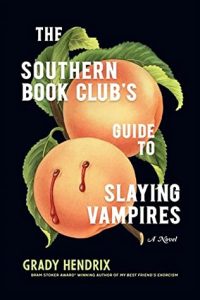 The Southern Book Club's Guide to Slaying Vampires
by
Grady Hendrix
on April 7, 2020
Genres:
Adult Fiction
,
Horror & Ghost Stories
,
Paranormal
Pages:
400 •
Format:
E-Book
•
Source:
Overdrive
Goodreads
Patricia Campbell had always planned for a big life, but after giving up her career as a nurse to marry an ambitious doctor and become a mother, Patricia's life has never felt smaller. The days are long, her kids are ungrateful, her husband is distant, and her to-do list is never really done. The one thing she has to look forward to is her book club, a group of Charleston mothers united only by their love for true-crime and suspenseful fiction. In these meetings, they're more likely to discuss the FBI's recent siege of Waco as much as the ups and downs of marriage and motherhood.

But when an artistic and sensitive stranger moves into the neighborhood, the book club's meetings turn into speculation about the newcomer. Patricia is initially attracted to him, but when some local children go missing, she starts to suspect the newcomer is involved. She begins her own investigation, assuming that he's a Jeffrey Dahmer or Ted Bundy. What she uncovers is far more terrifying, and soon she--and her book club--are the only people standing between the monster they've invited into their homes and their unsuspecting community.
I'll be the first to admit I am NOT usually a horror fan, or a consumer of any type of horror media, really. However, in my quest to try and fully immerse myself in the spooky season this year, I decided to go ahead and give this 90s historical fiction (eep) paranormal/horror novel a try, if for no other reason than I was intrigued by the cheeky title and Southern setting. I am so glad I stepped out of my comfort zone for this one because I was addicted almost from the beginning to this novel full of juxtapositions between the seemingly small life of a housewife and the evil no one wants to acknowledge but her.
Spanning the late 80s through the 90s, the story follows homemaker Patricia Campbell who aspires to fit in with the Southern suburban society scene but makes a rather large faux pas when it's her turn to lead book club (a stuffy affair reading only so-called Western highbrow literary fiction) and flubs the event as she clearly has not read the book. This leads to her joining a book club with some other women who are brave enough to balk convention and they form a small book club that revolves around scandalous true crime novels that certainly are not "proper" for Southern women to read. The women bond over the years with their book club, which serves as a refuge from their home lives that they aren't really that happy with (despite what they want others to think).
Eventually a stranger moves to town, a handsome and charismatic man named James who claims to be the nephew of an elderly neighbor. Patricia is first intrigued by him (he's a novelty and she is, after all, stuck in a bit of a monotonous routine) but his arrival starts to coincide with a LOT of strange happenings, culminating in the disappearance of several children. Surprising probably no one, Patricia tries to warn her friends and family of her suspicions about James but is brushed aside, gaslit, and accused of reading too many true crime novels.
While The Southern Book Club's Guide to Slaying Vampires was a truly captivating read, there's so much to unpack within the narrative aside from just entertainment value. Though the 90s don't feel that far away, it's shocking and sad to read this in 2020 and see how easily dismissed Patricia's suspicions and intuition are. She (and her fellow book club members) are expected to prioritize appearances, defer to their husbands, and squash their instincts, however strong, when they may cause a scandal. There's also a lot of interesting juxtaposition in the depiction of the role of a homemaker- from the husbands (and even the wives) putting the work they do down because they don't have careers to the instances where their homemaker skills literally save their lives. There's a quite and often underestimated strength that the women all have and though it took a while, it was so satisfying to see it recognized, especially their grim determination and shocking efficiency.
The novel definitely crossed into horror territory at some points for me for sure, and I'd be lying if I said there were some gross parts I had to skim past (especially involving rats, yuck). However, I found the story to have such a clever and unique spin on vampires that I hadn't encountered before. The horror elements themselves served a purpose as well, often showing the true resilience of the women (especially Patricia) in the face of what many men would probably run from! It was also interesting to see how the story blended the horror, paranormal and true crime genres as well, since initially Patricia thinks she is dealing with your average, run of the mill serial killer (which would have been much easier, TBH).
The story is definitely a slow burn, and I was surprised at how long it took to come to a climax, and how many years it spanned. Yet despite that it was so satisfying to see these women finally come together and utilize all of their quirks and strengths to finally triumph, even if I wanted to shake each and every one at some point. There's so much they had to overcome- from abusive husbands to social ostracism, angry children to blatant misogyny. It's wild and gory and funny and smart, the perfect blend of so many different elements. I wish I could erase it from my brain just so I could experience reading it for the first time all over again!
Overall: While easy to assume it's a campy, light read, The Southern Book Club's Guide to Slaying Vampires is an intense, wild ride that's unlike anything I've read before. If you're not too sensitive to horror and want to read about an unlikely group of women who harness their everyday skills against an agent of evil, I highly recommend this one!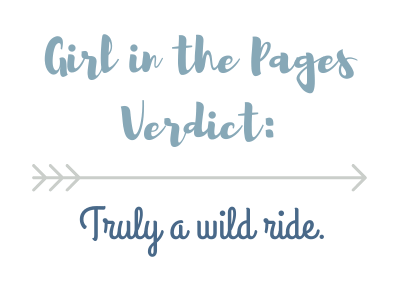 Related Posts