I received this book for free in exchange for an honest review. This does not affect my opinion of the book or the content of my review.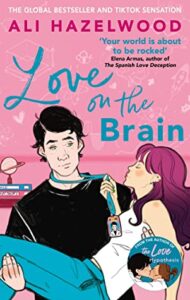 Love on the Brain
by
Ali Hazelwood
Also by this author:
The Love Hypothesis
,
Under One Roof (The STEMinist Novellas, #1)
,
Stuck with You (The STEMinist Novellas, #2)
,
Below Zero (The STEMinist Novellas, #3)
,
Love, Theoretically
Published by
Sphere
on August 23, 2022
Genres:
Adult Fiction
,
Romance
Pages:
368 •
Format:
E-ARC
•
Source:
NetGalley
Goodreads
Bee Königswasser lives by a simple code: What would Marie Curie do? If NASA offered her the lead on a neuroengineering project - a literal dream come true - Marie would accept without hesitation. Duh. But the mother of modern physics never had to co-lead with Levi Ward.

Sure, Levi is attractive in a tall, dark, and piercing-eyes kind of way. But Levi made his feelings toward Bee very clear in grad school - archenemies work best employed in their own galaxies far, far away.

But when her equipment starts to go missing and the staff ignore her, Bee could swear she sees Levi softening into an ally, backing her plays, seconding her ideas... devouring her with those eyes. The possibilities have all her neurons firing.
But when it comes time to actually make a move and put her heart on the line, there's only one question that matters: What will Bee Königswasser do?
Ali Hazelwood is the queen of writing hate to love romances, and Love on the Brain is no exception. Following protagonist Bee who is distinguished scientist as she teams up with her grad school arch-nemesis fellow doctor Levi Ward, Love on the Brain combines two of my favorite things when reading: a delicious romance and teaching me something new!
Hazelwood's books always focus on protagonists working in the STEM field, and this novel is no exception. Though I don't work on the STEM field myself, I love that her works showcase not only females making strides in the STEM world but also acknowledges the lack of representation in the field and the challenges her characters face are representative of that. Bee, for instance, is a very capable doctor who is highly specialized in her field, yet her team at NASA seems to always defer to Levi because he's a male (shocker). She often has to fight and advocate for herself in a way her male colleagues don't have to, and I appreciate that her struggle with these things wasn't downplayed. I also love that despite the obstacles she encounters being a female in the world of STEM, Bee doesn't downplay her style or personality in order to "fit in" or be taken more seriously- she rocks pink hair, piercings, tattoos and cute outfits while still being a bad ass scientist. I also love that I always just learn so much about different STEM topics from reading Hazelwood's novels, and even the chapter titles/headings of this one incorporate cute yet educational facts about the brain.
As far as the romance goes, I enjoyed it the way I always enjoy the author's romance novels. There's a tall, dark, and brooding love interest who starts out aloof and at odds with the protagonist and eventually softens. I will say it's a bit formulaic across the two novels and three novellas I've read by the author so far, but I do love the trope and I feel as though there's enough distinction in personalities across the characters of each books that it still feels unique in each story. I also like how the love interests, such as Levi, end up being good guys when all is said and done, rather than the "bad boy" persona in many romance novels that can actually be super toxic and unhealthy when you really analyze the relationships. Levi is definitely one of my favorite love interests from this companion series and I also loved the little side plot of how him and Bee were unknowingly in contact for years (it was super cute, if a bit obvious). If I wasn't happily married, a Levi would be at the top of my list lol.
One element that set Love on the Brain apart from Hazelwood's other novels for me was the mystery element. While Bee and Levi work on a high profile NASA project, strange occurrences keep popping up- from access issues to malfunctions to a mysterious ghost cat prowling the labs at night. It added a fun bit of intrigue at the beginning of the novel but actually turned unexpectedly nefarious toward the end!
Overall: I truly adore these STEMinist novels and novellas from Ali Hazelwood and cannot get enough! Sure, some of the tropes might be a bit repetitive but they are so fun and well done that I sincerely don't mind. Love on the Brain is a romance I can see myself returning too again for a comfort read in the future and I can't wait to see what the author comes out with next!
Related Posts