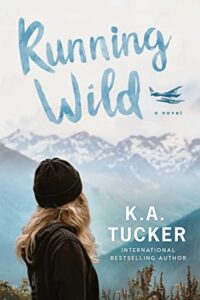 Running Wild
by
K.A. Tucker
Also by this author:
The Simple Wild
,
Wild at Heart (Wild, #2)
,
Forever Wild (The Simple Wild, #2.5)
Series:
Wild #3
on January 25th, 2022
Genres:
Romance
Source:
Overdrive
Goodreads
Veterinarian Marie Lehr knows unrequited love all too well after pining for her best friend, only to watch him marry another woman. It's a mistake she will never make again, especially not when she can practically hear the clock ticking on her childbearing years.

The trouble is, she can't seem to find anyone who appeals to her even a fraction as much as that burly bush pilot did. Competitive musher Tyler Brady certainly doesn't, especially not after the heated altercation with the handsome but arrogant, spiteful man.

Or so she thinks.

While volunteering at the Iditarod Sled Dog Race, Marie discovers that first impressions may have been false, and her attraction to Tyler is very real. But his heart belongs to someone else, leaving him with nothing to offer but friendship. Marie's been down this road before and knows how that ends. Yet, no matter how hard she works to keep from falling for Tyler, it seems she's doomed to follow her own trail once again.
I cannot even begin to explain to you how much I love this series, this setting, this world. The Simple Wild duology (+novella) is one of my FAVORITE all time contemporary/romance series, and one that I had to buy physical copies of for my home library after digitally borrowing for my library (not something I do that often these days, as the past few years I've shifted more toward focusing on e-books). When I found out K.A. Tucker was returning to her fictional Alaskan world to focus on Marie of all characters (IYKYK) I couldn't help but anticipate it was going to be one of my top books of 2022!
Running Wild follows Marie, a veterinarian who is a controversial side character in the original books, as she tries to figure out what's next for her in life as she feels she's at a standstill with no husband and no children, approaching her 40s, and stuck basically in her parent's old life running their veterinary clinic. While she loves animals (and they play a prominent role in the story), she's never really struck out on her own and is pretty stagnant compared to her sisters, and has recently had to face that facts that her unrequited love for Jonah will never be reciprocated in a romantic way. I think most readers familiar with the original series will go into this one a little suspicious since if you're a Calla + Jonah fan, you were likely not one of Marie. However, I'm happy to report that while many of our fan favorites from the OG series make appearances in this story, it's truly about Marie's journey and the new folks who come into her life and help push her out of her comfort zone and confront change for the better!
As with all of K.A. Tucker's books that I've read so far, I appreciated that this one taught me so much about Alaska, especially regarding the Iditarod and the sport of dogsled racing. Through her characters, the story is able to address both the problematic elements of the sport (dogs being mistreated, racers lacking integrity, etc) and also the great things about it (the cultural importance in the communities that partake, the dogs' love for running, the bond racers form with their animals, etc). It was really fascinating to learn all of this from the perspective of an MC who is a vet as well. I also loved getting to see inside Marie's clinic and watch her really be a jack of all trades, doing everything from helping birth puppies to surgery on a pet snake. Her role as a vet didn't feel performative for the sake of the story, and the animals were a huge focus alongside the romance.
Speaking of the romance, it had it's ups and downs for me as a reader. I enjoyed how K.A. Tucker wrote a love interest who reflected the traits of Jonah that Marie is realistically attracted too, but also presented them in a very different way that didn't make Tyler just feel like Jonah 2.0. Tyler is also very, very flawed and sometimes the discrepancies between his actions and his words drove me crazy, but it also felt realistic given his background and the demons he was dealing with. This romance definitely was rocky, but it didn't rely on some of the tired tropes that many romance novels do- Marie and Tyler's problems felt very visceral and real for two adults their age in their situations, painful as they may be.
This series gives me the same sort of immersive experience that I usually only get reading fantasy- where I am completely transported into another setting. The Alaskan wilderness and way of life is so fascinating, and I enjoyed getting to see it in this book from the perspective of someone who's lived there their whole life, rather than a newcomer (Calla). It's fascinating and so well-researched- I truly hope the author continues writing stories set in this world!
Overall: This exceeded my expectations! K.A. Tucker manages to take a character who's not the most likeable from her original series and give her a wonderfully fleshed out story of her own. I can't recommend this series enough!
Related Posts