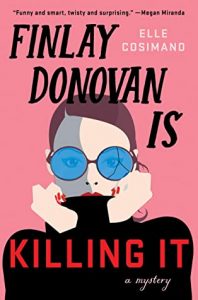 Finlay Donovan Is Killing It: A Mystery
by
Elle Cosimano
Also by this author:
Finlay Donovan Knocks 'Em Dead (Finlay Donovan, #2)
,
Finlay Donovan Jumps the Gun (Finlay Donovan, #3)
Series:
Finlay Donovan #1
Also in this series:
Finlay Donovan Knocks 'Em Dead (Finlay Donovan, #2)
,
Finlay Donovan Jumps the Gun (Finlay Donovan, #3)
Published by
Minotaur Books
on February 2, 2021
Genres:
Adult Fiction
,
Mystery
,
Cozy Mystery
Pages:
363 •
Format:
E-Book
•
Source:
Overdrive
Goodreads
Finlay Donovan is killing it . . . except, she's really not. She's a stressed-out single-mom of two and struggling novelist, Finlay's life is in chaos: the new book she promised her literary agent isn't written, her ex-husband fired the nanny without telling her, and this morning she had to send her four-year-old to school with hair duct-taped to her head after an incident with scissors.

When Finlay is overheard discussing the plot of her new suspense novel with her agent over lunch, she's mistaken for a contract killer, and inadvertently accepts an offer to dispose of a problem husband in order to make ends meet . . . Soon, Finlay discovers that crime in real life is a lot more difficult than its fictional counterpart, as she becomes tangled in a real-life murder investigation.

Fast-paced, deliciously witty, and wholeheartedly authentic in depicting the frustrations and triumphs of motherhood in all its messiness, hilarity, and heartfelt moment, Finlay Donovan Is Killing It is the first in a brilliant new series from YA Edgar Award nominee Elle Cosimano.
I am new to the "cozy mystery" genre, and to be completely honest didn't even realize this was a cozy mystery when I started it (at least I think it is- based on what I've ready about cozy mysteries I'd say this one fits the bill, albeit on the darker side!) However, if all cozy mysteries are this funny, irreverent, and quick then I will definitely be reading more!
Finlay Donovan is Killing It reminded me a lot of a darker Hallmark-type movie, following the life of a down on her luck single mother who is a struggling author who accidentally gets mistaken for a contract killer- which incidentally seems to cure her of her writer's block. While Finlay has no intention of actually getting involved with the situation, fate ends up nudging her right into the center of a murder investigation that happens to be for the "target" her client hired her for. All kinds of shenanigans ensue as Finlay digs herself deeper and deeper into a hole (no pun intended).
What I loved so much about this book (and probably this entire cozy mystery genre itself) is that is was technically a mystery/thriller with the stress taken out of it- I was honestly more invested in the outcome of Finlay's personal life issues (her custody battle, her children's hilarious antics, the overwhelming and underappreciated job of being a mom, etc) and the mystery almost felt like a subplot to spice things up. The story was really more about Finlay resiliency in the face of so many exhausting obstacles, especially that of being a woman, from her ex trying to sabotage her at every turn from trying to parent while her own life is falling apart around her to not being taken seriously because she's a romance writer. I thought the novel did an excellent job at showcasing all of the unpaid and unappreciated labor woman do yet always having a comical spin to the situations to keep it from feeling too heavy or melancholy.
There's also a lot of different representation in this novel of what it means to be a strong, successful woman (while still acknowledging that these women's lives are far from perfect). Obviously we see Finlay struggles to keep a roof over her children's head and save her floundering author career while still trying to be a loving and emotional spouse (and oh yeah, trying to navigate her new role as a psuedo-assassin). However, there's also Finlay's sister, a cop who has dedicated her life to her career and Vero (my favorite character!), her perhaps too ambitious babysitter-turned-partner-in-crime who aspires to be a professional accountant one day. Obviously, the whole novel is very tongue-in-cheek, however I think there was a lot of representation and lessons to be learned about the struggle of women in modern society underneath the whimsical and quirky plot.
Overall: I am so glad this is the start of a new series! It was smart, funny, and fast-paced and a fabulous introduction into the darker side of the "cozy mystery" genre for me (and Vero might be one of my new favorite fictional characters!)
Related Posts