99 Days
by
Katie Cotugno
Also by this author:
You Say It First
,
How to Love
Published by
Balzer + Bray
on April 21, 2015
Genres:
Young Adult
,
Contemporary
,
Romance
Pages:
384 •
Goodreads
Day 1: Julia Donnelly eggs my house my first night back in Star Lake, and that's how I know everyone still remembers everything—how I destroyed my relationship with Patrick the night everything happened with his brother, Gabe. How I wrecked their whole family. Now I'm serving out my summer like a jail sentence: Just ninety-nine days till I can leave for college, and be done.

Day 4: A nasty note on my windshield makes it clear Julia isn't finished. I'm expecting a fight when someone taps me on the shoulder, but it's just Gabe, home from college and actually happy to see me. "For what it's worth, Molly Barlow," he says, "I'm really glad you're back."

Day 12: Gabe got me to come to this party, and I'm actually having fun. I think he's about to kiss me—and that's when I see Patrick. My Patrick, who's supposed to be clear across the country. My Patrick, who's never going to forgive me.
So I'm getting more and more into audio books this summer thanks to Scribd, and when I saw 99 Days I thought I'd give it (another) shot. I had originally tried a trail of Scribd like two years ago but quickly quit because they had moved to a points system I disliked, and never got a chance to try more than on chapter of 99 Days. I had remembered the book causing quite a bit of controversy based on the content, so I decided it was exactly the type of drama I needed to accompany me through my boring commute. What I didn't expect, however, was to end up liking the story as much as I did.
99 Days features one of the most overused YA tropes, a love triangle. However, given that the book takes place AFTER the drama went down (a year after to be exact), it's more focused on the aftermath, and on protagonist Molly's return to Star Hollow, a town where everyone knows what she did, and everyone is intent on punishing her, rather than the two guys involved. The book tackles issues of bullying, girl on girl hate, and, most importantly, slut shaming. Molly is the victim of some pretty severe actions (keying her car, egging her house, etc) and it's fascinating yet repulsive to see how she, as the female in the situation, bears the brunt of the shame and scandal. Cotungo does a good job of realistically portraying how Molly becomes the scapegoat and the mob mentality that allows the boys to get off relatively free despite their involvement in their shenanigans, and it's rather horrifying to see how society reacts this way and puts into perspective a LOT about how females are treated, especially in high school when it comes to dating and their associated reputations.
Now, despite the feminist tone of the novel, that did not keep the protagonist Molly from making some very poor decisions that often times hurt other people and/or worsened her situation. And yet…I still found myself liking her. It's so rare that you see female protagonists who get to be imperfect and still have other positive traits (being hardworking, intelligent, funny, etc), and Molly's all of these things despite her rather inconsiderate choices when it comes to boys. I liked that 99 Days turns so many of the stereotypes surrounding girls embroiled in relationship drama on its head, and managed to make a story about a love triangle not JUST about a love triangle- I feel like I still got to know Molly and her personality outside of a romantic context as well.
99 Days also put a unique spin on family system representation, with Molly being the adopted daughter of a single mother. I feel like I don't read too many books about adopted protagonists (though if you're interested, I HIGHLY recommend Far From the Tree by Robin Benway, it's fantastic) so it was a unique element in the story. Molly's relationship with her mother is also rather interesting, as her mother serves as a catalyst for much of the drama that goes down, as she took Molly's private experiences to use them as the basis for a bestselling novel, which is how the entire town found out about Molly's business. A secondary, yet important, plot element in the book was Molly and her mother navigating and fixing their relationship that her mother's book broke seemingly beyond repair.
Overall: 99 Days isn't a fun read, it isn't a quick read, and it isn't an easy read. It's a story that's not afraid to be messy and flawed and actually TALK about the repercussions and fall out from the protagonist's decisions, whether deserved or not. It's something I wish every teenager had to read because it really makes us examine why we place blame the way we do on females in social situations and forces us to confront some of our own biases as we navigate the story through Molly's (the "antagonist" in many ways) POV. I think this is a story that, whether you like it or not, will make you THINK and has the potential to open up important dialogues.
---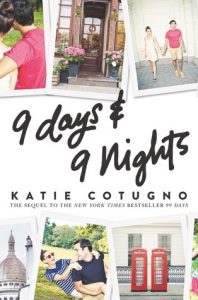 9 Days & 9 Nights
by
Katie Cotugno
Also by this author:
You Say It First
,
How to Love
Published by
Balzer + Bray
on May 1st, 2018
Genres:
Young Adult
,
Contemporary
,
Romance
Pages:
272 •
Format:
Audio Book
•
Source:
Scribd
Molly Barlow isn't that girl anymore. A business major at her college in Boston, she's reinvented herself after everything that went down a year ago . . . after all the people she hurt and the family she tore apart.

Slowly, life is getting back to normal. Molly has just said "I love you" to her new boyfriend, Ian, and they are off on a romantic European vacation together, starting with scenic London. But there on a Tube platform, the past catches up to her in the form of Gabe, her ex, traveling on his own parallel vacation with new girlfriend Sadie.

After comparing itineraries, Ian ends up extending an invite for Gabe and Sadie to join them on the next leg of their trip, to Ireland. Sadie, who's dying to go there, jumps at the prospect. And Molly and Gabe can't bring themselves to tell the truth about who they once were to each other to their new significant others.

Now Molly has to spend nine days and nine nights with the boy she once loved, the boy whose heart she shredded, without Ian knowing. Will she make it through as new, improved Molly, or will everything that happened between her and Gabe come rushing back?
I had no idea 99 Days was going to have a sequel, so when I saw a second book pop up on Scribd I was super interested, given the way the last one ended. Would Molly end up with one of the Donnelley brothers? Would her reputation still haunt her? Did she end up going to college in Boston? I found out the answers to these questions and more in 9 Days & 9 Nights, which follows Molly the summer after her freshman year of college as she travels through Europe.
Initially I was thrilled to pick up 9 Days & 9 Nights because I love YA set in college, however my excitement was a bit dimmed when the story started out and Molly already had a new Bostonian boyfriend, Ian. I personally was a #teamGabe girl myself after the first book, so having to adjust to Molly being with a new guy so quickly was a bit disorienting. The story begins with them traveling through London, and flashbacks through Molly's narrative detail how their relationship develops over the course of her first year in college. I was happy to see Molly happy and drama free, but I refused to believe her story in Star Lake was over (and I was right). Fate reunites her with Gabe and his new girlfriend, who are also traveling through Europe over the summer.
While I generally love books set abroad, I admit I was sort of wistful for the small town feel of Star Lake. 9 Days & 9 Nights follows Molly and the gang through London, Ireland, and finishes in Paris, and as can probably be predicted, feelings (both good and bad) surface between Gabe and Molly and the tension runs thick. It's hard to discuss specifics without any spoilers, but the story leads up to the boiling point when Molly will inevitably clue Gabe into a secret she's been holding on for almost a year, a remnant of their relationship the summer before that's haunted Molly her entire first year away from home.
Despite the heavier elements to the story, there are some refreshing elements, such as Imogen's adorable, quaint, literal cottage in Ireland where she hosts everyone, complete with sheep in the front yard. There's the gradual reparation of Molly's relationship with her mother, revealed through flashbacks from freshman year when her mom was there to support her through a really tough time when Gabe was not.
Overall: Like it's predecessor, 9 Days & 9 Nights is messy and complicated and isn't afraid to throw its characters into uncomfortable situations and force them to react. While I didn't love it the way I loved 99 Days (the pacing felt a bit off to me and it was slow in the beginning), I still appreciated following Molly's story and the author's willingness to write about controversial topics that are very real ramifications of characters' actions.
Related Posts