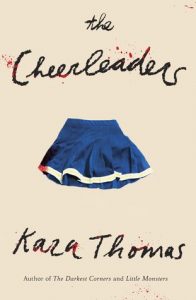 The Cheerleaders
by
Kara Thomas
Published by
Delacorte Press
on July 31, 2018
Genres:
Mystery
,
Thriller
,
Young Adult
Pages:
384 •
Format:
E-Book
•
Source:
Overdrive
Goodreads
There are no more cheerleaders in the town of Sunnybrook.

First there was the car accident—two girls gone after hitting a tree on a rainy night. Not long after, the murders happened. Those two girls were killed by the man next door. The police shot him, so no one will ever know why he did it. Monica's sister was the last cheerleader to die. After her suicide, Sunnybrook High disbanded the cheer squad. No one wanted to be reminded of the girls they lost.

That was five years ago. Now the faculty and students at Sunnybrook High want to remember the lost cheerleaders. But for Monica, it's not that easy. She just wants to forget. Only, Monica's world is starting to unravel. There are the letters in her stepdad's desk, an unearthed, years-old cell phone, a strange new friend at school. . . . Whatever happened five years ago isn't over. Some people in town know more than they're saying. And somehow Monica is at the center of it all.

There are no more cheerleaders in Sunnybrook, but that doesn't mean anyone else is safe.
I'm always proclaiming my love of thrillers, yet it feels so rarely do I find YA thrillers that don't leave me feeling disappointed. They're often predictable, unbelievable, or over dramatic and lack the ominous feeling that I crave when diving into a thriller. When I heard about The Cheerleaders, I was immediately struck by how simple (and unsettling) the cover was, so I decided to add it to my TBR, hoping it might stand out. I'm happy to report that it did indeed stand out and proved to be an unsettling and surprising story that left my thriller craving self satisfied.
The Cheerleaders follows protagonist Monica who is the little sister of one of five cheerleaders who died suddenly several years before. So many of the girls died within quick succession of each other that the cheerleading squad at their school was eventually disbanded. While everyone else seems content to move on, Monica is struck by nagging suspicions as the anniversary of her sister's death approaches.
What immediately stood out to me about The Cheerleaders was the atmosphere. The narrative is never straight forwardly scary, however it definitely has that ominous, everything-is-fine-but-obviously-something-sinister-is-going-on-under-the-surface-in-the-suburbs vibe to it. There was a scene where Monica goes into an unfinished, perpetually under construction home across the street from hers and realizes the view from the abandoned home looks straight into her family's kitchen *shudders.* Even though nothing happened in that house, the possibility of it was creepy enough.
Monica, of course, decides to take matters into her own hands and she was actually pretty competent, with the exception of some cringe worthy text conversations (seriously, when interrogating potential murder suspects do not open with "Hi my name is___.") I liked that she was suspicious of everyone but wasn't too quick to condemn them, and she was critical without being over the top paranoid, especially when the evidence was looking bad for some of the people closest to her.
"You can't believe everything you hear, though. Girls are always whittling little weapons to stab each other with." – Kindle Edition, Location 1799

The narrative also jumped back to her sister's POVs during some points, and it was interesting to see some of the parallelism between Jennifer's life and friend group and Monica's as well (and the ominous observation that it seemed like history may be repeating itself in some ways). The story also made it clear that both sisters were dealing with some pretty heavy emotional stuff without hitting readers over the head with it, and it dealt with some issues that you don't often see in YA novels that I was impressed that Thomas integrated, especially so early on in the story.
Now, to the important part- the whodunnit element of the mystery. Did I see it coming? Not until it was almost right in front of my face. I knew it wasn't going to be some of the obvious, initial suspects, but I was impressed by how cleverly Thomas hid the true culprit in plain sight throughout the entire course of the story. The twist held a great balance of being believable without being predictable (I hate when the culprit is either super obvious or ends up being someone we've never even met before). Also, THAT EPILOGUE. (I love some morally grey characters).
Overall: The Cheerleaders may have a simple cover or a silly sounding premise, but it's a surprisingly unsettling, surprising, well crafted mystery. I will definitely be checking out more of Kara Thomas' work!
Related Posts