I received this book for free in exchange for an honest review. This does not affect my opinion of the book or the content of my review.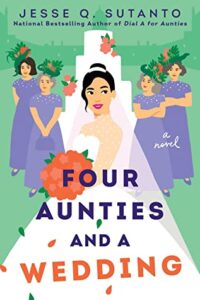 Four Aunties and a Wedding
by
Jesse Q. Sutanto
Also by this author:
Dial A for Aunties
Series:
Aunties #2
Also in this series:
Dial A for Aunties
Published by
Berkley
on March 29, 2022
Genres:
Cozy Mystery
Pages:
352 •
Format:
E-ARC
•
Source:
NetGalley
Goodreads

Meddy Chan has been to countless weddings, but she never imagined how her own would turn out. Now the day has arrived, and she can't wait to marry her college sweetheart, Nathan. Instead of having Ma and the aunts cater to her wedding, Meddy wants them to enjoy the day as guests. As a compromise, they find the perfect wedding vendors: a Chinese-Indonesian family-run company just like theirs. Meddy is hesitant at first, but she hits it off right away with the wedding photographer, Staphanie, who reminds Meddy of herself, down to the unfortunately misspelled name.

Meddy realizes that is where their similarities end, however, when she overhears Staphanie talking about taking out a target. It turns out Staphanie and her family are The Family—actual mafia, and they're using Meddy's wedding as a chance to take out a target. Her aunties and mother won't let Meddy's wedding ceremony become a murder scene—over their dead bodies—and will do whatever it takes to save her special day, even if it means taking on the mafia.
There's something about the books in this series that are so absurd, yet they somehow just work. Picking up shortly after where Dial A for Aunties left off, Four Aunties and a Wedding follows protagonist Meddy at her own wedding this time, where (of course) a massive chain of disasters ensue.
You know how they say how doctors make the worst patients? That's basically what happens in this novel, with, you know, your casual mafia twist. Meddy and her aunties run a wedding planning business, and are now looking for vendors for their own family wedding. Meddy doesn't get much of a chance to choose her own vendors given how opinionated her aunties are, and when they find a family with a similar background to their own who are in the business, it's pretty much a done deal that they will hire them. Come to find out, however, that they're a "mafia" family and the whole wedding planning business is a cover to "take out a target" at the wedding- and to Meddy's family horror, they actually really don't know what they're doing, whether it comes to photography, hair and makeup, floral arrangements, etc. The story vacillates between them trying to salvage the disaster that is Meddy's wedding while also trying to prevent an assassination while also taking matters into their own hands- and if you've read the first book in the series, you can probably only imagine how that goes!
Despite the shenanigans, there were also some real gems in this novel, such as the Oxford setting (Meddy is actually getting married at Christ Church's College which I visited when I studied abroad, and it was so cool to have been where the story was set!). The author also makes a note in the beginning of the book about wanting to explore different experiences of the Asian diaspora in this novel, and does so through the meeting and merging of Meddy and Nathan's families during the wedding weekend (which honestly, does not go well, but also highlights how not everyone's experience is the same).
Overall: Another delightfully campy installment, there's no denying how fun of a read this was!
---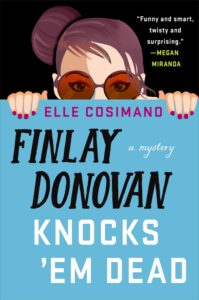 Finlay Donovan Knocks 'Em Dead (Finlay Donovan, #2)
by
Elle Cosimano
Also by this author:
Finlay Donovan Is Killing It: A Mystery
,
Finlay Donovan Jumps the Gun (Finlay Donovan, #3)
Series:
Finlay Donovan #2
Also in this series:
Finlay Donovan Jumps the Gun (Finlay Donovan, #3)
Published by
Minotaur Books
on February 1, 2022
Genres:
Cozy Mystery
Pages:
360 •
Format:
E-Book
•
Source:
Overdrive
Goodreads
Finlay Donovan is—once again—struggling to finish her next novel and keep her head above water as a single mother of two. On the bright side, she has her live-in nanny and confidant Vero to rely on, and the only dead body she's dealt with lately is that of her daughter's pet goldfish.
On the not-so-bright side, someone out there wants her ex-husband, Steven, out of the picture. Permanently. Whatever else Steven may be, he's a good father, but saving him will send her down a rabbit hole of hit-women disguised as soccer moms, and a little bit more involvement with the Russian mob than she'd like.
Meanwhile, Vero's keeping secrets, and Detective Nick Anthony seems determined to get back into her life. He may be a hot cop, but Finlay's first priority is preventing her family from sleeping with the fishes... and if that means bending a few laws then so be it.
With her next book's deadline looming and an ex-husband to keep alive, Finlay is quickly coming to the end of her rope. She can only hope there isn't a noose at the end of it...
Honestly, there's something about this book that just captures the older millennial experience. I don't have kids, but just reading about Finlay's struggles to be a mom, have a successful career, manage her household, take care of herself is ~relatable~ (minus the murder investigation part, lol). I just love that this series shows extraordinary (and downright ludicrous) things happening to a very normal person. Finlay is just doing the best she can and it honestly adds a blanket of endearment to the absurdity of the things that go down in this novel.
Despite Finlay trying to move on with her life after the events of the first book, she becomes involved in some shady business once again when she stumbles across an online ad where someone is asking someone to "eliminate" her sketchy ex-husband. While there's no love lost between Finlay and Steven, she can't in good conscience let an *innocent* dude and the father of her child die. Of course, due to the events in the last installment, she can't go to the police, so her and Vero decide to take matters into their own hands once again.
I honestly can't get enough of Finlay and Vero's (her hilarious, math savvy nanny) antics, and it's hard to deny they make a great crime-solving (or sometimes crime-committing) pair. This story also gives some more insight into Finlay's extended family, and I loved her mom's (nosy) presence but also how she was there for Finlay when she needed her in small ways (even if she didn't realize it). Of course, there's also the hilarious, meta situation of Finlay herself being a romance/mystery novel and how she ends up drawing inspiration from her own real life antics!
Overall: I love this series and like Lauren from @Bookmark Lit said in her review, I need to find more cozy mysteries with the same vibe!
Related Posts