I received this book for free in exchange for an honest review. This does not affect my opinion of the book or the content of my review.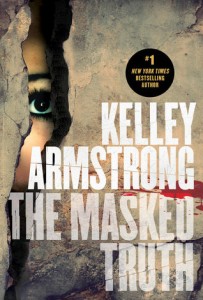 The Masked Truth
by
Kelley Armstrong
Also by this author:
Missing
Published by
Doubleday Canada
on October 13th 2015
Pages:
340 •
Goodreads
A MASTERPIECE OF TERROR AND SUSPENSE FROM #1 NEW YORK TIMES BESTSELLING AUTHOR KELLEY ARMSTRONG.
Riley Vasquez is haunted by the brutal murder of the couple she was babysitting for.
Max Cross is suffering under the shadow of a life-altering diagnosis he doesn't dare reveal.
The last thing either of them wants is to spend a weekend away at a therapy camp alongside five other teens with "issues." But that's exactly where they are when three masked men burst in to take the group hostage.
The building has no windows. The exits are sealed shut. Their phones are gone. And their captors are on a killing spree.
Riley and Max know that if they can't get out, they'll be next—but they're about to discover that even escape doesn't equal freedom.
In the YA genre, it's rare that you get a thriller that's grueling and graphic, one that makes you wince as you turn the page because you're not quite sure what you're going to encounter and how it's going to affect you. Yet that's exactly what The Masked Truth by Kelley Armstrong offers. It's a story that isn't bound by genre in it's realistic portrayal of the realities of a hostage situation, and doesn't sugar coat the fate of most of its characters. While I times it may be an intense read, I am always one to appreciate when a YA author isn't afraid to mellow down plot elements just because they happen to be writing about teenagers. Though prior to this I was only familiar with Kelley Armstrong through her Darkest Powers series (which is wonderful yet firmly in the paranormal genre), this book genuinely made me cultivate a respect for her as a writer due to her raw storytelling, strong research, and insightful portrayal of mental illness.
As per the synopsis, the premise of the book is that a group of teens at a weekend therapy camp are taken hostage. The protagonist, Riley, grew up with a father on the police force, and therefore becomes the voice of reason in the situation, walking her fellow camp-members-turned-hostages what to expect, how a hostage negotiation will run, how to cooperate with the best chances of survival, etc. I really enjoyed this aspect of the book, as Riley is the vehicle through which Armstrong can showcase the research she did into the plot without info-dumping. I've never read a book about a hostage situation prior to this one, and I feel like I learned SO much about the genre and process (and walking away from a novel having learned something is always a plus for me).
As can be expected, the novel doesn't hold back describing the horrors of a hostage situation gone awry. After an "unfortunate" incident at the beginning of the take of the hostages, the teens are left in a deadly cat-and-mouse game with the antagonists. I found the situation to be incredible scary (in a thrilling way) because of the candor with which Armstrong writes. Not everyone is going to survive, and their deaths aren't going to be clean and easy: some are horrific, some are tragic, some are accidental. Perhaps the most disturbing element of the novel though, was the relative "normality" of the captors. They're not paranormal villains or trained terrorists, rather they are just men in masks who have chosen a morally bankrupt profession/hobby, which makes them all the more terrifying; they could be anyone. Or rather, theoretically, anyone could be capable of their callousness and cruelty.
Though the book moves at a quick pace and there isn't necessarily a lot of time spent with the wide cast of characters at the camp, I greatly admired her ability to make me truly empathize with the situations of characters who are not initially the most likable. Something as traumatic as a hostage situation can bring out the best- and worst- in people, but regardless of whether characters were "likeable" or not, I found myself deeply invested and moved by their fates. View Spoiler »I was literally SO upset when Aaron died. Yes, he was kind of a troll, but no one deserves to have their own FATHER put a hit on them, and no one deserves to be killed as tragically and accidentally as he was. Gun safety, kids. Be sure you are SO careful doing anything with a firearm. « Hide Spoiler
Perhaps even more so that it's qualification as a thriller, the largest element of this book is arguably mental illness. The premise is set around a teen therapy camp, and it's not just for teens with anxiety or depression (not that those aren't valid and serious mental illnesses, however I think that they can be overused, in an often trope-like way, in YA narratives). (Minor spoilers ahead): Riley herself suffers from PTSD, and Max, the other POV character, is schizophrenic. Armstrong really addresses the stigmas that come along with such mental illness labels (especially in the latter half of the book), and it's frustrating to see how the characters are often dismissed or underestimated because of a mental illness, when the narrative showcases how complex and intelligent they are. Armstrong really did a great job of having characters with serious mental illnesses yet allowing them to shine in other ways; they weren't essentialized down to solely being their illness. Armstrong's writing really showcased the theme of mental illness as well, such as her choosing to rotate the narrative between Riley's first person POV and Max's third person POV, which came across as quite clever as it showcased the internal dialogue that's always going on in his head due to his schizophrenia, that's he's never really "alone" but struggling with his personality and its sometimes dual or conflicting aspects.
One thing that really surprised me about this book was that while it was by no means a romance-genre book, I really enjoyed the coupling up of Max and Riley. It obviously took a back seat to the much more pressing and important plot elements that were present, but I loved their banter, their mutual reliance on each other for survival, and their ability to see each other's personalities beyond their mental illness labels. Max in particular really charmed me, as he's very intelligent and extremely aware and realistic of his condition as a schizophrenic and all that it implies, but he wants so hard to still live up to his potential before his diagnosis, and doesn't martyr himself. There was also no doubt a chemistry between him and Riley and I definitely felt it.
The only aspect about this book that I found I didn't enjoy was that sometimes Riley came off as too analytical and mature. I know, I know, immature YA heroines are a dime a dozen, so am I really going to complain about one on the opposite end of the spectrum? I just found Riley to sometimes be too self aware and sometimes almost patronizing to the other characters because she is so knowledgeable and mature (like she's always putting Max in his place if he acts on his emotions and I feel like she exempts herself from emotional responsibility at some points). However, it's a very small complaint and overall she worked well as a protagonist.
Overall: The Masked Truth is a thriller that's not afraid to live up the the dark elements of its genre, despite being a YA novel. While I was able to guess the twist, it wasn't until late in the game, and the plot will definitely keep you on your toes. If you can handle the at times graphic content, it's truly worth the read. Its best element lies within it's narrative of mental illness, and showcasing the stigmas surrounding it, and how characters can be written to be so much more than a mental illness trope. I know I will be picking up more Kelley Armstrong books in the future!
Reading this book contributed to these challenges:
Related Posts