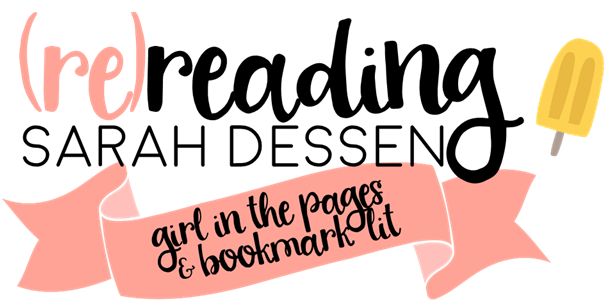 Most readers and bloggers can agree that Sarah Dessen is the Queen of Contemporary. Her books have been around long before YA was a well-known genre and I remember her books being some of the first I ventured into in middle and high school summers when the YA section at my local library was lacking and I didn't even really know what a contemporary novel was. Over the past 12+ years I've read and loved almost all of her books, and with Once and for All out this Sarah has surely been on everyone's mind! Lauren from Bookmark Lit and I are therefore joining forces this summer to discuss all things Dessen this month- when we started reading her books, our experiences with rereading, and other fun discussions, recommendations, and personal stories. Our feature will take place over 4 weeks this June on Wednesdays at Lauren's blog and on Thursdays here!
Schedule
Introduction, Our Sarah Stories, and Discussion of Someone Like You
June 7th on Bookmark Lit – June 8th on Girl in the Pages
Dessen Recommendations and Similar Stories
June 14th on Bookmark Lit – June 15th on Girl in the Pages
Blog Features: Cover Colors and Once and for All Tour Recap
June 21st on Bookmark Lit – June 22nd on Girl in the Pages
Once and For All, Dessen Favorites, and Wrap-Up
June 28th on Bookmark Lit – June 29th on Girl in the Pages

Once and for All by Sarah Dessen
Also by this author: Saint Anything, Just Listen, What Happened to Goodbye, Along for the Ride, Lock and Key, Dreamland, The Rest of the Story, The Moon and More
Published by Viking Books for Young Readers on June 6th 2017
Pages: 358 •Goodreads

As bubbly as champagne and delectable as wedding cake, Once and for All, Sarah Dessen's thirteenth novel, is set in the world of wedding planning, where crises are routine.

Louna, daughter of famed wedding planner Natalie Barrett, has seen every sort of wedding: on the beach, at historic mansions, in fancy hotels and clubs. Perhaps that's why she's cynical about happily-ever-after endings, especially since her own first love ended tragically. When Louna meets charming, happy-go-lucky serial dater Ambrose, she holds him at arm's length. But Ambrose isn't about to be discouraged, now that he's met the one girl he really wants.

Sarah Dessen's many, many fans will adore her latest, a richly satisfying, enormously entertaining story that has everything—humor, romance, and an ending both happy and imperfect, just like life itself.
I am a true lover of Dessen books, but I have to admit that I finally found one that didn't quite work out for me. Don't get me wrong, I still enjoyed aspects of the book- the wedding planning premise, the side characters (William and Louna's mom were hilarious, I need a book based just on their misadventures in wedding planning!) and of course the timeline of an entire summer, when so much growth can happen. However, I just couldn't connect with Louna in any way and she felt like the least dynamic Dessen protagonist I've come across, so reading her narrative eventually left me feeling sluggish and uninterested and I really had to power through the end of the book.
I was really excited going into Once and for All, as it has all of the trademarks of a good Dessen book- set in the summer, a budding yet unlikely romance, a quirky element, and a darker shadow hovering over the plot of the story. However, the tragedy that befell Louna feels inorganic and hard to connect with. Without mentioning too many spoilers, it seemed like the tragedy was so big and publicly known that it almost lost some of the intensity of the demons her other protagonists face, which are much more rooted in the personal and private spheres (such as Caitlin from Dreamland and Annabelle from Just Listen). View Spoiler »Also I'm sorry but it's really hard to believe that she connected so much with Ethan after just meeting him one night. What happened to him was super devastating but the fact that the relationship was so new and told only in flashbacks really watered down the impact. « Hide Spoiler
I also had a major problem liking, or even tolerating, the main characters. Louna was just so boring. I know Dessen's protagonists are generally more on the quiet side, the silent sidekick to a more dynamic supporting cast, but I felt like I wasn't getting anything from Louna at all. She didn't have Auden's bitterness or Halley's recklessness or Caitlin's depth. She was just there. Ambrose annoyed me 110% of the time. I'll be the first to admit I'm not always smitten by Sarah's love interests, but even if I don't find them swoonworthy I can still appreciate the romance and relationship that develops between the two main characters. Ambrose, however, was so infuriating that I could not come around to liking him even though you can tell as a reader you're supposed to find his lack of a filter and brutal honesty endearing after a time. I however think that just because you admit you're a certain way doesn't give you an excuse to continue on with that behavior (aka him always saying things like "I'm not for everyone") and really found the eventual slow burn romance to be really unbelievable.
However, my experience with this book wasn't wholly negative. The easter eggs were REALLY fun to spot (I'm sure I missed some but there were some awesome ones like Eli and Auden in one of Louna's flashbacks) and since I purchased the Barnes & Noble special editions, I had a bonus epilogue at the end of my book which was hands down my FAVORITE thing about reading this book. It pulls in the favorite band we all love to hate, plus many of the major players from Saint Anything and was so much fun to read.
Overall: This book had a really fun and unique setting with the wedding planning backdrop, and it was nice to return to Lakeview and spot all of the easter eggs from Dessen's past books. However, the novel really didn't work for me as it felt more like it was following the formula of previous Dessen books without the heart or depth that her other books have. I definitely seem to be in the minority with this opinion though, so if you're a Dessen fan I think you should definitely still give Once and For All a shot!
Lauren and I decided that for our last Rereading Sarah Dessen feature post, it would be fun to include a lightening round of our Dessen favorites!
Favorites:
Favorite Book: Drealmand
Favorite Love Interest: Eli from Along for the Ride
Favorite Protagonist: Annabelle from Just Listen
Favorite Best Friend: Scarlett from Someone Like You
Favorite Setting/Business: The pizza parlor from Saint Anything. I feel terrible but I can't remember the name off the top of my head!
Favorite Character Name: Haven from That Summer
Favorite Cover: Probably the new cover for Keeping the Moon, I love the ombré pink and purple effect and the fireworks!
Would you rather…
Live in Colby or Lakeview?: Colby for sure, it is my dream East Coast beach town!!!
Work for Natalie Barrett Weddings OR with McLean's dad in restaurant consulting?: Natalie Barrett weddings for sure. I have a lot of event planning experience and would love to see it play out in a wedding setting.
Eat fried pickles at Luna Blu OR pizza and fries at the Chatham's pizza place?: Pizza and fries every time! (I hate pickles!!)
Have no more Dessen books but be able to reread these forever OR have new books but never be able to reread old favorites?: Definitely rereading my old favorites of hers forever! Considering how I got on with Once and For All I think her classics will remain my favorites!
I can't believe our month of Rereading Sarah Dessen is over! I feel like I've been so lucky to be able to indulge in her works so far this summer, and I still have a few left on my reread list: Keeping the Moon, The Truth About Forever, This Lullaby, and The Moon and More. There's something so familiar about returning to an old Dessen favorite while now being able to pick up on so many more themes that I lacked the depth and life experience to really appreciate when I was younger. Also, finding her Easter Eggs in her books are one of my favorite things! One summer I will reread them all in chronological order and keep track of all of the subtle references to past books!
If you've stayed with us throughout the course of this summer blog series I hope you've had a great time revisiting Sarah's works with us. If you're just joining this week, I hope that you've been inspired to either pick up an old Dessen favorite, or try something new if you've never read her before! Be sure to also enter our giveaway for a signed copy of Once and For All below!
The giveaway is US only, must be 18+ or older to enter, and I do check EVERY entry, so no cheating please! I am not responsible for any items lost in the mail.
Related Posts