I received this book for free in exchange for an honest review. This does not affect my opinion of the book or the content of my review.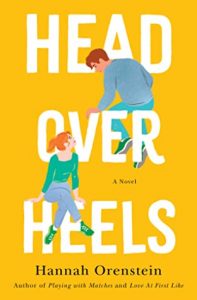 Head Over Heels
by
Hannah Orenstein
Published by
Atria Books
on June 23, 2020
Genres:
Adult Fiction
,
Contemporary
,
Romance
Format:
E-ARC
•
Source:
NetGalley, Publisher
Goodreads
The past seven years have been hard on Avery Abrams: After training her entire life to make the Olympic gymnastics team, a disastrous performance ended her athletic career for good. Her best friend and teammate, Jasmine, went on to become an Olympic champion, then committed the ultimate betrayal by marrying their emotionally abusive coach, Dimitri.
Now, reeling from a breakup with her football star boyfriend, Avery returns to her Massachusetts hometown, where new coach Ryan asks her to help him train a promising young gymnast with Olympic aspirations. Despite her misgivings and worries about the memories it will evoke, Avery agrees. Back in the gym, she's surprised to find sparks flying with Ryan. But when a shocking scandal in the gymnastics world breaks, it has shattering effects not only for the sport but also for Avery and her old friend Jasmine.
I love a romance novel that has a good subplot that focuses on something other than the romance itself, and that's exactly what I found in the pages of Head Over Heels by Hannah Orenstein, which has quickly risen to the top of my favorites of 2020 list! Following the story of Avery Abrams, a retired gymnast who just missed Olympic glory, the novel focuses on what comes next after dreams have been shattered and careers ruined by injuries. In just her mid-twenties, Avery feels as though her life has peaked and her identity ruined.
I really loved this story about an athlete finding her purpose and motivation in life after the spotlight has shifted away from her, and she has to rediscover who she is and what she wants as a twenty-something year old. The twenties are a decade of so much transition and self-exploration, which Orenstein captures perfectly. Avery moves home to live with her parents and wants nothing more to do with the gymnastics world, but when a coaching job with her childhood crush becomes available, she finds herself eventually relenting and dipping her toes back in the lifestyle of leotards, gym mats and fierce competition, but from a different perspective.
I immensely enjoyed learning so much about gymnastics from this story, from the culture to the strict training regimens to the mental health problems that pervade the sport. I found myself completely engrossed in the routines that Ryan and Avery choreographed for their coachee, Hallie, spending hours afterwards looking up gymnastics videos online and marveling at the feats of athleticism. The novel also tackled the darker side of the gymnastics world which recently came to light a few years ago with the unchecked abuse gymnasts were suffering at the hands of trusted adults, from doctors to coaches. I appreciated that Orenstein tackled these issues head on in her story and showed that there were ways to support young athletes in the sport and still have them be successful, as Avery's coaching style is tough but not cruel. During many instances I forgot I was reading a "romance" because so many larger issues are at play in this novel, and I'd argue that it's much more contemporary women's fiction that will leave readers feeling educated, informed, and powerful.
Even outside of her coaching job, Avery goes through so much character growth in the span of 300 or so pages. She gradually comes to terms with her own trauma from the emotional abuse she suffered at the hands of her childhood gymnastics coach. She reunites with her old best friend and they manage to move past the awkwardness of their adult lives to start a foundation to provide mental health care services for gymnasts. She begins to open herself to the idea that other forms of physical activity (such as yoga) can be beneficial as a supplemental practice to gymnastics. Avery's growth throughout this novel feels so genuine and multi-faceted, an impressive feat for a stand alone novel that clocks in at just over 300 pages.
Overall: I really, really enjoyed this story that gave a passionate, in-depth look into the world of gymnastics through the lens of someone on the other side of the competition glory days. I would be thrilled if the author continues to write about the gymnastics world, as she is clearly knowledgeable and passionate about it, and I feel as though I've discovered a newfound interest in it as well thanks to how immersive this story was!
Related Posts