Boyfriend Book Reviews is a feature where my book-loving boyfriend, Max, reads and reviews YA that I either haven't yet read or is outside of my current TBR. If you want a thorough and thoughtful perspective on a guy's take on YA, keep reading!
I received this book for free in exchange for an honest review. This does not affect my opinion of the book or the content of my review.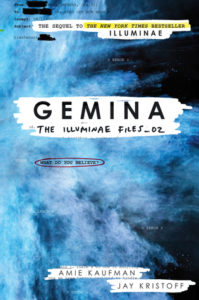 Gemina (The Illuminae Files, #2)
by
Amie Kaufman
,
Jay Kristoff
Published by
Knopf Books for Young Readers
on October 18th 2016
Pages:
672 •
Goodreads
The highly anticipated sequel to the instant New York Times bestseller that critics are calling "out-of-this-world awesome."
Moving to a space station at the edge of the galaxy was always going to be the death of Hanna's social life. Nobody said it might actually get her killed.
The sci-fi saga that began with the breakout bestseller Illuminae continues on board the Jump Station Heimdall, where two new characters will confront the next wave of the BeiTech assault.
Hanna is the station captain's pampered daughter; Nik the reluctant member of a notorious crime family. But while the pair are struggling with the realities of life aboard the galaxy's most boring space station, little do they know that Kady Grant and the Hypatia are headed right toward Heimdall, carrying news of the Kerenza invasion.
When an elite BeiTech strike team invades the station, Hanna and Nik are thrown together to defend their home. But alien predators are picking off the station residents one by one, and a malfunction in the station's wormhole means the space-time continuum might be ripped in two before dinner. Soon Hanna and Nik aren't just fighting for their own survival; the fate of everyone on the Hypatia—and possibly the known universe—is in their hands.
But relax. They've totally got this. They hope.
Once again told through a compelling dossier of emails, IMs, classified files, transcripts, and schematics, Gemina raises the stakes of the Illuminae Files, hurling readers into an enthralling new story that will leave them breathless.
"Quiet fell. Quiet so deep it was deafening. And into that quiet, Falk spoke again. 'Who is in command of this jump station?' Nobody replied this time. Everyone knew the answer now."
*Author's note; I will be referencing the events of Illuminae as if you, the reader, have read it. That means spoilers for the events of Illuminae. You've been warned.
Well well well. It's been quite a year for our buddies at Beitech. Don't know who I'm talking about? Catch that review here: link. I won't lie to you all. I was excited for this one. The first book in the series set up a pretty cool universe with some interesting use of tried and true sci fi plot devices. Contagion ala The Andromeda Strain or Dead Space. An unshackled AI with a monotone voice and disturbingly cold and calculating approach to the greater good. Interstellar dogfights, carrier to carrier combat. Oh and love in the most dire of circumstances. Looking at you, Han and Leia.
In any case, I was quite impressed with how Illuminae turned out, and as I said I was excited for this, the second entry in the franchise. I'll tell you right now that it did not disappoint. While the first book treads the ground of Sci Fi greats like Battlestar Galactica and the aforementioned Dead Space (sans horrifying alien lifeforms), Gemini is more like the original Alien film with a nice sprinkling of Doom and some elements of universe bending such as the recent Christopher Nolan film Interstellar. All this with the backdrop of two kids trying to find their way in a big universe. With horrifying alien lifeforms. I did mention that, right? No? Well let's get into it.
One of my major complaints about Illuminae was that I found our two leads to be… well, boring, if I'm honest. I was bored by the jock who somehow becomes an ace fighter pilot in the span of a few months. The smart girl who is some kind of absurd hacking prodigy* and likes the jock for some reason. (*Hacking doesn't work like in the movies folks. Sorry to be 'that guy.')  So if you liked Kady and Ezra I'm sorry but we'll have to agree to disagree.
In Gemina, however, we meet two characters who I found much more interesting. Yes they're still based on tried and true formulas. Hanna, the Commander's daughter, born with a silver spoon in her mouth but wants to get away from her hodunk space station and lead an exciting life. Niklas, a Russian gang member who just can't escape the life he was born into and who has a tragic backstory and has it bad for the Commander's daughter. However, I think they were done very competently. Hanna's "walk on the wild side" streak feels believable and she has a pretty significant chain of events happen over the course of the story to which her responses feel real. Nik grew on me as well. At first he comes off as some dumb kid (and let's be honest, he is), but he grows to prove himself to be clever and competent.
The conflict with the characters was well fleshed out and the drama that unfolds kept me turning the pages. The plot follows us as the Heimdall jump station is overtaken by a Beitech strike team who are the culmination of Beitech responding to the Hypatia escaping their reach at the end of Illuminae. (Perhaps if someone hadn't called out a certain Beitech Executive all this wouldn't have happened. [KADY! Cough KADY!]) Anyway, the occupation of the station doesn't go as planned. Our characters on the inside engage the Beitech team in a game of cat and mouse with deadly consequences for many involved. On our side is Hanna, Nik, and Nik's cousin Ella (another hacking genius. Sigh. But I liked her better than Kady) . Later on, some familiar faces reappear to lend a hand. On the Beitech side is a team of 24 hardened Special Operatives to whom murder generally seems to follow breakfast. What could go wrong? Quite a lot, actually.
---
Spoiler Time!
You are now entering THE SPOILER ZONE:
So I'll try to keep this brief because if you haven't read this book, I think you should.
The basic crux of the Beitech plan is to annihilate the Hypatia and everyone aboard so they cannot be witnesses to the atrocity committed on the Kerenza mining colony. The jump station Heimdall is a place where you can take a wormhole to zip to other parts of space. In response to their fleet getting spanked by a bunch of teenagers and an unshackled AI and a mostly unarmed science vessel with a skeleton crew, some brilliant mind at Beitech decides it's a good idea to take over Heimdall and use its wormhole to send in a fleet of drones to kill the Hypatia and then blow up the entirety of the Kerenza colony. (Beitech and non Beitech people alike.) A little bit comic book villain for me but I can dig it.
So Hanna and Nik decide they aren't taking this whole "get killed by a fleet of drones" thing lying down. Together with Ella they work interference with a few new characters who I won't give away here. At the same time, some horrifying alien lifeforms that are bred to make space LSD are inadvertently let loose aboard the ship and they aren't taking sides on who they're using as the meat du jour.  As if all this wasn't enough, Beitech has a man on the inside who's been a double agent the whole time.
The third act is where things really get crazy though. I'll keep it short and sweet. Basically the jump station is built around a wormhole. If you don't know what a wormhole is, the extremely short version is it's a hole in time and space that lets you travel the massive distances in space faster than the speed of light (generally thought of as the limit for how fast you can travel through space.) Funny thing is when you're dealing with a wormhole time and space gets weird. Through the hole you're technically in multiple universes. There are things in physics way too complicated to get into here. If you really want to read more about wormholes, peep this: https://en.wikipedia.org/wiki/Wormhole
In relation to the book's plot, basically we're getting into multiverse theory here. I won't give away how or what happens. But basically somebody dies and the magic of science allows them to basically come back from the dead. If you get confused at this point in the book, I don't blame you. But in theory, everything that happens in this part of the book could happen irl. Crazy I know. Enjoy that little trip in the mindblender.
You survived the spoiler zone. Congratulations.
---
Overall: Yes, folks the plot's really thickened in this one. There's firefights and fistfights and swearing aplenty. The characters grow and learn new things. They have to work together. Old friends come back and new enemies cause some serious heartache. In the end, my gripes are pretty minor. I'll really say only this; If you're going to kill a character off, you should commit. Especially if you already teased it once. If you liked Illuminae you'll probably love this book. It was an even stronger entry. I'm excited to see how the events play out.
---
About the Reviewer
Max is a twenty-something recent psychology grad, avid gamer, and self-proclaimed Hufflepuff. He and Cristina met in high school, where they bonded over a mutual love of food, Harry Potter, and Disney. When he's not dutifully attending book events with his book blogger girlfriend, he can be found gaming, reading fantasy & sci-fi, and becoming overly invested in Food Network shows with Cristina.
Save
Related Posts