I received this book for free in exchange for an honest review. This does not affect my opinion of the book or the content of my review.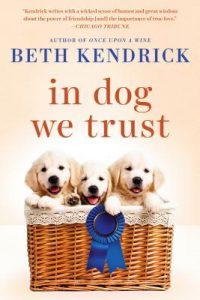 In Dog We Trust
by
Beth Kendrick
Also by this author:
Cure for the Common Breakup (Black Dog Bay, #1)
,
New Uses For Old Boyfriends (Black Dog Bay, #2)
,
Put a Ring On It (Black Dog Bay, #3)
,
Once Upon a Wine (Black Dog Bay, #4)
Published by
Berkley Books
on January 8, 2019
Genres:
Adult Fiction
,
Contemporary
Pages:
336 •
Format:
E-ARC
•
Source:
NetGalley
Goodreads

When Jocelyn Hillier is named legal guardian for the late Mr. Allardyce's pack of pedigreed Labrador retrievers, her world is flipped upside down. She's spent her entire life toiling in the tourism industry in Black Dog Bay and never expected to be living the pampered life of a seasonal resident in an ocean side mansion, complete with a generous stipend. But her new role isn't without its challenges: The dogs (although lovable) are more high-maintenance than any Hollywood diva, the man she wants to marry breaks her heart, and she's confronted at every turn by her late benefactor's estranged son, Liam, who thinks he's entitled to the inheritance left to the dogs.

Jocelyn has worked too hard to back down without a fight, and she's determined to keep her new fur family together. As she strives to uphold the "Best in Show" standards her pack requires, Jocelyn finds love, family, and forgiveness in the most unexpected places.
So in typical fashion, I found out that the Black Dog Bay series which I love dearly had a new installment thanks to Lauren @ Bookmark Lit who is probably responsible for a solid 25% of the books on my TBR shelf at any given moment. I hit that NetGalley request button SO FAST you don't even know. So over Thanksgiving break I was spending yet another summer in my beloved East Coast seaside town of Black Dog Bay on another truly puppy filled adventure.
The newest series installment follows Jocelyn, a local Black Dog Bay resident, who runs a cleaning and laundering service for all of the beach rentals in the town, which is quite a lot as Black Dog Bay has a reputation of being one of the top tourist hot spots for the brokenhearted. Right away, a huge theme of the story is established- us vs. them, locals vs. seasonal tourists, working class vs. rich. I found this to be interesting because it never played a massive part in the other books, where many of the protagonists have either been outsiders or locals who left for a long while, and there were definitely rich local townsfolk (like Hattie from the first book in her ridiculous purple house). Jocelyn gets roped into a dog-sitting gig on the side for a mean, rich seasonal resident who dies and in a truly bizarre twist of fate leaves all of his assets to his dogs, and to Jocelyn as well as he names her their guardian.
Now I'm not too sure how realistic the legal premise for the plot of the book is, but it was fun getting to glimpse into the absolutely insane world of show dogs (which I didn't even know labs were a part of). From their fancy filtered water, upscale food, crazy training schedules- it was a crazy yet fun way to read about the lifestyle of the rich in a different perspective than usual. The dogs were hilarious and truly felt like their own characters, and I am not a dog person but I would have loved to snap up one of the puppies that's born for myself (George Clooney the silver lab, LOL).
Of course with a ridiculous will that leaves all assets to three lovable but honestly not that smart Labrador retrievers, legal drama is bound to happen, which is also intrinsically tied in to the romance of the novel. Jocelyn is being sued by Liam, Jocelyn's benefactor's son, for what he believes is his rightful inheritance. Now of course the circumstances are far from cut and dry and as the story progresses you learn that he's really not ~that bad of a guy~ but I just felt like I couldn't connect to the romance. Perhaps I personally could not get over the extreme aversion I would have to dating someone who was trying to sue me (no matter how well intentioned they were). In fact I think Jocelyn and Liam would have made better friends than romantic love interests and the whole story could have still felt the same with the same resolution. In fact, I found myself much more attracted to Liam's badass, debutante mother who can rock a french manicure and wrangle cattle at the same time while still having time to weed your garden and make fresh squeezed orange juice. It was really fun to see a character in the story who had such a strong presence who did not have ties to Black Dog Bay and I could honestly use a whole book about her backstory!
In terms of protagonists, Jocelyn was OK but not a standout compared to some of the other Black Dog Bay leading ladies in previous books. I also didn't get as many cameos as I wanted (there were a few with Lila and one with Cammie but I would have loved to see more!). However, the real stand out character in this story for me was Bree, Jocelyn's outspoken, palm-reading, aspiring lawyer best friend. Bree was hilarious in a way that you could probably imagine your real life BFF being, from very unsubtle "stake out" missions to helping you figure out how the heck to navigate a lawsuit when you barely feel like an adult yourself. I was super invested in her side story line and I'm crossing my fingers that she'll get her own Black Dog Bay book in the future!
Overall: I always love returning to Black Dog Bay and In Dog We Trust was no exception. While I wasn't a fan of the romance I enjoyed the overall story line and found several new favorite characters who I hope to see return in future installments!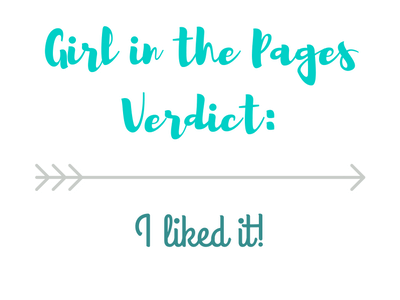 Related Posts