Boyfriend Book Reviews is a feature where my book-loving boyfriend, Max, reads and reviews YA that I either haven't yet read or is outside of my current TBR. If you want a thorough and thoughtful perspective on a guy's take on YA, keep reading!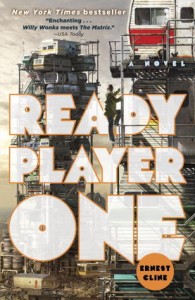 Ready Player One by Ernest Cline
on June 5th 2012
Pages: 372 •Goodreads

It's the year 2044, and the real world is an ugly place.Like most of humanity, Wade Watts escapes his grim surroundings by spending his waking hours jacked into the OASIS, a sprawling virtual utopia that lets you be anything you want to be, a place where you can live and play and fall in love on any of ten thousand planets. And like most of humanity, Wade dreams of being the one to discover the ultimate lottery ticket that lies concealed within this virtual world. For somewhere inside this giant networked playground, OASIS creator James Halliday has hidden a series of fiendish puzzles that will yield massive fortune — and remarkable power — to whoever can unlock them. For years, millions have struggled fruitlessly to attain this prize, knowing only that Halliday's riddles are based in the pop culture he loved — that of the late twentieth century. And for years, millions have found in this quest another means of escape, retreating into happy, obsessive study of Halliday's icons. Like many of his contemporaries, Wade is as comfortable debating the finer points of John Hughes's oeuvre, playing Pac-Man, or reciting Devo lyrics as he is scrounging power to run his OASIS rig. And then Wade stumbles upon the first puzzle. Suddenly the whole world is watching, and thousands of competitors join the hunt — among them certain powerful players who are willing to commit very real murder to beat Wade to this prize. Now the only way for Wade to survive and preserve everything he knows is to win. But to do so, he may have to leave behind his oh-so-perfect virtual existence and face up to life — and love — in the real world he's always been so desperate to escape. A world at stake. A quest for the ultimate prize. Are you ready?
"Three hidden keys open three secret gates
Wherin the errant will be tested for worthy traits
And those with the skill to survive these straits
Will reach The End where the prize awaits" –Cline, 6.
As someone who represents himself as an avid gamer, I confess I felt remiss in not reading this book sooner when I found out about it. As I closed the back cover I, according to my sister in law, looked both wistful and satisfied. This is the kind of satisfaction that someone like me gets when we watch a classic 80's adventure film. A classic hero on a journey with a fun setting and fulfilling ending. That's the kind of experience I was expecting when I picked up Ready Player One, but as I read it I found so much more. Cline showed a deep understanding of the joy of being a gamer and what makes nerd culture great and so precious to so many around the world, but also a biting social commentary that cuts to the quick of the dangers of escapism and over reliance of technology.
Like many of the 80's adventure films referenced endlessly in the book, we start with our protagonist, who in this case is the teenage Wade Watts. Watts is a gunter, a colloquial expression for a group of treasure hunters looking for Halliday's Easter Egg. James Donovan Halliday is part Steve Jobs and part Bill Gates in the universe of the book. He invented the Ontologically Anthropocentric Sensory Immersive Simulation, called the OASIS by its users. The OASIS is full immersion wireless virtual reality. Think the Matrix, except good for its users. Cline outlines the OASIS in great detail as the book goes on. When he died, James Halliday sent out a video invitation to all of the users of the OASIS. In it he told them that he had hidden his entire fortune of 240 billion dollars and controlling share of GSS, the company who owns the OASIS within the system as an "Easter Egg." He challenged them all to find it and gave the clue in the quote above.
In his quest for the egg, we see Wade experience the kind of growth and change that we can expect in what I'll call the 80's hero's journey. And in this way of telling a story we see one of the more brilliant points of the book. In formatting his story in this way, Cline has given us a kind of Meta hero's journey. It's just self-aware enough to not be pretentious, but to also pay homage to the exact stories you can tell the author loves so much. This also leads to the delicious references nerds like myself so much.
That being said, these references ended up being a little bitter sweet for me and also the major source of complaint I have about the book. There are sometimes entire paragraphs that are lists of referential materials in reference to the hunt for the egg. These lists are things like obscure 80s animes, entire catalogs of super Nintendo games, and things of that ilk. These lists sometimes really obscure the flow of the narrative. I found myself wanting to skip them to get back to the meat of the story that had me so en-wrapped and finding that I couldn't due to not wanting to miss possible clues within these paragraphs. This is a relatively small gripe and a lot of the explanatory stuff is necessary for those who don't know the story of the first video game Easter Egg and things like that.
In closing, I loved this book. It had a love story that felt believable. Coming of age that didn't feel phony. It made you understand why people love the fantasies we love so much. Who, after all, hasn't wanted to walk the halls of Hogwarts as a student? Who hasn't wanted to strap on a lightsaber and fight Darth Vader with the Rebel Alliance? All that and so much more is possible in the OASIS.
Under all the juicy narrative and nerd culture references, there's so much more. Cline explores themes like poverty and its devastating effects, over reliance on technology, corporate corruption, the need for online anonymity, and the dangers of escapism. Even more than that it explores things like race and how people treat each other online based on things like appearances and gender. Wade often notes that you can be anyone you want to be in the OASIS. Without giving anything away, some people make very liberal use of this concept. All these themes and more are deftly weaved into the narrative. Cline never gave the impression of someone standing on a soapbox, but instead comes off as an avid observer of his own communities.
Overall: Ready Player One is an enjoyable ride through pop culture that you don't have to be a nerd to enjoy. It has a satisfying narrative peppered with memorable characters and a great character arc. More than that, though, it contains just the right amount of self-awareness and social commentary to be stimulating on a level deeper than just entertainment, something Cline seems to believe that pop culture also needs to evolve beyond, even though you can tell he loves it all very dearly.
---
About the Reviewer
Max is a twenty-something recent psychology grad, avid gamer, and self-proclaimed Hufflepuff. He and Cristina met in high school, where they bonded over a mutual love of food, Harry Potter, and Disney. When he's not dutifully attending book events with his book blogger girlfriend, he can be found gaming, reading fantasy & sci-fi, and becoming overly invested in Food Network shows with Cristina.
Related Posts