I received this book for free in exchange for an honest review. This does not affect my opinion of the book or the content of my review.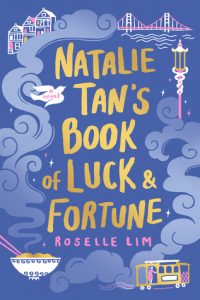 Natalie Tan's Book of Luck and Fortune
on June 11th, 2019
Genres:
Adult Fiction
,
Magical Realism
,
Romance
Pages:
320 •
Format:
E-ARC
•
Source:
NetGalley
Amazon
Goodreads

At the news of her mother's death, Natalie Tan returns home. The two women hadn't spoken since Natalie left in anger seven years ago, when her mother refused to support her chosen career as a chef. Natalie is shocked to discover the vibrant neighborhood of San Francisco's Chinatown that she remembers from her childhood is fading, with businesses failing and families moving out. She's even more surprised to learn she has inherited her grandmother's restaurant.

The neighborhood seer reads the restaurant's fortune in the leaves: Natalie must cook three recipes from her grandmother's cookbook to aid her struggling neighbors before the restaurant will succeed. Unfortunately, Natalie has no desire to help them try to turn things around--she resents the local shopkeepers for leaving her alone to take care of her agoraphobic mother when she was growing up. But with the support of a surprising new friend and a budding romance, Natalie starts to realize that maybe her neighbors really have been there for her all along.
Thank you so much to Berkley for providing a review copy via NetGalley in exchange for an honest review!
From the moment I heard of Natalie Tan's Book of Luck and Fortune, I KNEW I had to read it. Set in San Francisco, centered around food, with a dash of magical realism? Yes, please! Then the cover was released and was (and is!) absolutely adorable, and once I saw it on NetGalley I hit that "request" button SO FAST. Though not slated for release until June, I eagerly started the book in February and found it to be a heartwarming story perfect for the dreary winter weather.
The novel follows Natalie, an almost thirty year old who returns to her home town in San Francisco after her mother's death. Her mother's dead hits her especially hard as she hasn't spoken to her mother in several years after a falling out and now must pick up the pieces of her old life and come to terms with community that she fled from all of those years ago in order to pursue her dream of becoming a chef. At first, Natalie is bitter, assuming her neighbors were selfish and unhelpful, ignoring her mother's agoraphobia (causing her to be too scared to ever leave her apartment) and leaving her and her mother to fend for themselves for decades. Yet as she goes through the process of burying her mother and deciding what to do with her family's abandoned restaurant, she realizes that she too is complicit in her strained relationship with both her mother and her community. After discovering her grandmother's old recipe book, Natalie attempts to heal many of the anxieties and wounds facing the community through cooking.
There's many things that this novel does exceptionally well. It explores and explains Natalie's Chinese heritage and customs, and touches upon the immigrant experience in San Francisco and the looming issue of gentrification that Chinatown faces in modern times. It juxtaposes the desires of different generations and what the "American Dream" means to each woman in the Tan family. It weaves in threads and hints of magic that are just subtle enough to be believed as real, such as Natalie collecting tears, visible manifestations of emotion that appear in golden threads, fireworks, and other symbols when people eat, and a magical cookbook that contains recipes not just to satisfy the stomach but the soul as well. I loved the way magic was tied in with spirituality in this story as well, and how Natalie was able to honor her family through both rituals and dreams and communicate with them on a level outside of just the physical- there's a slight supernatural layer to the story that never feels out of place, but rather enhances the emotions and relationships that are presented.
While I loved meeting the cast of neighborhood characters and admiring Natalie's mouthwatering concoctions (there are even recipes included, straight from her grandmother's cookbook!) there were a few elements of the novel that felt underdeveloped to me. Natalie's main passion in life is cooking and it's so deeply rooted in her family history and personal narrative, yet sometimes it had to compete with a random love of music that would pop up. The connection to between her and music receives some clarity toward the end of the book, and of course people can have multiple interests and hobbies, however it did feel like the cooking and musical elements were competing for screen time and her interest in music didn't feel very authentic aside from her telling the reader how much she enjoyed listening to different instruments and soundtracks. There was also a romance side plot, which I wasn't surprised by, but it felt underdeveloped and either needed more page time or could have been cut entirely (which would have been fine, considering there's so many other important non-romanctic relationships featured in this story).
Overall: Natalie Tan's Book of Luck and Fortune is a heart and stomach warming story that combines the healing power of food with the importance of family and community. I felt happy and content upon finishing it and will definitely be checking out future books by this debut author!
Related Posts