*Warning: While the reviews are not inherently spoiler filled themselves, each successive review will talk about what happened in the previous book(s).
Crazy Rich Asians
by
Kevin Kwan
Published by
Doubleday
on June 11th 2013
Genres:
Adult Fiction
,
Contemporary
Pages:
417 •
Format:
E-Book
•
Source:
Overdrive
Goodreads
Crazy Rich Asians is the outrageously funny debut novel about three super-rich, pedigreed Chinese families and the gossip, backbiting, and scheming that occurs when the heir to one of the most massive fortunes in Asia brings home his ABC (American-born Chinese) girlfriend to the wedding of the season.When Rachel Chu agrees to spend the summer in Singapore with her boyfriend, Nicholas Young, she envisions a humble family home, long drives to explore the island, and quality time with the man she might one day marry. What she doesn't know is that Nick's family home happens to look like a palace, that she'll ride in more private planes than cars, and that with one of Asia's most eligible bachelors on her arm, Rachel might as well have a target on her back. Initiated into a world of dynastic splendor beyond imagination, Rachel meets Astrid, the It Girl of Singapore society; Eddie, whose family practically lives in the pages of the Hong Kong socialite magazines; and Eleanor, Nick's formidable mother, a woman who has very strong feelings about who her son should--and should not--marry. Uproarious, addictive, and filled with jaw-dropping opulence, Crazy Rich Asians is an insider's look at the Asian JetSet; a perfect depiction of the clash between old money and new money; between Overseas Chinese and Mainland Chinese; and a fabulous novel about what it means to be young, in love, and gloriously, crazily rich.
I'd seen Crazy Rich Asians at bookstores for years, and always pondered what it was about, with it's stark salmon cover and rather brash and forward title. When I caught wind that it was going to become a movie, I decided it was time to finally pick it up and see what it was all about, so I joined the 30+ Overdrive waitlist back in October and patiently waited for my hold to come in. When it did, I positively devoured this novel of excess, which at times was too extra to handle, but I just couldn't stop reading.
Crazy Rich Asians follows an extremely wealthy set of families from Singapore who are all coming together for the wedding of the century (seriously there are so many characters I might have to see if there's an online cheat sheet somewhere that I can reference while reading the sequel). At the heart of the drama is Nick Young, the son of one of these families who's leading a life as a college professor in New York and is pretty ignorant about how unique his family's wealth is. The plot takes off when he decides to bring his American girlfriend who is from an upper-middle class background (but who's upbringing pales in the face of the wealth of Nick's family) to Singapore for said wedding.
I've read my fair share of novels about ridiculously rich people having total first world problems (wasn't that the point of Gossip Girl, after all?) however Crazy Rich Asians took that premise to a whole new level. It didn't event occur to me that people could be so rich and I honestly couldn't wrap my head around it at times (a built in yoga studio on an airplane?). It was so over the top and gaudy but at the same time so captivating that it was impossible to stop reading, especially when so many of the characters were just so awful in their own way. There were a few likeable characters (Nick and his cousin Astrid, for example), however their lives, despite their wealth, were still riddled with problems encountered by people of all classes- marital strife, going against your parent's wishes, losing your identity to your role as a wife/son/mother/etc. While it was great to see some of these characters humanized, it was also depressing to see that despite their wealth they had a lot of the same miseries as normal people (which was probably one of the points of the book, but it also just seemed exhausting to be that rich and always have to feel like you were keeping up with the Joneses, TBH).
The novel was also really eye opening about some of the racial and historical tensions that exist between mainland and non-mainland Asians, and how important bloodlines still are in certain parts of the world, and how there are people who can still trace their heritage back for centuries (I have no idea who I'm related to past my great-grandparents). It was interesting to see the interplay of the wealth and privilege of families so successful in the modern world, but also how linked they were to their heritage and ancestry at the same time.
Overall: This book was addictive, though over the top and ridiculous at times. It's often hilarious but makes some of the characters just vulnerable enough to make you care about some of them amidst the cast of shallow, crazy rich people. I will definitely be continuing on to the opulence of the next books in the series (and probably buying lottery tickets in the meantime).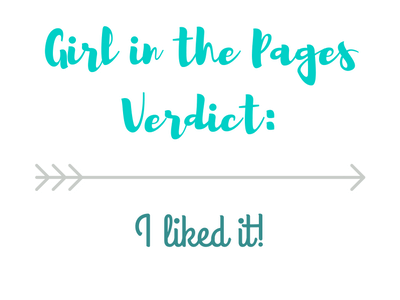 China Rich Girlfriend (Crazy Rich Asians, #2) by Kevin Kwan
Published by Doubleday on June 16th 2015
Genres: Adult Fiction, Contemporary
Pages: 400 •Format: E-Book •Source: Overdrive
Goodreads

On the eve of her wedding to Nicholas Young, heir to one of the greatest fortunes in Asia, Rachel should be over the moon. She has a flawless Asscher-cut diamond from JAR, a wedding dress she loves more than anything found in the salons of Paris, and a fiancé willing to sacrifice his entire inheritance in order to marry her. But Rachel still mourns the fact that her birthfather, a man she never knew, won't be able to walk her down the aisle. Until: a shocking revelation draws Rachel into a world of Shanghai splendor beyond anything she has ever imagined. Here we meet Carlton, a Ferrari-crashing bad boy known for Prince Harry-like antics; Colette, a celebrity girlfriend chased by fevered paparazzi; and the man Rachel has spent her entire life waiting to meet: her father. Meanwhile, Singapore's It Girl, Astrid Leong, is shocked to discover that there is a downside to having a newly minted tech billionaire husband. A romp through Asia's most exclusive clubs, auction houses, and estates, China Rich Girlfriend brings us into the elite circles of Mainland China, introducing a captivating cast of characters, and offering an inside glimpse at what it's like to be gloriously, crazily, China-rich.
I find it's rare for a series to get BETTER with time, but China Rich Girlfriend, the sophomore novel in Kevin Kwan's opulent, over the top Crazy Rich Asian series proved me wrong. Picking up shortly where the first novel left off, the story follows some of our favorite primary characters from the first installment (Nick, Rachel, Astrid) into a whole second country of societal billionaires and over the top spending where new money is flaunted at every opportunity.
What I loved about this novel was that it takes some new avenues and introduces a few new key players to the story while still integrating the drama and repercussions of the events that happened in its predecessor. There is still fallout to be dealt with after Nick's mother plays her hand against Rachel, there are unexpected consequences to Astrid's husbands overnight success story, and there is still certainly the snobbish yet glamorous Singapore clan whose story lines are woven into the drama happening on the mainland. I loved seeing the representation of how the "new money" values and spends its money and how the upper class society of the mainland functions as opposed to the "old money" families of Singapore.
I feel like this novel, while still exploring the enormous privilege of the characters' staggering wealth, also focused more on character development and on adding layers and nuances to the characters and relationships. Rachel connects with her family whom she's never known, and while there is scandal and gossip there are also undeniable moments of kindness and bonding. Peik Lin and Colin are still loyal friends to Nick and Rachel who have a devotion that runs deeper than the superficial. Even Nick's rage-inducing mother manages to put aside her differences with Rachel (if for more personal gain/benefit) and offers somewhat of an olive branch, in her own twisted way. Yes, the characters are outrageous but they're humanized in a way I found surprising given the over the top nature of these books, which kept me continually caring about what happened to them.
Overall: I can not get enough of this story! Although more outrageous than its predecessor, I was addicted to China Rich Girlfriend, especially at the rather shocking twist it took at the end which added an additional layer of drama and intrigue to these stories! I'm definitely going to be purchasing physical copies of these for my library someday!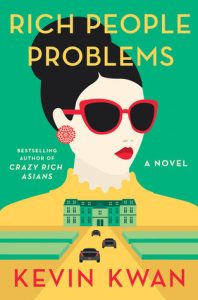 Rich People Problems (Crazy Rich Asians, #3) by Kevin Kwan
Published by Doubleday on May 23, 2017
Genres: Adult Fiction, Contemporary
Pages: 398 •Format: E-Book •Source: Overdrive
Goodreads

When Nicholas Young hears that his grandmother, Su Yi, is on her deathbed, he rushes to be by her bedside--but he's not alone. It seems the entire Shang-Young clan has convened from all corners of the globe, ostensibly to care for their matriarch but truly to stake claim on the massive fortune that Su Yi controls.

With each family member secretly fantasizing about getting the keys to Tyersall Park--a trophy estate on 64 prime acres in the heart of Singapore--the place becomes a hotbed of intrigue and Nicholas finds himself blocked from entering the premises.

As relatives claw over heirlooms, Astrid Leong is at the center of her own storm, desperately in love with her old sweetheart Charlie Wu, but tormented by his ex-wife--a woman hell bent on destroying Astrid's reputation and relationship. Meanwhile Kitty Pong, married to billionaire Jack Bing, finds a formidable opponent in his fashionista daughter, Colette.
I am SO SAD this trilogy is over (for now, there were a few loose ends if you ask me…). These books are so much fun to read, and Rich People Problems was no exception, Jumping several years in the future, we're taken back to Singapore as the family matriarch dies, and true colors come out as everyone is clawing all over each other to see who will inherit what. It was truly a fitting end to the series to close out with Su Yi's death, and that we spent so much time at her massive, infamous estate in this last installment.
Backing up, the first few portions of the book follow Su Yi's time on her deathbed, and the reparation of a lot of family relationships between herself and her grandchildren. It was fascinating to learn about Su Yi's history and how integral of a role she played in the war, as she's always been such a god-like figure in this series, and this novel really serves to humanize her. It was touching to see her try to set up her grandchildren for as much emotional (rather than monetary) happiness as she could before she passed, and it really showed a whole new side to the whole Young/Leong/Cheng etc. clan, which was a nice juxtaposition to the insane antics usually portrayed (although there were plenty of those in this book too! Especially with Eddie…OMG).
I also felt like this book spent a lot less time with Rachel and Nick as the previous installments and I found I was able to learn a lot more about other family members, especially Astrid, who I think could rival Nick in terms of being the most prominent grandchild in this story at this point. Portrayed as so perfect and almost ethereal in the first two novels (like Su Yi in a way), she's very humanized and humbled by the misfortune that befalls her in this installment, and I really enjoyed her character arc. The book also featured Kitty a lot which I honestly probably could have lived without (though it all tied together in the end) but it was fantastic to see how Kevin Kwan managed to weave even the more minor characters from the first book into major players later on in the series- it honestly is hard to believe that this is the first series he wrote, as it's done so masterfully!
Overall: I'm going to miss so much about this series: the completely mouth watering food descriptions, the stunning settings from the most private beaches in Asia to the couture lines streets of Paris, the completely outlandish spending (an eye lift for a fish?), the laugh out loud moments (Ed Saranwrap!) and at the heart of it all the completely drama filled family. Though there was a fun epilogue at the end of the novel, I would totally be down to read a spinoff series about the next generation of crazy rich asians- Harvard, Cassian, baby Young, etc. You can bet you'll find me at the movies this August, seeing the film adaptation of this series and all of the craziness and wealth come to life on the big screen.
Related Posts