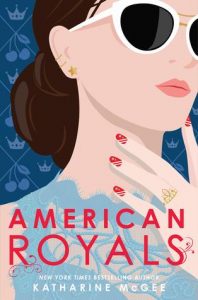 American Royals (American Royals, #1)
by
Katharine McGee
Also by this author:
Majesty (American Royals, #2)
,
American Royals III: Rivals
,
Reign (American Royals #4)
Published by
Random House Books for Young Readers
on September 3, 2019
Genres:
Contemporary
,
Young Adult
Pages:
448 •
Format:
Hardcover
•
Source:
Purchased
Goodreads

What if America had a royal family?
When America won the Revolutionary War, its people offered General George Washington a crown. Two and a half centuries later, the House of Washington still sits on the throne.
As Princess Beatrice gets closer to becoming America's first queen regnant, the duty she has embraced her entire life suddenly feels stifling.
Nobody cares about the spare except when she's breaking the rules, so Princess Samantha doesn't care much about anything, either . . . except the one boy who is distinctly off-limits to her.
And then there's Samantha's twin, Prince Jefferson. If he'd been born a generation earlier, he would have stood first in line for the throne, but the new laws of succession make him third. Most of America adores their devastatingly handsome prince . . . but two very different girls are vying to capture his heart.
American Royals was a book I was SO excited for, actually went to the store and purchased a hardcover of, and then procrastinated for several months on actually reading, lol. I think it was an instance of being SO excited for a book but worrying I might be let down so I put off actually reading it (despite a few attempts at starting). I finally finished it through a combination of reading the hardcover and listening to the audio, and while I enjoyed reading it, it definitely didn't live up to all of my (admittedly very high) expectations.
If you've hung around my blog for a while, you probably know that contemporary books with a focus on royalty are my favorites. From The Princess Diaries to The Royal We, I'll read pretty much anything with a the premise of modern day royals. When I found out that American Royals was also going to contain an alternate history version of America, one where we had become a monarchy with good old King George Washington, I was so excited! The cover was also stunning and I loved how under the dust jacket the hardcover was even red, white and blue. Suffice to say I was REALLY looking forward to reading this one.
The story itself follows four POV characters: Beatrice, heir to the throne of America, Samantha, her rebellious little sister, Daphne, Prince Jefferson's on/off again social climbing girlfriend, and Nina, Samantha's best friend who is a "commoner" and who's mother works for the government. While I appreciated the inclusion of various female narrators of different backgrounds, I just wasn't very interested in all of them. Beatrice's POV was the most intriguing because she was the heir (and set to be the first Queen inheriting the throne) and Daphne's was interesting due to her ruthlessness in pursuing marriage with Jefferson, but Samantha's narrative came off feeling very petty and immature and Nina just bored me. Their stories all wove together, however I would have rather seen a POV from Jefferson, or the King or Queen to break things up. This book also read very YA to me, which is not a bad thing (I know I am not the target audience) but many of the plot points were very predictable and lacked originality View Spoiler »Such as the heir who doesn't want to marry an aristocrat, the spare who thinks her sibling has it so great and that she is overlooked, the "I never asked for this" internal monologue from almost every character, etc. « Hide Spoiler There was also a love triangle/quadrangle (or a few, I suppose) that were none too original and took up most of the plot of the book, which wasn't exactly what I was expecting (I was hoping for more political intrigue, I guess).
There was also a lot less alternate history than I was expecting. I was so excited whenever a nugget would be tossed out (such as how the Revere Guard was formed, what America's relations are like now with other countries, how the Royal family refuses to drink tea- LOL) but I still had SO many questions about the world building, especially when it came to how the country was divided up, because there were Dukes of cities (like Boston) but also states (like Texas) and I couldn't really get a grasp on the structure of the aristocracy. I appreciate that the author didn't info-dump but I'm hoping in the next book we'll get more alternate history facts!
Overall: I enjoyed American Royals for what it was to me- a overly dramatic YA novel with a fun alternate history setting that put too much focus on romance and main characters that could have been fleshed out more. I'll definitely be reading the sequel and hoping it gives the series more spice and intrigue as this book ended on quite the cliffhanger, but I really do hope we see some more plot development outside the various love triangles.
Related Posts